Highlights
A well-presented open top V12 roadster
Only 55,033 miles from new
Impressive history and maintenance file
The Appeal
The XJ-S, particularly in convertible form, has acquired a status akin to a fine wine. it can safely be said that all wine gets better with age, and the XJ-S could easy reflect that statement. That's not to suggest that the car was a bad car in the first place, particularly when the mid-1980s saw a marked improvement in quality and production efficiency, but one felt it should have been an open-top roadster from the very start. Originally launched in 1975 as a fixed-head coupe, the high-efficiency V12 engines were rolled out at the start of the 1980s, with the first full-length convertibles finally arriving in 1988.
Met with welcome arms, the open-top roadster did much to raise the profile of the XJ-S. Almost a new car, much of the changes were under the skin with a new front subframe, reinforcement transmission tunnel, bulkheads and rear floor to help reduce scuttle shake. Despite becoming the most expensive Jaguar at the time, over 13,000 V12 XJ-S' were sold over its four-year lifespan and soon established itself as one of the world's finest long-distance cruisers.
This elegant 1989 V12 convertible is finished in black with a magnolia leather interior and has a documented mileage of just 55,033. Originally sold to a customer in Jersey, it was imported back into the UK in 2000, with just 37,030 miles and has been used gently ever since. It comes with an impressive array of invoices reaching back to 1996 and has seen a significant amount of spending over the years. This solid and original example has an MOT to February 2024 and has service stamps up to 53,493 miles.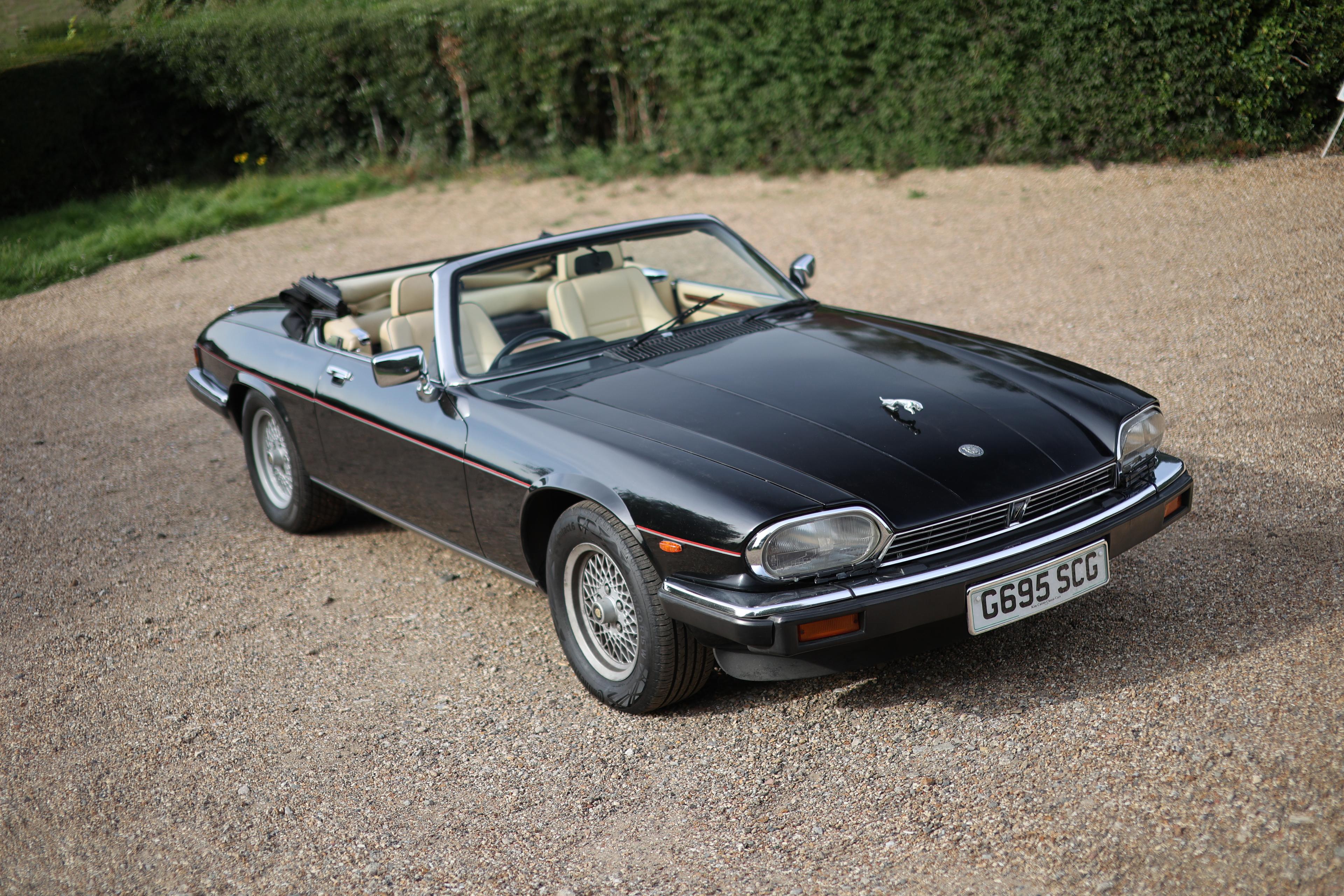 The History and Paperwork
Ordered new via a Jersey-based design consultancy in September 1989
Imported into the UK in 2000 with an MOT mileage reading of 37,070
Import document included
Jaguar heritage certificate
7 service stamps up to 53,493 miles
Appears to have been used very lightly since 2013, with not much more than 1000 miles added
Invoices back to 1996 suggesting regular maintenance and upkeep
Retains most of the MOTs from 2000
£4,000 spent over the last 5 years
UK V5c present
Car vertical report from 2023
MOT to February 2024
Loss of storage forces the sale
The Interior
The Magnolia leather cabin is in great shape
Front leather seats have age-related creases but do have intact piping and are free of any distracting damage
Carpets intact with some minor marks but all bone dry
The dashboard is free from cracks, the veneer facia is in good condition with some peeling around the centre vent
Centre console leather and veneer intact
Switchgear and controls are in decent visual order with some minor wear
Binnacle intact with legible dials
Panasonic CD Stereo installed
Steering wheel and gear-lever in good condition
Rear cabin storage is in decent order, with no signs of water ingress
Late 90s Invoices back up renovation work on the interior
This includes the headlining which is in presentable condition with mild marks
The door cards are in excellent shape
The boot carpet is in a tidy state with no signs of water ingress or heavy use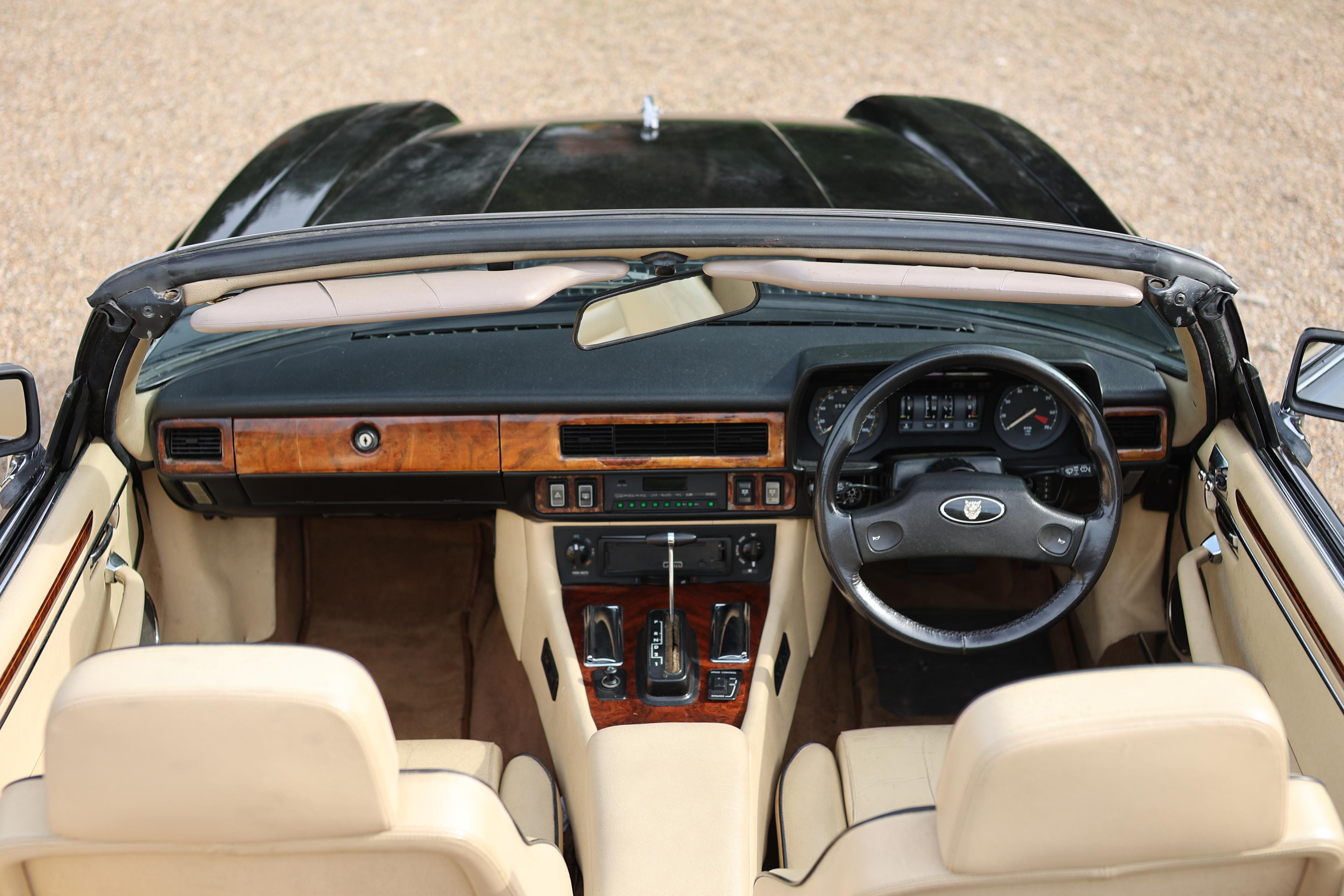 The Exterior
Inner wings are solid, with no notable issues spotted on the suspension turrets or jacking points
The body is free of significant corrosion, with no issues noted on the wheel arch lips or wings
The panel fit is true throughout, all fitting flushly with even panel gaps
The car appears to be free from panel dents or scuffs
All doors open and close with ease, all sporting decent rubber seals
The paint has a decent lustre, with some age-related paint swirling as it catches the sunlight
A few more obvious signs of minor paint peel are demonstrated around the nearside door handle, scuttle and the rear badges
No significant paint chips
The chrome trim is in good shape, with no significant damage noted
Front bumpers are in excellent shape and are documented as being replaced in 2003
The rear bumper has mild age-related damage but is free of scuffs
The glass is commensurate with the age of the car, all free of chips or unsightly damage
The electric windows operate with no issues
The windscreen and rear glass seals are in decent shape, but the driver's side rubber trim shows more wear
The lights and lenses are all intact
Added Jaguar emblems fitted on boot and bonnet
Soft top in excellent condition, with minimal marks or signs of outdoor storage
Roof raises and lowers without any issues and their electric motors function without straining
16" lattice-style alloys alloys show age-related pitting but display well enough
Pirelli P-600 tyres on the rear are over 15 years old but retain a legal tread
New Continental tyres upfront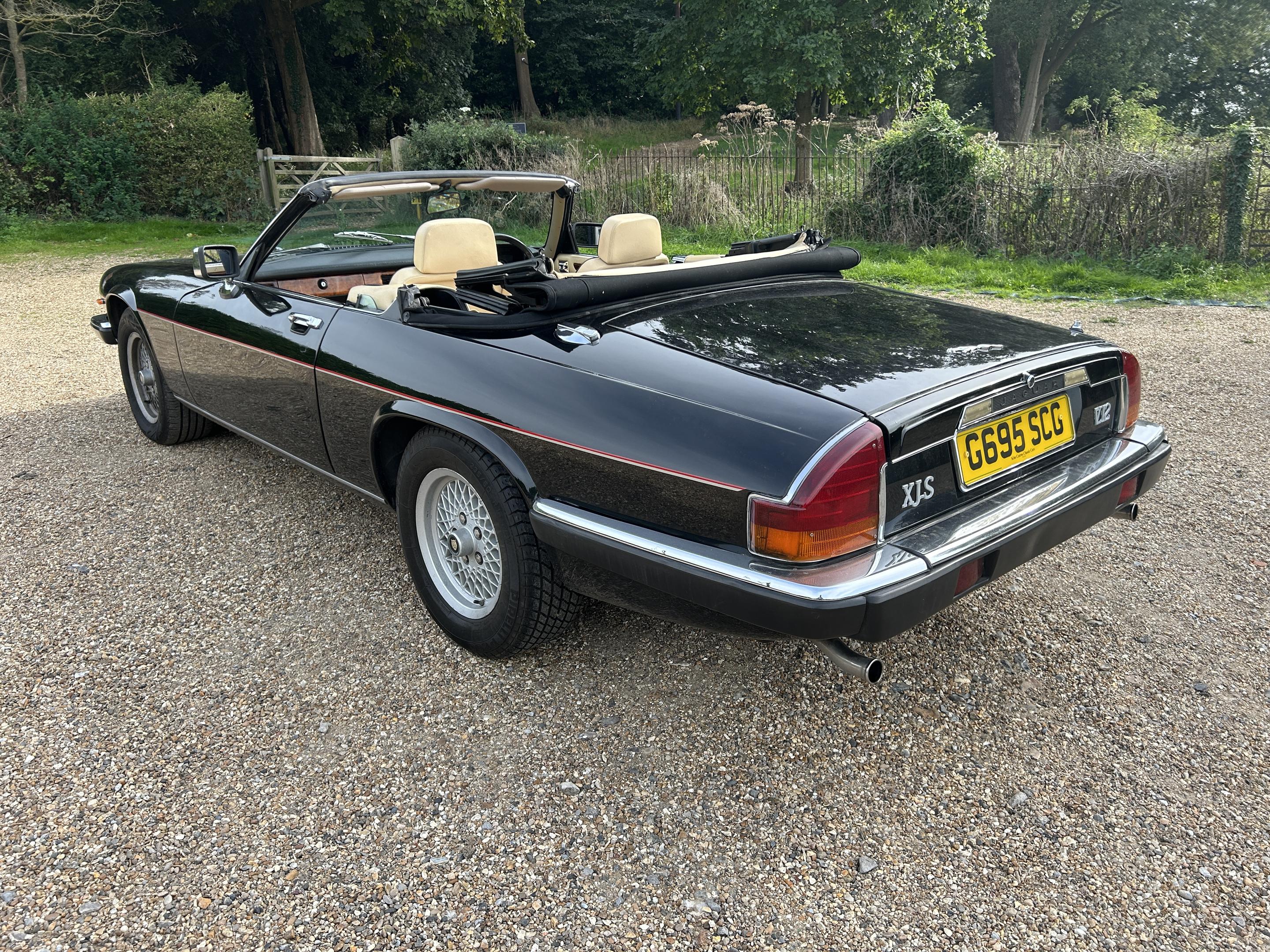 The Mechanics
5.3-litre V12 engine fires up without any hesitation
Engine neatly presented with intact hoses and ancillaries
Some metal engine components show signs of age
No warning lights flagged up on the dashboard when running
Engine idles smoothly with no undulations
Exhausts in good shape with no blowing
The owner has not reported any issues with oil pressure or engine temperature
Said to drive very well and is entirely roadworthy
The gearbox selects ratios without issues
Said to brake evenly with no drama
Mild signs of age were noted on some suspension components
Much of the invoices document mechanical work carried out over the last 27 years
Up to 2017, the invoices tally up to around £5,000 covering electrical, steering, suspension, cooling and engine work
Invoices since 2018 include further engine, brake, ABS sensors and electrical work
Very recent invoices cover:

A new Bosch Hydraulic Accumulator unit
Idle control valve
PAS work and steering rack bushes
A minor electric overhaul
All 4 wheels have seen professional re-alignment

An electric cut-off switch has been installed in the boot
Tool kit and full-sized matching spare wheel fitted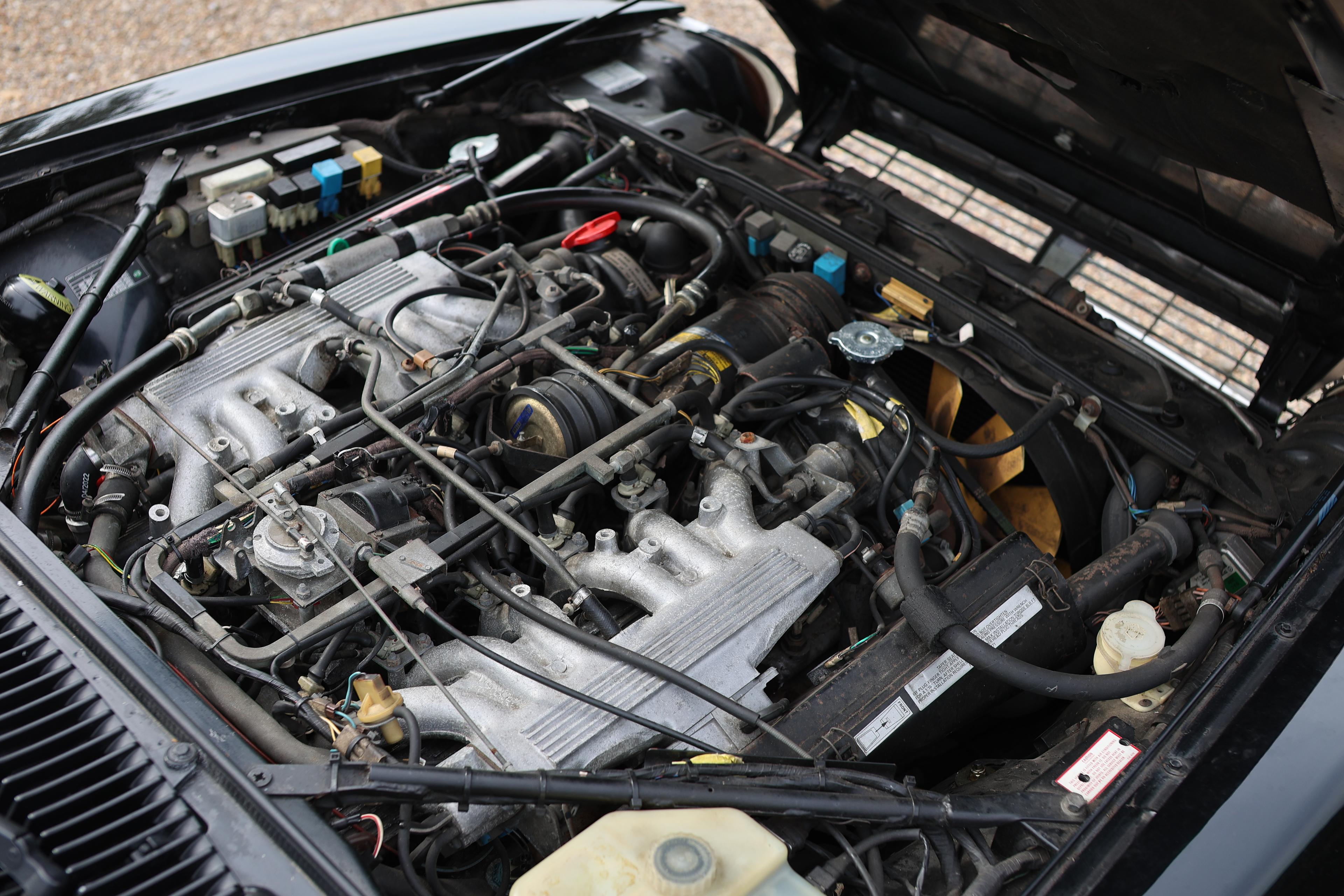 Summary
The adage "the best things come to those who wait" is often true, and those who waited for the XJ-S convertible, which debuted 13 years after the original coupe, would have been rewarded. As one of the more valued XJ-S' of the era, its also helped by its low mileage and evidence of mechanical spending.

This remarkably solid example with a very impressive interior is only part of the appeal of this open-topped sleek and eye-catching car. Its refined old-school character and durable V12 engines are very much rooted in the realms of the golden age of motoring, and the XJ-S is a perfect reminder of that era of decadence.

Notice to bidders


This item is sold on an 'As is Where is' basis. The condition of this item is the opinion of the seller and may differ from your own opinion. Photos and listing descriptions are for guidance purposes only*.** Car & Classic do not warrant listing accuracy. Full inspection is recommended. Viewings are at the seller's discretion. Buyer is responsible for delivery and collection of any item purchased.*

UK-registered cars and motorbikes on Car & Classic are run through an online HPI check. On the HPI report, this vehicle shows no insurance database markers for damage or theft. It is currently not covered by a finance agreement.


A non-refundable buyer's deposit is payable on this item, refer to
FAQs
and
T&Cs
for the applicable percentage.