Porsche GT2 – Not Like The Others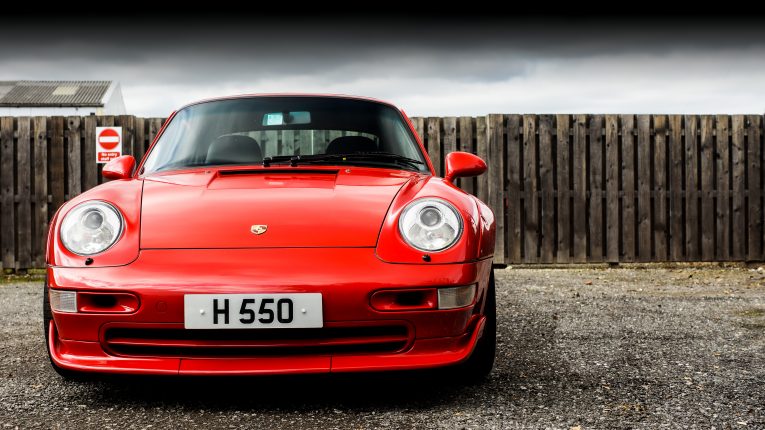 When this stunning Porsche 993 rolled off the production line in 1995, it was not a GT2. Yes, it has the bolted on arches, the deep split-rim wheels and that vented rear wing, but when it was new, it didn't. When it was new, it was actually a 911 Turbo. But, being one of the last 993s, this meant that as well as benefiting from forced induction, it also had four-wheel drive. The GT2, however, never had this feature. Instead, it was only ever sold as rear-wheel drive. And yes, that's a very hairy-chested way to sell the ultimate performance version of a car, but ultimately, it left the GT2 lacking in terms of roadholding and outright grip.
This particular 993 lived on in Turbo guise until 2011. The Guards Red car led a pampered and easy life, which in turn made it perfect for the second owner. The German Porsche enthusiast needed a 993 Turbo. Not wanted, needed. It had to be this model, as it would be the bedrock on which he could build the ultimate car, the one Porsche never built. 
Once sold, the new owner shipped the car to S&N Automobilzentrum along with a brief to convert it into the GT2 that never was. If you're not familiar with S&N Automibilzentrum, the company is owned and operated by Uwe Niermann, it is a Mecca for all things Porsche. But this isn't your 'have a go' tuning shop. Walk around the glorious industrial era building in which the company lives and your eyes will be battered by the onslaught of Porsche content in front of them. Road cars, custom road cars, Le Mans cars, DTMtouring cars, classic race cars, the list goes on. This is a company that's run not because Porsches bring big money, but because the passion for Porsches is so strong. It was, then, the perfect place to realise the dream of the 993's new owner.
The car, which represented the very best available on the used market at the time, was stripped back then rebuilt to GT2 specification. The bodykit isn't a pastiche, it's the real deal. As at the split-rim Speedline alloy wheels. The brakes are GT2 specification, as is the suspension. The finish on the car it outstanding, and the untrained eye wouldn't know it wasn't the real deal. Though in all honesty, it's better than a real GT2. Not only because it's four-wheel drive, but because the S&N team also played with the engine. How? TwK24 hybrid turbos mated to a new exhaust system with 100 cell race catalytic converts. The result of all that was a more than peppy 520bhp. 90bhp more than a factory GT2. 
This was enough for the German owner, who enjoyed the car for a while before opting to sell it on. And who should buy it? Harry Metcalfe, the founder of Evo magazine. A man, then, who knows a thing or two about owning, driving and getting the most out of high performance machines. The Turbo would be right at home, but not before more work was done to the car.
Harry gave the car to respected UK Porsche specialists, Autofarm. This is a business that understands Porsche perfectly, especially the older air-cooled cars, of which this 993 is one of the last. They were the right people to take the Turbo even further on its performance journey. 
The glass was removed and replaced with lightweight GT2 motorsport parts, GT2 bucket seats (which you really need to be of 'racing weight' to be comfortable in) were fitted, soundproofing was ripped out, along with the rear seats. All of this was replaced with black GT2 embroidered carpet. Mechanically, the gear lever mechanism from a GT2 was fitted, the car was given a complete service and inspection and that was it, the 993 was sent off to live its life at the hands of Mr. Metcalfe.
Here the car became something of a legend, appearing in many a motoring publication or video. The car was, by all accounts, every bit the 933 Porsche should have made. The four-wheel drive system reportedly offered grip, poise and cornering like nothing else when combined with the raw power of the modified engine and whopping great turbos. Now a proper apex hunter, this Turbo, or GT2 homage, is a wheeled example of what could have been done. It's also proof that if you have the means, the only limits to what you can own and drive are those imposed by your imagination. This is a car that was built to answer a question that Porsche didn't want anyone to ask. And by being a build completed by specialists who have been able to advise and educate, this car is 'proper'. It's not a 993 with a crude, second-rate body kit on it. It's not a clone, or a replica or a copy. This is more significant. It's the ultimate GT2 993 in perfect, if speculated, factory specification. 
Huge thanks to Classic and Sportscar Centre in North Yorkshire for letting us shoot this incredible car, a car that could be yours for a very reasonable £179,995. That's a fraction of the cost of a factory 993 GT2, but with more power, more grip and a history file that is, frankly, even more exciting and interesting.