1975 De Tomaso Pantera – Project Profile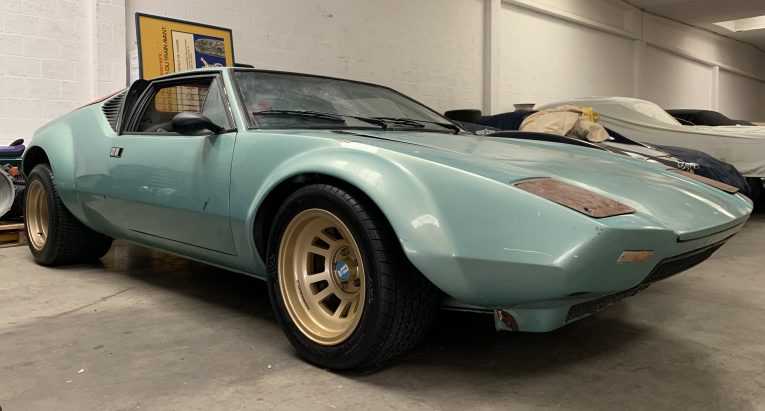 When we're searching through our classifieds for suitable projects to write about (a tough job, but someone has to do it) we come across a lot of cars that fit the same theme. Unfinished restorations, or 'traditional' classics that are common in the classic car world. Of course, we love them all, but every now and then something pops up that fires us up far more than a part-finished Morris Minor or Ford Capri ever could. Cars like, for example, this rather angry De Tomaso Pantera. It's already winning with a name like that. Pantera. That's special. Imagine telling people you drive a car with a name like that! Red ropes would part, champagne would fall from the heavens, it would be a non-stop rollercoaster of admiration. Once, that is, you've put it all back together. This is a project, after all.
The Pantera was the successor to the Italian car maker's Mangusta (another great name). It had an enormous production run from 1971 through to 1992, but it's the early cars that are the best. The later ones, while still spectacular, are a bit too in your face. The early cars, like this '75 model we have here, were pure to the original idea. We like that. Designed by Tom Tjaarda from Carrozzeria Ghia, the Pantera was an unapologetically brash, purposeful machine. Built with a Ford Cleveland V8 engine stuck in the back with a ZF transaxle, it was a serious sports car. Long, low and mean, it was and still is one of those cars that looks like it's going 100mph when it's standing still. Its brash looks caught the attention of many, including none other than Elvis. Though when his didn't start, he shot it several times. That car, complete with bullet holes, can be seen in the Petersen Automotive Museum.
What is it?
The car we have here is a 1975 De Tomaso Pantera in a rather unflattering shade of seafoam green. The advert is light on detail, but there are plenty of pictures and from these we can glean the car is largely complete, albeit in kit form. But that's fine, as this is going to be a ground-up restoration, so think of it as having most of the strip-down work already done. Every cloud and all that. It's located in Belgium, and does indeed appear to be a European specification car. There are no U.S mandated 'federal' bumpers to spoil the look of this fine machine. Plus, it is an actual De Tomaso, not a Ford. They were sold in the U.S as the Ford Pantera until '75.
Why is it a project?
Well, just look at it. The engine and transaxle are on a pallet next to it, while everything else appears to be boxed up. This thing needs to be completely rebuilt, make no mistake. But, looking at the pictures, it seems to be a very solid old thing. The Pantera was a monocoque design, a first for the company. This one looks to be very well protected from the elements, with a more than generous coating of protection on the underside. It also looks to be solid and original, with no scary holes or damage to be seen. The empty engine bay looks good, too. Nice and solid. Then we have the body. The paint is heinous, make no mistake, but the body looks to be very solid indeed, with no serious rot. The glass is all there, the interior looks to be largely complete and the car even comes on a set of staggered Campagnolo GT5-S wheels, which look right at home under the flared arches, which look to be a later addition. It's a big project, but one well worth taking on. Especially with an asking price of just £39,750. Restored cars can break six figures without much sweat.
Five things to look for:
1) Parts
There are some photos, yes, but is everything you need present and correct? The Pantera is a very rare car indeed, and while the mechanical stuff is less of a headache to find due to it being shared with other cars, the Pantera specific stuff is going to be a nightmare. Fixtures, fittings, trim, you need to know what's there and if it's usable?
2) Engine
The engine is on a pallet next to the car, which makes inspecting it very easy. The reality is you're going to put something else in the car, like a modular 5.0 from a modern Mustang for example. But, if you want to keep the Clevo in it, you need to make sure it turns over on a spanner, and that the block is free from any signs of obvious damage. It's going to need a rebuild, but don't fret, as parts are easy to come by. The transaxle, however, might be more difficult to replace, so check the condition of this while it's out of the car.
3) Chassis
The Pantera was, as we mentioned earlier, a monocoque. As such, the condition of the steel on the underside is of utmost importance. It all looks very good in the pictures, thanks in no small part to having been slathered with a generous coat of underseal. But have a proper poke about and make sure there are no holes, no weak spots nor any sub-par past repairs. Restoration of the Pantera's structure will be bespoke work – there are no 'off the shelf' parts for a car like this.
4) Body
Ignore the horrid choice of paint colour and look at the body. It presents very well indeed in the pictures, especially for a car that looks to have been idle for so long. But is that paint hiding a multitude of sins, or is it solid? What about the flared arches? They look to have been added at a later date, but how well have they been fitted? Have the wings been cut and shaped properly, or is there a mish-mash of filler and bent metal under there?
5) Paperwork
As ever, it's a car from another country, so be sure to check the paperwork and make sure you can legally bring it to the UK and register it here. It would be foolish to drop forty large on this, only to then find out the car can never legally take to our roads.
What should you do with it?
It's not a standard car, not with those wheels and the wide arches. You could still restore it back to standard of course, but the Pantera is such a beast of a car we would be tempted to lean into what has been started and build it into something really exciting. As we touched on earlier, a modern V8 from the likes of a Mustang would be pretty spectacular, especially if you were to bolt a supercharger to it. You could upgrade the suspension and the brakes, strip out the interior in favour of something a bit more racy. Think bucket seats, bead-rolled aluminium panelling and a race steering wheel and competition pedal box. You could build this into something really, really exciting. And something that will almost certainly be truly, truly unique. Just don't go 'full Elvis' and shoot it if it doesn't start one morning.