1979 Ford Escort Harrier – Classified of the Week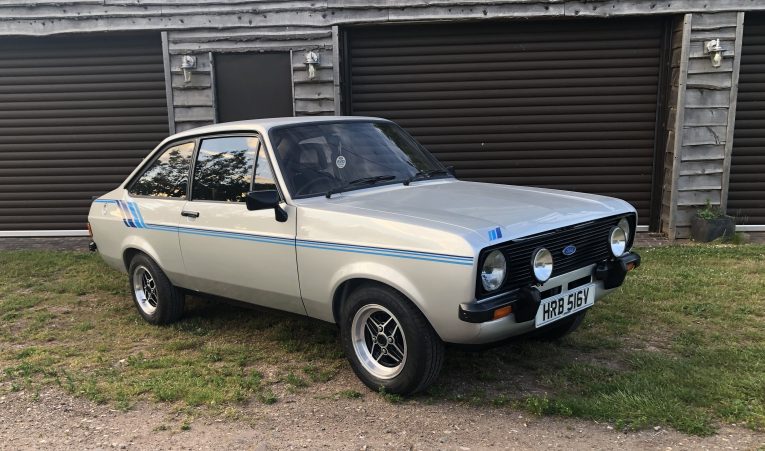 The Mk2 Ford Escort was a formidable machine, one that did wonders for the Ford Motor Company care of its on-stage abilities. It was the car that simply couldn't lose, one that made Ari Vatanen a household name, and one that birthed a generation of boy racers. Knowing that the need for speed was felt by the man on the street, Ford capitalised by ensuring the Mk2 was offered in sport trim options, much like the Mk1 before it. There was the Sport, the Mexico, the RS1800 and the RS2000 and at the end of the Mk2 Escort's production run, the now legendary Harrier. It was only a 1600 – in fact, it was based on the humble Sport – but for many, it was the ultimate incarnation of the model. Ford simply made it so as to bolster sales at the end of the Mk2's production run. Marketing it as a celebration of the model's motorsport victories. Most notably, the eight consecutive wins of the Lombard RAC Rally.
The Harrier boasted RS alloy wheels, a funky triple body stripe in blue, a rear spoiler, Recaro seats, black bumpers, driving lamps and with it all, the ability to feel like you were driving something truly special. The 1.6 engine would get you to 60mph in 10.3 seconds, and would top out at 100mph. But those figures weren't the real hook. Now, that came from the sportier suspension, the front disc brakes and the brilliant rear-wheel drive chassis. The Mk2 Escort Harrier was a car you could properly throw about, one that would never fail to put a smile on your face. And people loved that.
On the face of it, the Harrier was nothing more than some stickers, some alloy wheels and a pair of Recaro seats in moody 'beta cloth'. It was a dress up of a Sport. But did we care? No, of course not. Because the car was a celebration of just how amazing the Mk2 was. And it was limited, which made people even more desperate to get their hands on one. Offered from the dealership for less than a year, only 1,500 were built and sold. Of those, 1,000 were Diamond White, while 500 were even more exclusive thanks to being Strato Silver. A £35.83 optional extra, don't you know?
And that's what we have here. The advert is perhaps a little light on information, merely stating that the car has been through a full restoration. However, pictures are worth a thousand words, and on that basis, there is a lot to read. Restored to an exceptional standard both on top and underneath, this rare car looks to be in flawless, as original condition. Depressingly, a lot of Harriers were chopped about to become replicas of RS models, or they were modified into oblivion. Car & Classic contributor, Jim Blackstock, actually painted one orange and fitted big arches back when he was the Editor of Revs magazine. Little did folk know, back then, just how valuable they would become.
This example seems to be missing nothing bar the radio. And it even has the optional inertia reel seatbelts – fancy. Is it cheap? No, of course not, it's a classic Ford in a rare specification that also happens to be in pretty much immaculate condition. As such, it's up for £50k. Eye-watering maybe, but give it a few years and that price will seem like something of a bargain. After all, they're not making any more of these cars. If you want to own a classic Ford that is truly, truly special. More so than even the most perfect RS1800 or RS2000, this is it.