1984 Ferrari 400i – Project Profile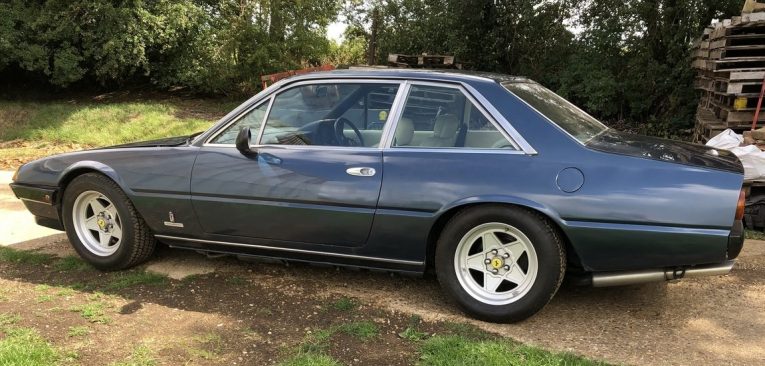 No car is exempt from becoming a project, and that's evident here, as we present you with this week's project of choice – an actual Ferrari. The reality for any old car is that the prospect of becoming a project is never really all that far away. All it takes is a brief moment of no use, a moment that can soon turn into an age. Life is busy, and often, old cars that need attention fall low on the list of priorities. Certainly, that's what has happened here. This Ferrari, a stunning and incredibly rare 400i with manual transmission, was bought with the best of intentions, but sadly they haven't come to fruition.
Unlike so many 'project' cars though, this one is available. You can take it on and bring it back to life, which is a refreshing alternative from the norm. We observe so many classics sitting forlornly on driveways or at the back of garages that, despite the uttering of the words "I'll restore it" we know will sit there forever more. So while this Ferrari may indeed be a bit down at heel right now, at least it's here for the taking, to be bought and rejuvenated. And you should, because this oft overlooked model is truly representative of one of Ferrari's finest hours.
What is it?
What we have here is a 1984 Ferrari 400i. This model starts back in 1972 with the Ferrari 365 GT4, which was a large, 2+2 powered by a 4.4 litre Ferrari V8. The car was a bold departure for Ferrari in terms of the style, and because of that, affections were hard won. However, for those brave enough to take the plunge and invest their cash in one, the rewards were vast. The car had impressive pace, it offered exceptional handling and thanks to the brilliant work of Pininfarina's Leonardo Fioravanti, it was a handsome treat for the eyes, too.
Over the years, the model evolved into what we have here, a 400i Series 2 (though this wasn't the final model, as there was the 412 of 1979). This car boasted the same V12 engine, but this time with Bosch K-Tronic fuel injection. With 306hp on tap, it would get all the way to 149mph with ease.
The 400i saw some visual changes from the earlier cars such as body coloured venting, a body-coloured rear light panel and a new interior. Though at its core, it was largely the same car as it had always been; tubular steel chassis, double wishbone suspension, front and rear anti-roll bars and of course, that quad-cam V12 engine. The bodies were steel with fibreglass floors, and were built entirely by Pininfarina in Turin before being sent to Ferrari in Modena for final assembly.
This car, which is one of the last of its kind being a 1984 model, is exceptionally rare for a number of reasons. Firstly, there is the fact it is right hand-drive, of which there are very few. Furthermore, it's a manual transmission car. Only 422 of these were built, and of those, fewer than 30 were right-hookers. A very special car indeed.
Why is it a project?
The vendor states that they spent a great deal of time looking for a car in this specification, but sadly, after finding one, the reality is the car has sat for a year with no progress. As such, the always tough decision has been made to move the car on to someone who can bring it back to its former glory.
They go on to state that this is one of 28 right-hand drive cars, and of those, one of eight series two cars, making it very special indeed. It does run and drive, but it's not on the road and there is strong advice to give the car a mechanical overhaul before it gets there. From what we can gather, the Ferrari needs a complete mechanical service. There is no mention of the car's status before the current owner got it, but given its last MOT was in 2010, it's safe to say it's not done much. Further investigation into the car's past reveals that it had some structural work done early in 2009, as it failed for a number of reasons before passing an MOT. This is something you'd need to inspect. Sadly, beautiful though the 400 is, it was always prone to rot in the sills and lower pillar areas.
Other highlighted issues were with the brakes and with some of the suspension components, so you can expect to need to renew all that for peace of mind.
Finally, there is the bodywork, as the vendor states that some of the lacquer has started to go cloudy. Given that this car's body is steel, you want to get on top of any paint and corrosion issues before they become serious.
It's a big list of stuff, but with an indicated 46,000 miles, that manual 'box, reams of service history and even the factory tool kit (that's about a grand on its own), it's a car well worth saving. It's a bit down on its heels, granted, but it doesn't strike us as being a lost cause. Far from it in fact.
Five things to look for:
1) Corrosion
The car has had welding in the past, which isn't a surprise given they weren't all that well protected. However, you need to be sure it was done to a decent standard and that it was suitably protected from further corrosion.
2) Electrics
The vendor states that the electrics are untested, so expect some issue to arise here. These old Italians have fragile looms, so something will have broken somewhere. Time to get familiar with the multi-meter.
3) Paperwork
The Ferrari comes with stacks of history apparently, so have a paw through it and see what's been done over the years. It might help convince you to buy the car, and it will also give you an idea of how well it has been treated in the past.
4) Trim
Trim is hard to find, both internally and externally. The exterior looks to be present and correct, but still check for broken fixings etc. Also, check the interior for water damaged panels, worn or wet carpet and rips in the seats – repairs will be a specialist job.
5) Engine
The engine is the all important bit, and let's be honest, why you're thinking about buying this. The V12 is a wonderful unit, and parts are still available, but this is no Pinto. A full service will be expensive, a full rebuild could be five figures. Check it over for leaks, damage, smoke, anything nasty.
What should you do with it?
Given the rarity of this Ferrari, the only way to go would be that of a full restoration. Done right, and done to an exceptional standard, this car could – if the mileage is correct and the service history is rich in information – be a £80-90,000 car. But, there is a lot of work to do to get there beforehand, make no mistake. But if you take that plunge, and if you get the right people on it (there are multiple places at Bicester Heritage, for example, who would LOVE to work on this) it could be a truly remarkable car, and one that does the impossible – stands out, even against other Ferraris. That's quite special.