1986 BMW M635 CSi – Project Profile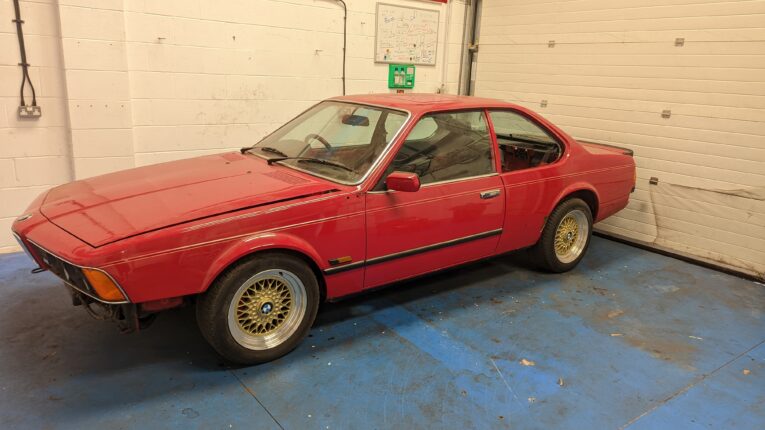 Cast your minds back to the early '80s, if you can. BMW had already released into the wild a couple of its soon-to-be iconic M-badged beauties; the M1, where it all started in 1978 and the M535i – the predecessor to the E28 M5 – a year later. But it wasn't until '83 that the brains behind these Bavarian behemoths decided to cram the 3.5-litre, 286bhp six-cylinder engine from the M1 into the sleek, refined body of the E24 6-Series coupé that had debuted six years earlier, thus creating the first ever M6 – the M635 CSi.
With the brakes from the M1, along with uprated suspension in the form of Bilstein shocks and an LSD the M635 CSi was, and still is, an incredibly capable car. Producing over 280bhp and 250lb-ft of torque it had plenty of grunt and could get to 60mph in around six seconds. Combined with its "Sharknose" front end and two-door GT styling by Paul Bracq, it's arguably one of the best looking M cars ever produced.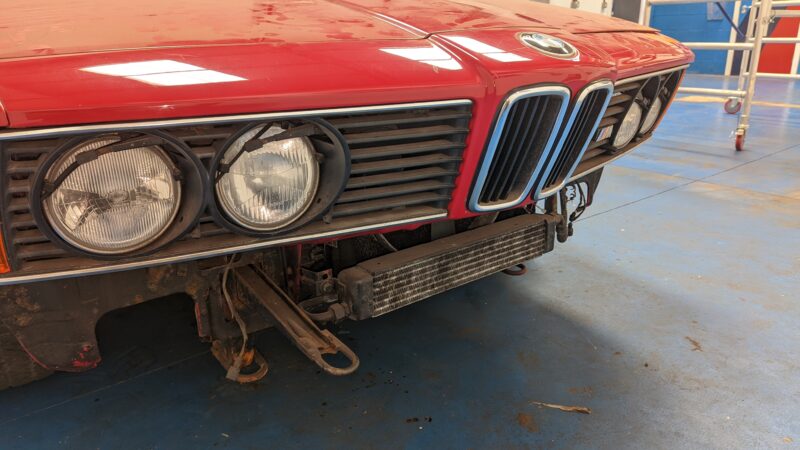 Less than 6,000 of these cars were produced by BMW, only a fraction of which were right hand-drive, making it a rather exclusive member of the already prestigious M club. On top of that the 635 also has a rather impressive motorsport heritage which only adds to the car's kudos points. The 635CSi celebrated numerous European Touring Car victories in the '80s at the 24 Hours of Spa-Francorchamps, winning the overall competition in '81, '83 and '86. Not only that but E24s also won the 1984 and 1985 Nürburgring 24 Hours.
What is it?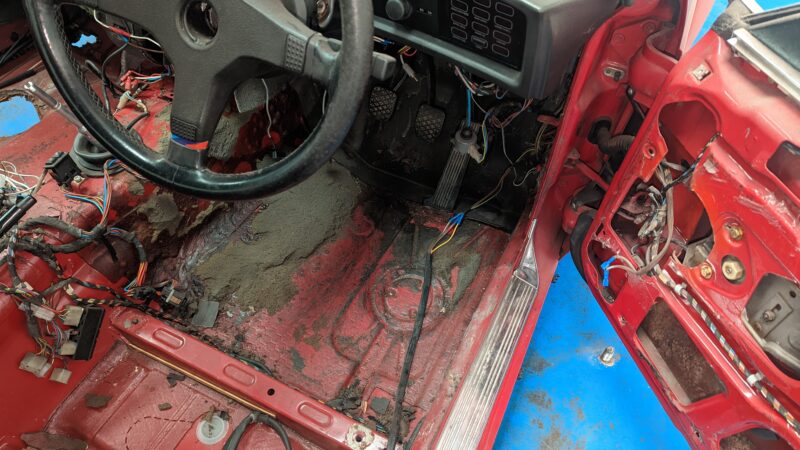 Our focus for this week's Project Profile is this 1986 M635 CSi. It's a genuine example with a five-speed manual gearbox and 150,000 miles on the clock. It's a running and driving car but does need some work to get it back on the road. The good news is that all of the parts required to do so are included in the sale and the owner states that all of the original parts are present, including the factory-fitted M-Tech front bumper, side skirts and deep rear bumper.
Having owned the car for over 8 years the current keeper is now moving it on due to having too many projects on the go in addition to losing the storage space. From the advert description we can safely infer that the car has been dry-stored but that's not to say there is no rust to deal with. This is a 36 year old car after all and these M635 CSi models didn't leave the factory with particularly outstanding rust-proofing.
Why is it a project?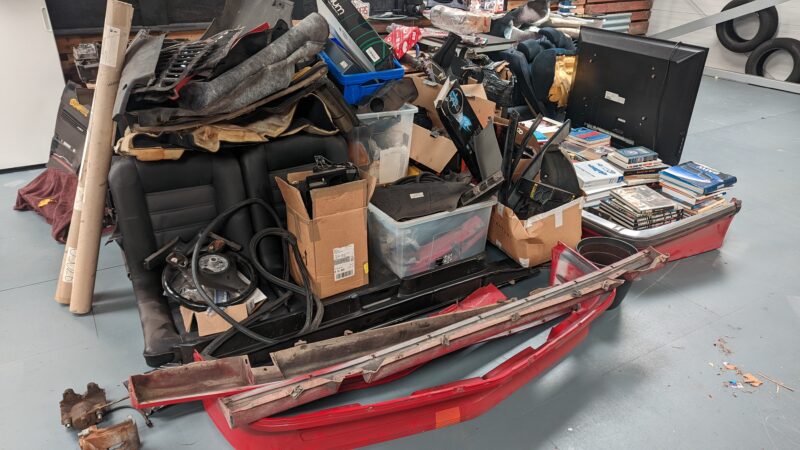 Well for one because of that lack of rust-proofing. The car does have some areas of corrosion that would need to be dealt with, most notable of which is the passenger foot well which has a hole in it. From the photos we can see that it's rather large and to use our editor Chris Pollitt's unit of measuring such things we would equate it to the size of a standard Poodle. Thankfully the driver's side is unaffected but the outer sills will need replacing and the nearside rear quarter will also need some attention. The interior will need re-fitting (it is supplied) and so will the exhaust, which is a brand new Supersprint stainless steel system.
Five things to look for:
1) Rust
We already know that there are areas that need work but what about the rest of the car? Check the chassis for any rot and/or damage, including the jacking points. Areas to concentrate on up top include the front wings and rear wheel arches, the door bottoms, rear valance and around the sunroof so inspect it all carefully. If you're not sure, take someone with you who is as a solid car will save you thousands later on.
2) Engine
That sweet, sweet twin-cam, 24-valve M88 six-pot is a peach and notoriously robust but that's not to say a neglected motor won't still cause you problems. Have a look for age-related oil leaks as well as any evidence of overheating and head gasket problems. The usual signs of gunk in the oil filler cap and smoke from the exhaust will be tell tale. At 150K the timing chain should have been replaced too so check for evidence that this is indeed the case. It's a labour-intensive process which means big bucks if required.
3) Wheels and Tyres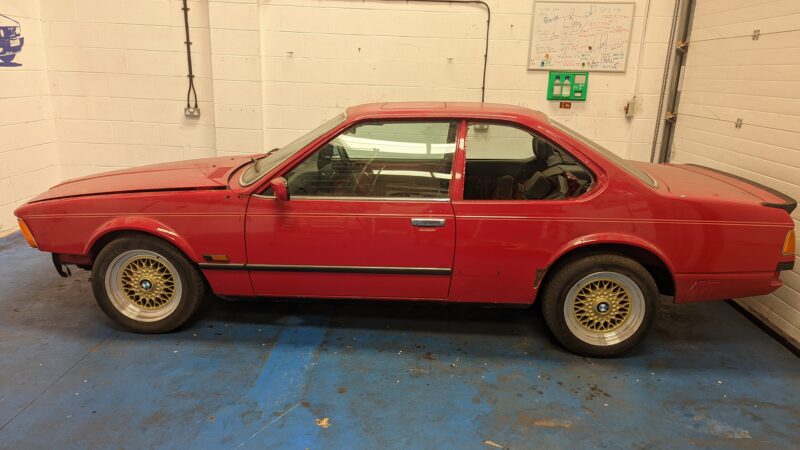 The car is fitted with the original 415mm TRX wheels. This makes tyre choice incredibly limited, not to mention expensive. A lot of owners replace them with a set of 17" imperial rims which gives a much broader spectrum when it comes to potential rubber, so bear this in mind and factor in any additional costs, whether that be for replacement tyres or a new set of wheels.
4) Suspension and Steering
The E24 is a heavy car and as such the steering and suspension components are under a lot of stress. The suspension contains a significant amount of bushes and ball joints so check for perished rubber and play in any joints as replacements and repairs will soon add up. The Bilstein shocks can be rebuilt though, which will be cheaper than replacing them if they're shot. If the steering feels a little vague it may be down to a tired steering box and damaged brackets that attach it to the front subframe so have a look for any cracks.
5) Interior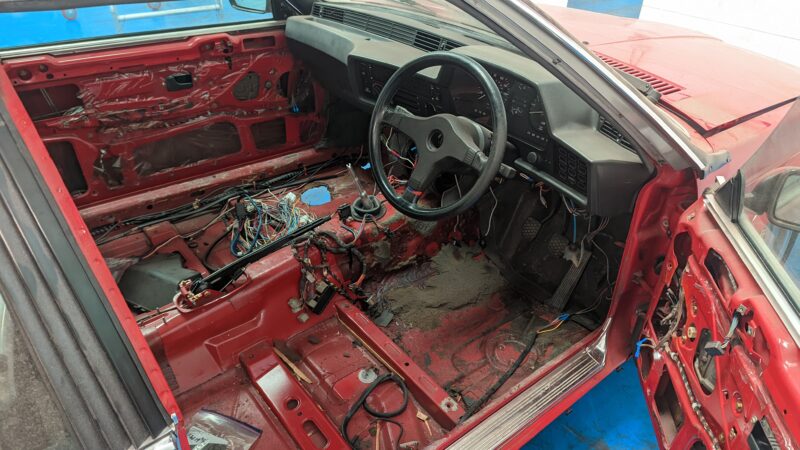 We already know that the interior is currently on the exterior but along with putting it all back in the car what else needs to happen? There weren't that many gadgets in the M635CSi but make sure what there is all works correctly. The advert states that the leather upholstery is free from damage but a full inspection will be pertinent to ascertain if there are any bits and pieces that need to be repaired or replaced.
What should you do with it?
Apparently the current owner had plans to turn this particular BMW M635 CSi into a classic hill climb weapon but that's not the route we would take. With a lot of the car already stripped it wouldn't be much more of a stretch to carry on so that the entire body can be repaired and then fully repainted. After putting everything back together, changing the wheels and giving the mechanicals a good overhaul, replacing any old or perished items, Bob would very much be your mother's brother and you'd end up with a rather lovely example of a rare and really rather special '80s M car. One to be proud of.