1989 Ford Escort XR3i – Auction Car of The Week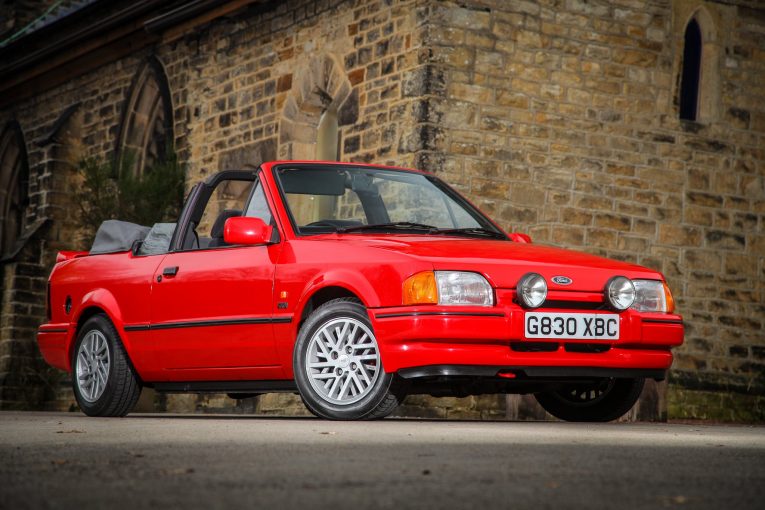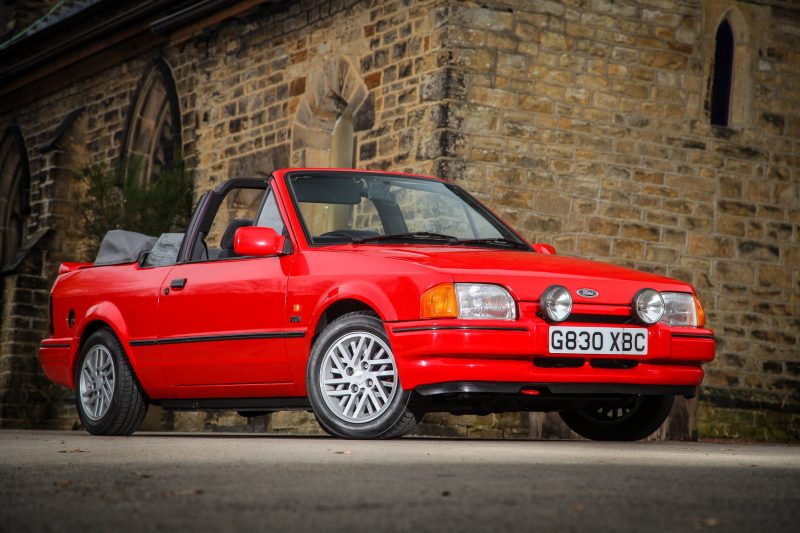 The world of classic and retro Fords is a funny one. Cars from the blue oval will either be hot property from the off, or they will go through a deep, depressing lull, only to come out the other side as champions with rapidly appreciating value. The 1989 Ford Escort XR3i convertible we have is, most definitely, the latter. But why? It's an XR3i. It should have been hot from the off, right? Well, no actually. Because the Ford world is, as we said, funny. It is also somewhat fickle.
An XR3i with a roof of pressed metal has always been desirable. The ragtop, however, was seen as being not as good. There was some truth in this, as the removal of the roof meant it was somewhat lacking torsional rigidity, but that's the price you pay for having the wind in your hair. It should have been a huge, huge success, but the die hard hot hatch fans were having none of it. And this was true of other brands. As the years rolled on, the convertible versions of the 205 GTi, the GTE and the Golf could all be bought for significantly less money than the tin-top versions. Soon though, the tables started to turn.
We're dealing with cars of the '80s here, so most of them turned to rust before '91. Then we have the Max Power generation that served to modify many an XR3i into oblivion. That, or they would wrap them around street furniture. Soon, the lack of desire for the convertible versions resulted in there being more of them on the road than their fixed head counterparts. And then, in a shift so ironic Alanis Morrissette could write an album about it, the convertibles became more sought after. They were cheaper, they were often well looked after, they were more often than not still in original condition and finally, the buying public realised that having no roof is just… better.
And that brings us to this week's auction car of choice. A 1989 Ford Escort XR3i convertible, resplendent in Radiant Red, this beauty is largely original, it's solid as a rock, it's fun, it's great to look at and it has never once been intimate with a tree or a bus stop. It's a little cracker, frankly. The 1.6 fuel-injected engine is in excellent order having been looked after and regularly serviced. The interior is utterly stunning, with Recaro bucket seats from an Escort RS Turbo. The exterior, complete with period correct XR3i alloys and proudly mounted driving lights is, well, it's just perfect. It's a fun, happy, vibrant car.
And this XR3i sans roof is far more impressive than a tip top version. This car has survived being a frankly unwanted model, and it's come out the other side as a true classic. It's been loved, it's been preserved and it's all the better for it. Is it perfect? No, of course not. But it's not far off. And as it stands, it's most definitely the kind of car you take to a show and display proudly. And people will, take our word for it, swoon. The days of looking down on roofless hot hatches has gone. This is their time to shine. But trust us when we say the market is only going one way, and it's not down. If you want a car like this, the time to buy one is now. Good job, then, that you can bid on this one, isn't it?