1989 Ford Escort XR3i – Project Profile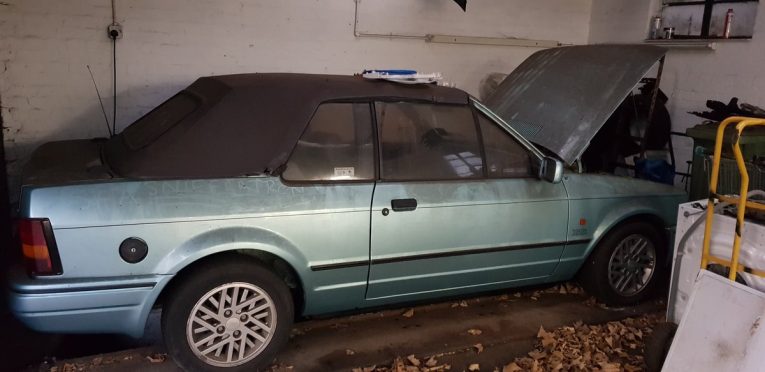 We'll be the first to admit that in the case of this old Ford Escort, the pictures aren't brilliant. Furthermore, the car is most definitely a bit of a forgotten relic. But this is what hunting for a project car is all about. You can't expect every car, especially cars that people need to get rid of, to have professional quality images. They're going to be hemmed in, surrounded by bric-a-brac and other detritus. You're going to have to look past all that and do the best with the information presented. By doing this, you're going to be more invested than 90% of people who look at the advert. They'll quickly dismiss it, ignoring what could be a potential gem. 
And that's what we're presented with here. This 1989 Ford Escort XR3i convertible looks to be just another old Ford, but look closer, beyond the leaves and junk, and it seems there could be a worthwhile project lurking under there. These 1980s Fords love to rust and rot, but this one looks pleasingly solid and arrow straight. It's a nice spec being an XR3i, and it's a rather fetching colour under the dust, too. We think this is well worth further investigation. 
What is it? 
It's the ultimate in Essex mobility, if the stereotypes are to be believed. Yes, it's a mighty Ford Escort XR3i. 1.6 litres of fuel-injected CVH glory. And what's even better about this one? The lid comes off, so everyone can see you and hear your Ministry of Sound CD. Are we selling this here? No? We'll try harder. 
What you have here is a rare machine in that it's an old Escort convertible that appears to have not rusted into oblivion. In the 1980s, Ford spent about four quid on metal for all its cars, and this meant the metal in question was rubbish. However, rust quite happily filled its belly on many an old Escort. They would rot at the sills, the battery tray, the roof, the arches, the boot floor… you get the idea. 
Lopping the roof off didn't exactly help with rust prevention, but that's where this car appeals. In the images at least, it looks remarkably rust free. And that light green colour would be quick to show any rot that might be hiding under the surface. But there's nothing. In fact, after some seriously close scrutiny of the car, we think it looks pretty straight. 
And yes, there's the inescapable reputation/cliche trap that comes with driving an Escort convertible, but we say ignore it. This is an old Ford, look after it and it will go up in value. But more than that, it's a cheap way to get at the old Ford table. It's fun to drive, in the case of this car, it's a rare colour and when the wind is in your hair on a lush summer's day, you won't care about the Essex jokes. 
Why is it a project? 
Well, by the vendor's own admission, this particular Ford Escort has been sitting for five years. However, it seems to have been indoors and as such, in the dry. Rather than being loaded with moss and lichen, all you have to contend with here is some dust, which is just fine. 
It starts and runs, though we would suggest going through all the mechanicals and giving them all a damn good service. Hoses are going to be brittle, fluids will be very old indeed and filters will be well past their best. In fact, the vendor actually states that the old Ford has a few "oil and coolant" leaks, so you're going to want to get those buttoned up. 
The Escort also, and somewhat unsurprisingly, needs a new roof. Happily, there are people out there who can furnish you with such a thing for around £250, which isn't much at all. Though you might need to spend another £100 getting it fitted, unless you want to torture your own fingers? 
The interior, which there are no pictures of, sadly, needs some love. Apparently, the Escort has Recaro leather trim, but it needs some love. That said, we'd be tempted to get rid of it in favour of some RS Turbo Recaros in cloth, which are much nicer. But it's up to you.

On paper, this old Escort is an in-depth and extensive recommission rather than a full restoration, or at least it should be so long as it's as solid as the vendor states. We're sure there are going to be paint blemishes under all that dust, but nothing horrific. And once the car has rewarded you with some solid mechanical reliability, you can then look at the paint. 
Five things to look for:
1) Rust 
The vendor is quite open and honest in describing the condition of the Escort, and has clarified that the known weak spots all seem solid. However, this is an old Ford, so don't be afraid to have a good look for yourself. 
2) Interior
There are no images of the interior, so we have no idea what we're dealing with. The vendor states the seats need re-colouring, but what about everything else? The plastics are quite tough, however, the carpets aren't, nor are the door cards. And both are hard to find. 
3) Mechanicals 
It runs and drives, but has plenty of leaks apparently. You need to check this out properly. Is the oil leak simply a leaking rocker gasket, or is it something else? What about the coolant leak? Loose pipes, or corroding fittings? 
4) Hood Mechanism
We know the hood fabric needs to be replaced, but what about the mechanism? The fabric element is easy enough to find, the mechanism not so much. Check it operates smoothly and folds without fighting you. If it slows or graunches, things are awry. 
5) More Rust
It's a Ford from the '80s. When you've done checking it for rust, check it again. Check the chassis rails, the firewall, the boot floor, the boot lid (very hard to replace), under the seats, the seatbelt mounts. Check it all. Twice. 
What should you do with it? 
There are two trains of thought here. You could, given that this is a limited edition XR3i, go for the full, original restoration. That would be nice, given how thin on the ground these cars are becoming. To see one in original and immaculate trim would be quite something. 
What a mint car looks like
Then, of course, there is the inescapable fact that this is an old Ford, and old Fords tend to get faster. So you could drop in a turbo motor, fit some coilovers and bigger brakes and have a ragtop that pulls your hair out, rather than just letting it flutter in the wind. You could fit bigger wheels, you could go for an RS Turbo body-kit. The world is your oyster, and the parts are out there. 
This Escort could all be yours for a couple of grand. Look after it, get it in tip top condition and you'll be laughing.