Allard – Famous Marque Makes a Return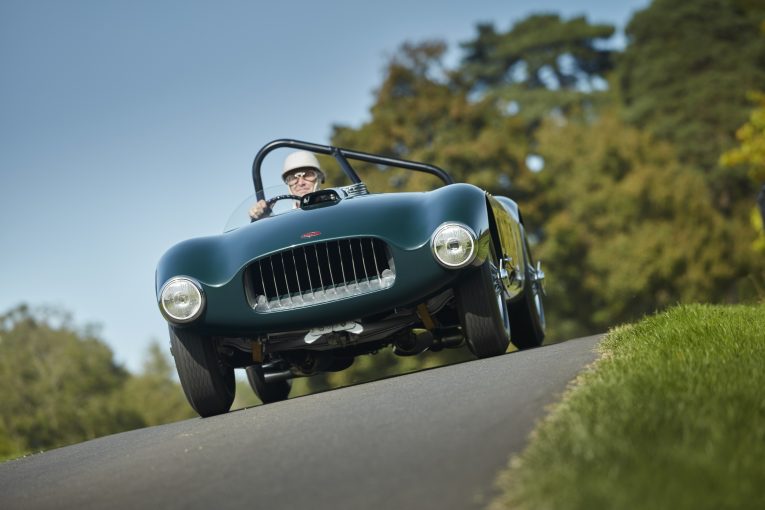 There is some big money to be made when it comes to continuation cars, as they are known. You know the sort of thing we're talking about; classic cars that have been remanufactured as they were back in the day, giving deep-pocketed punters the opportunity to buy a brand new classic car. Aston Martin has cashed in on this, with the DB5 James Bond car, which is well into seven figures to buy (and not even road legal), or the DB4 Zagato, that is equally eye-watering in terms of price. Great cars, don't get us wrong, but they leave us a little numb.
The continuation cars aren't really continuations. The offerings from the likes of Aston and Bentley with its Blower are wonderful, intricate, fascinating machines that are built with passion and heart, make no mistake. But they come from companies that have been a constant, companies that have never fallen from their ranks within the motoring world.
And that, three paragraphs in, finally meanders around to the bedrock of this article, a car that properly excites and enthrals because it comes from a marque that, despite once being great, has all but been forgotten in 2020. That marque is Allard.
Allard Motor Company, a name created in the 1930s from a love of racing, coachbuilding and pre-war 'hot-rodding', is making its comeback for the first time in 60 years, and introducing the Allard Sports Cars JR continuation series. The JR continuation is built by the original Allard family, who is offering the first chassis of the JR continuation series for sale with RM Sotheby's at its upcoming London auction on 31st October 2020.
One of the very few remaining family-owned car companies, the JR continuation series has been a collective family project to bring back the Allard name and continue the founding father's (Sydney Allard) legacy. Hand-built in the UK by Sydney's son, Alan, and grandson Lloyd, alongside his other grandson Gavin, archivist of The Allard Owners Club, the JR continuation model has been built using original drawings and parts, design bucks, traditional materials to the original racing specification.
Based on the original 1953 JR competition specification, the JR continuation was built by Lloyd Allard and his family to be a tool-room copy of the original 1953 JR Le Mans entrant. The JR followed the Allard's third-place success at Le Mans in 1950 in a J2 (the previous model) and with just seven JRs made between 1953 to 1955, and with racing legacy to its name, the family wished to revive one of the rarest and most famous of Sydney Allard's cars.
Commenting on the JR continuation series, Alan Allard said: "Watching my father build these cars in period is a memory that will always stay with me. The skills he's passed on to me are now with my son, Lloyd, who has engineered and built the continuation you see today. Over 84 years on since the first Allard car was built, car number eight [after seven original JRs] continues my father's legacy (Sydney Allard) and if he saw what we were doing today as a family, I know he'd be proud – and desperate to see how it performs on track."
Since racing is such a large part of the company's legacy and passion, the family decided to create the JR continuation series to be competitive and offer customers with the option of HTP papers and accreditation. Fitting the JR with a re-engineered version of the original-specification Cadillac 331 ci (5428cc) overhead valve V8 (300 bhp at 4500 rpm) Allard Sports Cars is also offering three- and four-speed gearboxes (chassis number 3408 fitted with the optional four-speed transmission) and a differential final drive with selection of quick change transfer gears, as well as providing the option to vary the ratio to suit specific events, race circuits and road rallies.
The stunning drop-head, aluminium body has been built to original specification, incredibly by using the 1953 body buck that was created by the JR's original designer, Dudley Hume. Now that right there is what you call continuation. The fact the buck has survived is also evidence of the family's passion and dedication. The family has also kept the original divided front axle suspension and twin tubular chassis to retain the JR's low weight of just 2200 lbs (dry).
Eligible for a number of race events, series and road rallies, the JR continuation's coachbuilder Lloyd Allard commented on the race-specification and said: "As a family we have been passionate in reviving and continuing the legacy of what Sydney Allard created over eight decades ago. Since we're all [the current Allard family members involved in the project] passionate drivers, engineers and archivists, it's been important to stay true to our roots and passion. We see this car as a tribute and we'd love to see the JR continuation model car follow in the footsteps of my grandfather's legacy and get back to Le Mans. Likewise, it would be a pleasure to see our creation on the historic and competition car circuit."
The continuation JR model chassis number 3408 is exclusively for sale at RM Sotheby's London sale on 31st October 2020 with an estimate of £180,000 – £240,000, which given the heritage and strong family connection, is something of a bargain. But don't fret if you're not in a position to make a bid just yet. More cars are planned, and we'll be visiting the workshops to find out all about them. Watch this space.