Concours of Elegance – Jewels in the Crown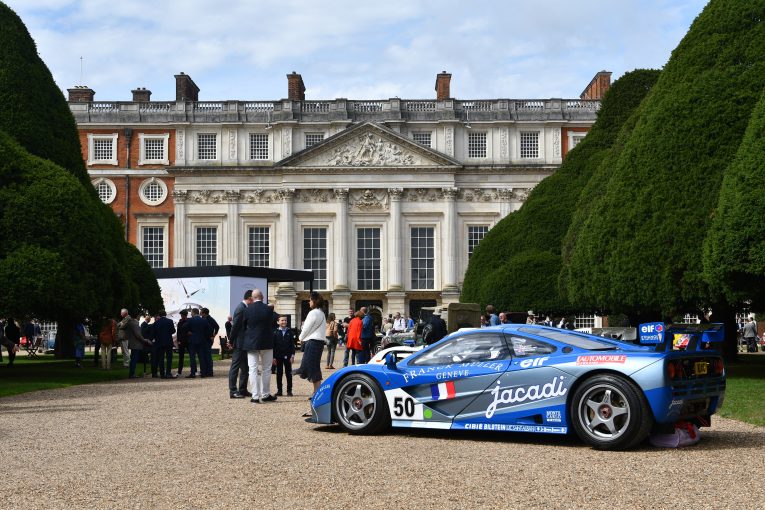 Phew. It's a bit exciting to actually be able to go to a car show, isn't it? We'd been getting some pretty serious withdrawal symptoms, having not been out of the house to gawp at shiny metal in a bona fide show environment since February. 2020 has, of course, kicked many leisure pursuits in the teeth for obvious reasons, and the slow trickle of shows returning to the calendar in late summer has been interesting to observe.
Obviously grand spectacles like the Goodwood Festival of Speed and Revival would have been impossible, you can't guarantee social distancing with those sorts of numbers crammed in, and it's been quite surreal to see Formula One races taking place in front of empty grandstands. One sub-genre of the car event sphere which has picked up fairly rapidly is the local meet, as small-scale events on village greens and seafront car parks have relatively low attendance and are easy to space out. And, of course, the high-end concours is something else which is able to return in its full glory. With events taking place in large, expansive grounds and strictly ticketed to limit numbers, they can flourish as they always have – and so it was with the Concours of Elegance at Hampton Court Palace.
This magnificent concours reflected the stellar successes of its runnings in previous years and, aside from the ingrained sense of heightened self-awareness we've all developed this year when it comes to not getting too close to other people, it really did feel like a slice of normality. Well, as normal as it's possible to feel when surrounded by fancy classic cars in the garden of a royal palace. Attending this show felt like car shows should be – and, it has to be said, the virus had absolutely no effect on the quality and quantity of cars on display. So much so that it would be impossible to outline every one without waffling on for days… so instead, after much head-scratching and bickering, we've distilled the whole event down to a top-ten of the coolest and most interesting exhibits. Stick the kettle on, and behold…
Leyat Hélica
We'll start with a real oddball, because when this weird little poppet buzzed into the palace gardens it caused more than a few monocles to splash into champagne flutes. What you're looking at, essentially, is a wafer-thin plywood body, steered from the rear, with a whacking great propeller on the front – which, frankly, sounds like an utterly magnificent manner in which to seriously hurt yourself. It looks superbly demented, doesn't it? The story goes that Marcel Leyat, an engineer from south-eastern France, had started out building bespoke planes before concluding that there was little profit in it, so instead decided to repurpose his designs into 'wingless planes' – i.e. cars. The idea was that without a transmission, clutch or rear axle adding weight, it'd be a very economical road car. The reality was that it's quite hard to see where you're going with a massive propeller in front of your face, and while rear-steering is OK for low-speed manoeuvring on airfields, it's not ideal in central Paris. Still, it looks completely brilliant.
Lamborghini Miura
Any Lamborghini Miura is a cool Miura. But a gold Miura? That's surely peak Miura.
It's an interesting quirk of this concours event that in order to access it, you must first amble through the various courtyards of Hampton Court Palace. (And yes, it's allegedly possible to inadvertently wander off from your prescribed route and have a good look around the palace too, we couldn't possibly comment.) And this year, auction house Gooding & Company decided to capitalise on the visual majesty of it all by filling the first courtyard with a variety of treats from their 'Passion of a Lifetime' sale. The first car to greet visitors was this glorious gold Miura – one of only 150 SV models built, which means it's got the dry sump and the LSD and so on. It must have been quite a surprise for casual visitors who were just coming to see the palace and didn't know there was a car show on, and it evidently created a stir among the bidders too: with a reserve of £1.2m-£2m, it ended up selling for £3,207,000. Crikey.
Land Rover Model 80
Given the typical concours entrant's enthusiasm for aesthetic perfection, it's always nice to see an exhibit that's a bit ratty and rough-and-ready. Stealing the show for many here was the Land Rover Model 80 – known in breathy whispers among marque aficionados as 'Production Number One'. This landmark Landie was originally meant for King George VI, but was then assigned to a member of the model's core development programme. Its history saw it criss-crossing various owners through the decades; it ended up spending a fair few years crumbling away in a farmyard, before its historical significance was recognised and it could be saved. Over the last couple of years, it's been painstakingly and thoughtfully restored by Julian Shoolheifer Limited, retaining as much originality as possible. Amusingly, the car was brought along to the concours by Ineos Automotive, who were there to showcase their new not-a-Land-Rover Grenadier… Funnily enough, Production Number One rather overshadowed the new offering.
McLaren F1 GTR
There's always been a huge buzz around the McLaren F1 – it's one of the finest cars ever created, that's just a solid gold fact. Arguably the last car of its kind to be developed with a completely no-compromise approach, it's as staggering today as it was in the mid-1990s. Of course, one of the most intriguing elements of the tale is that Gordon Murray never intended it to be a racing car, it was always meant to be a road-going grand tourer – the fact that it was all-conquering at Le Mans was merely a happy by-product of its owners wanting to go racing.
The very idea of a road-legal GT dominating Le Sarthe among all the sports prototypes is absurd, and just goes to prove how great a car it truly is.
This particular example is one of nine GTRs built for the 1995 season, which finished in fifth place at the Le Mans 24-hour. Resplendent in period race livery, it's been converted to full road spec, including re-tuning the suspension and refitting the passenger seats. Pleasingly, the owner drove it to the show from Chelsea, which must have turned a few heads on the Kings Road.
Ferrari 250 GTO
The godfather of all homologation specials, the Ferrari 250 Gran Turismo Omologato is widely regarded for its impressive boast of being the most valuable car in the world – you'll need well in excess of £40m to join this exclusive club, as just 39 were made and they're all jealously guarded and very much sought-after.
So all GTOs are supremely special, but this one is perhaps the most special of all. Chassis number 3387GT was, in fact, the factory's original test-bed, and features a number of unique accoutrements such as the riveted rear spoiler. After its development duties were done, the car passed to Luigi Chinetti Motors in New York, where it was race-prepared and became the first 250 GTO to officially compete – it came first-in-class at the Sebring 12-hours, then was sold to a new owner who entered it into the Le Mans 24-hours. An exciting and fascinating life, and these keen beginnings were followed up by many years of competition. In recent years, it's been restored to original factory specs by south London dealer and proud owner, Joe Macari.
Lotus Evija
Here's a polarising thing. If you're the sort of purist who feels that the very essence of the added-lightness Lotus ethos resides in a sylph-like Elan or featherweight Elise, the idea of a 1,680kg goliath wearing Chapman's iconic nomenclature may stick in the craw. But try to forget about the weight – it's the power-to-weight that's crucial here. This mould-breaking hypercar is an EV, powered by four electric motors, one in each wheel. Peak power is an eye-watering 1,970bhp (yes, you read that correctly), enabling a 0-62mph dash in well under 3 seconds, 0-186mph in under 9 seconds, and a top whack comfortably beyond 200mph. We're looking at a full carbon chassis, magnesium wheels, carbon-ceramic brakes, the works. And no, you don't have to get it in 1980s British Telecom Yellow.
Williams FW15C
Williams fans are having an emotional time of it this year, with the Monza GP on September 8th being Claire Williams' last race as Team Principal, and thus the last outing for the team as a family-run unit. So the feels were strong for seeing this particular race car, not least for the fact that most people who grew up in the 1980s and '90s will have a very special place in their heart for the Canon-liveried V10 hot-shot. This was a technological powerhouse, with ground-breaking features like ABS, traction control, a semi-auto gearbox and active aero. The infamous 'push-to-pass' button instantly lowered the suspension and increased the rev limit, a smart trick which saw driver aids being outlawed for the following season.
This car, chassis no.02, was Damon Hill's steed, the one that took him to victory in his first three races, along with providing many other podium finishes. If you didn't have the Scalextric model of this car, you most likely had a poster of it on the wall. A true icon.
Facel Vega II
Facel Vega fans were treated to a handful of these sumptuous retro curiosities at the concours. And while purists may gravitate toward the HK500, it's this outstanding Vega II that won the day for us. The fabulously detailed eat-your-dinner-off-it motor is the larger of the engine options available, being a 6.7-litre Chrysler V8 offering 390bhp, and we just can't take our eyes off that Rolls-Royce Peacock Blue paint.
This really is a remarkable restoration. The Vega II sat unloved in a garage from 1967-97, the structure actually collapsing around the car, before being rescued and fastidiously reimagined. After years of neglect, it's been lovingly cherished and pampered since it was exhumed, and it shows. Every inch of this car is sublime. It's right at the top of our lottery wishlist.
Rothmans Porsche 911
It's often the case with car shows that the coolest machines are found in the public car parks, and this event was no exception. As we were leaving, we all but tripped over our jawbones when we spotted this 991-generation Porsche 911 parked under the trees. Splendid, isn't it? Some ingenious character has reworked it in the image of the early-1980s Rothmans Paris-Dakar 953. And it's not just a bit of cosmetic tomfoolery – based on a 997.1 Carrera 4 GTS, it's got custom lifted suspension, custom wheels, underbody shields, a widebody kit for a wider track, all manner of LED spotlights, and a hardcore winch. It gets used properly too – check out @thecaraba on Instagram to see it sliding around on frozen lakes…
Aston Martin Victor
Surprise show debuts have largely become a thing of the past thanks to the immediacy of social media – it's really hard to keep secrets these days, everything leaks out. So it was truly refreshing to see the boxfresh Aston Martin Victor being unveiled. And what a magnificent machine it is! Featuring choice chassis elements from the jewel-like One-77, this car takes the essence of the unhinged Valkyrie hypercar and reimagines it as a svelte and dapper road-going GT. That manic 7.3-litre V12 is here in an 836bhp state of tune, brilliantly mated to a manual gearbox, and the full-carbon bodywork calls to mind the brutal muscle-car styling of the 1990s Virage. The interior is sumptuously trimmed in Bridge of Weir leather and cashmere, but the thunderous noises never let you forget that this is essentially a carbon-tubbed race car. It's our new favourite Aston, by miles.