Cutting Through the Bull – HCVA Heritage Matters Day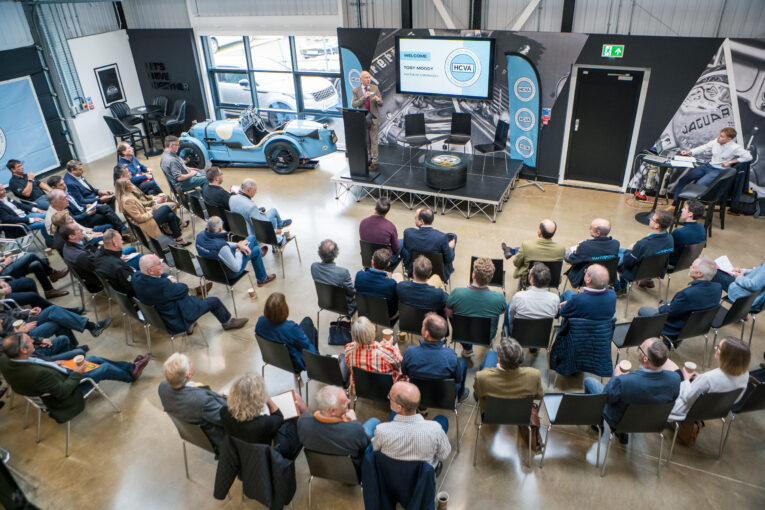 As founding members of the Historic and Classic Vehicles Alliance it was only natural that we should pop along to its inaugural Heritage Matters Insights Day at Bicester Heritage on an unseasonably pleasant October the 5th. As proud members we have a close relationship with the HCVA and so when we were offered the invaluable opportunity to not only enjoy, but also be a part of an inspirational and informative day of industry discussion and networking we jumped at the chance and promptly headed off to Bicester – the UK's hub for historic motoring excellence.
It wasn't just the beautiful October day that was agreeable either. With a welcome as warm as the weather, proceedings got off to a truly convivial start and it was great to be in the company of so many like-minded enthusiasts, movers and shakers in a relaxed and affable atmosphere.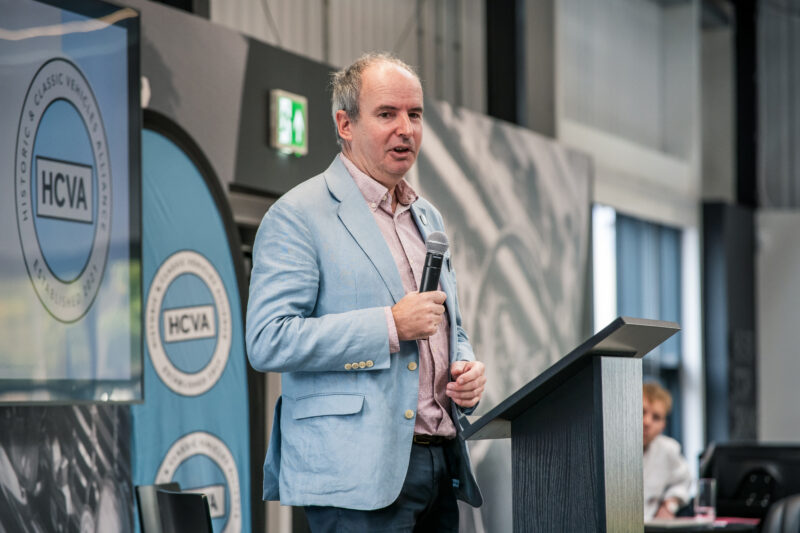 Hosted by motorsports broadcaster Toby Moody, the HCVA's Chair David Meek kicked things off with a presentation of the alliance's key strategies, with a focus on some of the core pillars that make up the HCVA's campaign – topics that are critical for all of us involved in this wonderfully diverse and vitally important multi-billion pound industry. These included: Education and Skills, Regulation and Policy and Environment and Sustainability, with numerous key speakers and special guests presenting throughout the day, including members of Parliament and even representatives from the DVLA.
This collective voice, representative of the many SME's that make up the industry, is incredibly important, now more than ever, and it's the reason events like the Heritage Matters Day exist – to foster relationships and build credibility and trust across all platforms in order to better recognise and understand each entity's needs.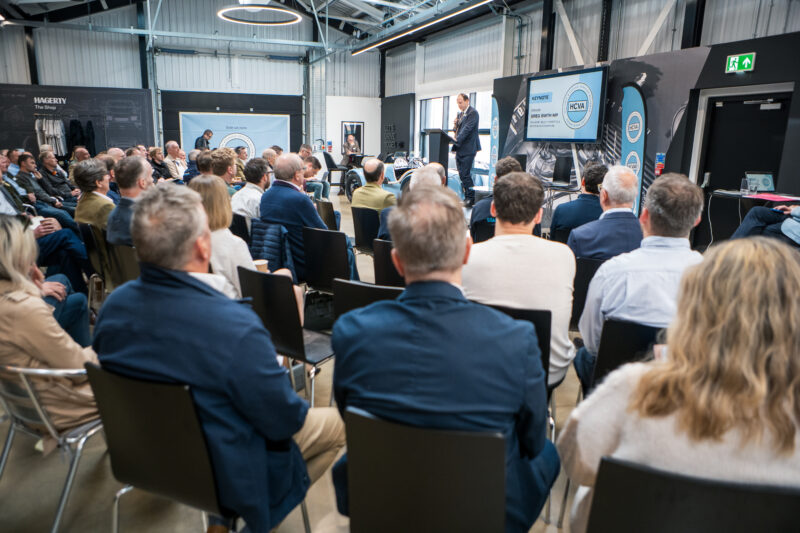 The fact that there was government representation speaks volumes as to how far things are progressing thanks to the tireless work that the HCVA does. MP Greg Smith, a self-confessed petrolhead, is passionate about the industry and wants to see the sector correctly represented, saying he is: "personally deeply committed to championing our cause in Parliament". Cutting through the typical waxy lyrics that seem to be par for the course for any politician we must say he does appear to be genuinely invested in preserving our cultural heritage and it will be interesting to see if his money and mouth are in the same constituency when it comes to action.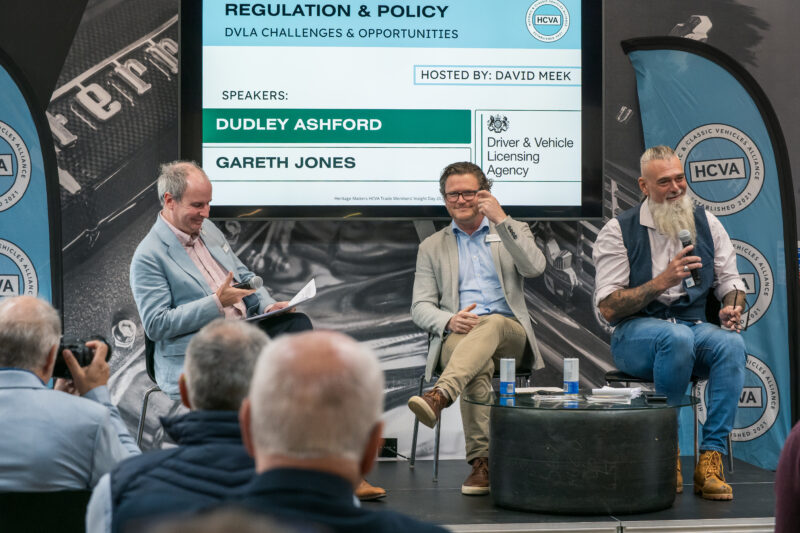 Similarly, being able to actually speak to someone from the DVLA was a step in the right direction and although there are still huge concerns over a lack of clarity with certain DVLA policies and many answers were not forthcoming, the fact that Dudley Ashford and Gareth Jones were even present in the first place just goes to show how seriously the HCVA is taken and how committed it is to ensuring that existing and proposed regulations are fit for purpose, and that consultation and transparency is offered throughout all processes.
It was encouraging and there is a changing mood that's leaning more towards a positive and proactive approach and the DVLA are listening and engaging with the HCVA with Dudley Ashford telling us that "the dynamic has changed, we know what the problems are". It's certainly promising.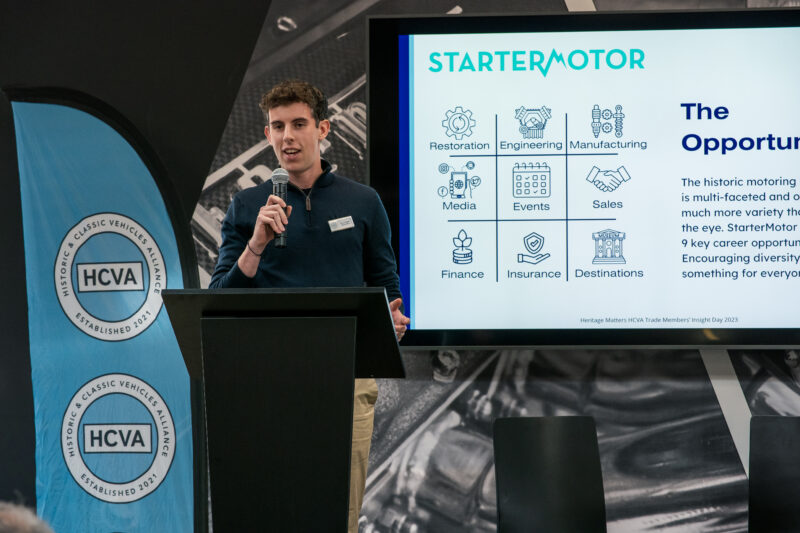 Simultaneously looking to the future as well as at our rich heritage were charity StarterMotor who have recently partnered with the HCVA. With common initiatives to engage a younger audience with the classic car industry StarterMotor is focused on introducing the next generation to historic motoring, careers and events by providing free resources to individuals and academic establishments along with apprenticeship schemes. Alongside key players at the charity, as well as representatives from the Heritage Skills Academy, Dan Geoghegan, Bicester Heritage founder and CEO, was on hand to mirror these sentiments, explaining that "finding a pathway for interested parties is important", with StarterMotor CEO David Withers adding: "we have to make the industry more visible".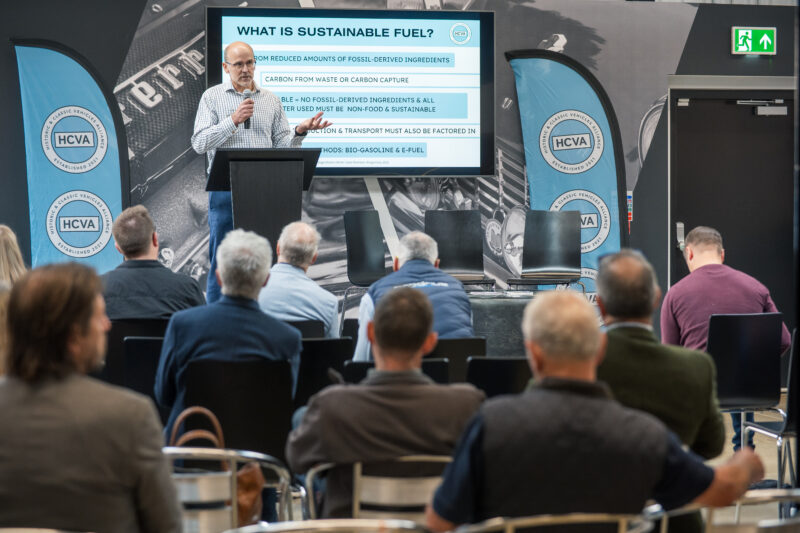 Another topic that is very close to our hearts, and indeed yours too if our YouTube video is anything to go by, is that of sustainable fuels and Guy Lachlan of Motorspirit was on hand to deliver an incredibly compelling and informative dissection of its future. Whilst our collective impact on the environment as a community is negligible, public perception is vitally important and at the moment, as Guy so expertly explained, there is far too much noise surrounding the industry. The products are real, however, as we have proven, and more and more people are waking up to smell the hydrocarbons.
According to Guy it is imperative to "demystify the market" in terms of choice and marketing vs. science, stating that the industry is currently in the same state as that of fossil fuels back in 1910. In order to facilitate this the HCVA has developed a sustainability rating that will hopefully be adopted and utilised for every available fuel in order to bring some clarity to proceedings. A simple star rating has been established, the results of which will be made public by the end of the year. We will be doing more of a deep dive into the HCVA's Environment and Sustainability initiatives (along with a closer look its other key pillars) in the coming months so watch this space.
An industry outlook round table discussion closed out proceedings with our very own Commercial Director Sarah Thomas joining the panel and providing some industry insights but suffice to say it was an incredibly useful and insightful day and hopefully the first of a regular series going forward. We're very much excited and looking forward to the next one. Visit the HCVA website to see how you can get involved today.