DB5 Continuation – Bond is Back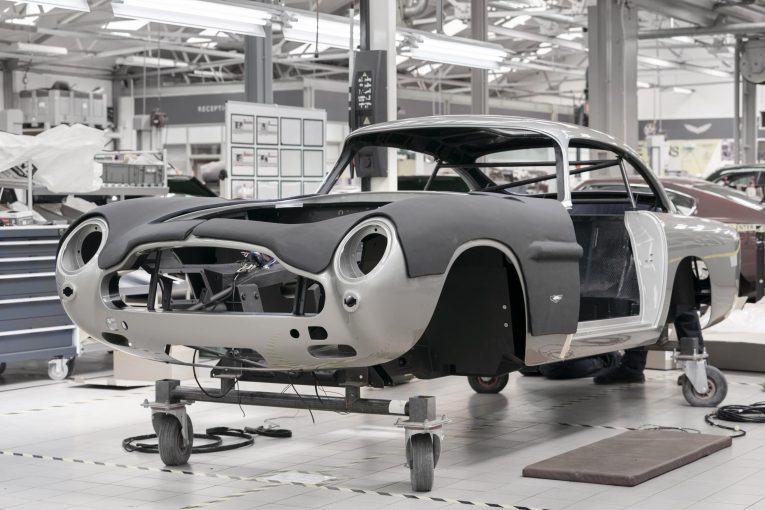 Aston Martin loves a 'Continuation' model, as we documented last year when the British icon announced it would be building a number of 'new' DB4 Zagato models. That's not the only old car they're refreshing though. There is another, and it's perhaps the most famous of them all.
Yes, we are of course talking about the Aston Martin DB5. But not just any Aston Martin DB5. Oh no. The cars being built in the Newport Pagnell facility, as we write these very words, are in fact being made to the exact specification of the car used in 1964's James Bond film, Goldfinger. And before you ask, yes, that means they're being built with all the bells, all the whistles, all the machine guns and all the ejector seats. Sort of.
It doesn't actually have any machine guns. That would be all kinds of against the law. However, it does have replica guns that pop out from behind the indicators. It also has…
Rear smoke screen delivery system

Rear simulated oil slick delivery system

Revolving number plates front and rear (triple plates)

Simulated twin front machine guns

Bullet resistant rear shield

Battering rams front and rear

Simulated tyre slasher

Removable passenger seat roof panel (optional equipment)
Yep, this is the full kit and kaboodle. In fact, the gadgets fitted to these new cars have been designed in conjunction with Chris Corbould OBE, the special effects supervisor with over a dozen Bond flicks to his name. That, in effect, makes him Q's boss. That's how important he is. And it's why he was charged with the task of the above, external spy-pleasing modifications. But he didn't stop there; he also worked with Aston to create all manner of film-accurate gizmos for the interior including…
Simulated radar screen tracker map

Telephone in driver's door

Gear knob actuator button

Armrest and centre console-mounted switchgear

Under-seat hidden weapons/storage tray

Remote control for gadget activation
Of course, the DB5 Continuation cars aren't all about the gadgets. The cars themselves are a work of art, too. Aston is building 25, and each one consumes some 4,500 hours of labour. The body is aluminium and handbuilt, and it all sits atop a mild steel DB5 chassis. A brand new one though, not a restored item. Under the bonnet is a 290bhp straight-six with triple SU carbs, which in turn is mated to a ZF five-speed manual transmission and limited-slip differential. There are Girling disc brakes, a bit of rack and pinion steering, some coilover suspension and lots of other good stuff. However, it's all a bit… moot.
The DB5 Continuation can't be driven on the road. This £3.3million car is, in effect, nothing more than a big toy. It's not road registerable, so while it might have three rotating number plates, you won't be able to fool the local constabulary's ANPR with them. You won't be able to do anything, unless you own swathes of land, or your own race track.
In the case of the DB4 Zagato mentioned earlier, we get that. It's a race car, so it makes sense that it can't go on the road. The Bond car, however, is a road car. So it strike's us as odd that it, you know, can't go on one. Even if you have a licence to… drive. Still, it hasn't stopped all 25 from selling.
Heritage Programme Manager, Clive Wilson, is one of those most closely involved in the process of bringing the new DB5 Goldfinger Continuation car into production. He said: "Seeing the first customer car move painstakingly through the intricate production process we have created really is quite a thrill.
"Obviously we have not, as a business, made a new DB5 for more than 50 years, so to be involved in the building of these cars, which will go on to form part of Aston Martin's history, is something I'm sure all of us will be telling our grandkids about!"
Paul Spires, President of Aston Martin Works where the original DB5 was built and the new cars are also being created, said: "We are making, perhaps, some of the most desirable 'toys' ever built for 25 very lucky buyers worldwide.
"Creating the DB5 Goldfinger Continuation cars and working with EON Productions and special effects supervisor, Chris Corbould, is something truly unique and a real career highlight for everyone involved here at Aston Martin Works."
First deliveries of the DB5 Goldfinger Continuation to customers will commence in the second half of 2020.