Feeling Alive in the Jaguar E-Type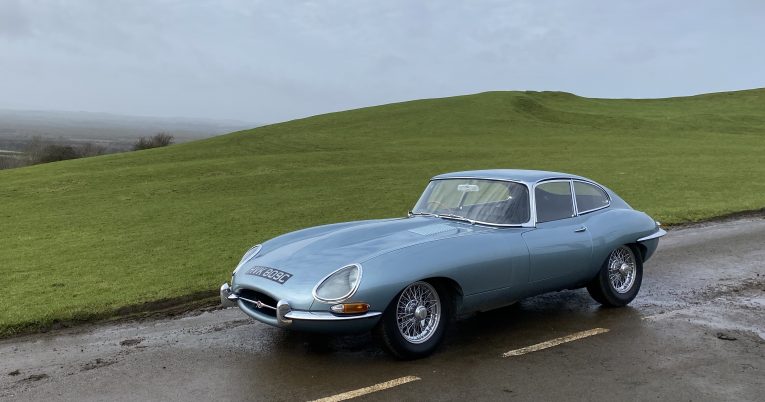 The Jaguar E-Type. Just saying it makes me take a moment. Not everyone agrees with Enzo Ferrari that the Jag was the most beautiful car of all time but everyone knows that the E-Type commands respect. It turns 60 this year and far from heading to retirement age, it's actually being reborn.
No Jaguar isn't making a new E-Type. Some claimed the XK was the spiritual successor and then others claimed it was the F-Type, but really, the E-Type stands alone, it has no successor, spiritual or otherwise. But it has been given a new lease on life courtesy of the Jaguar Classic Reborn programme. This specialised division of Jaguar Land Rover works its magic on anything from a Land Rover Series 1 to a Jaguar C-Type. When we paid a socially distanced visit there recently, we were told there were over 200 cars in the workshop. Classic is busy.
It's a fascinating place and one we're looking forward to taking a closer look at when we are allowed to, but I was there to spend a day with the E-Type Reborn. What is really interesting is that Classic sits next door to the JLR prototyping division, a place full of secrets. As we waited for the keys to the Reborn, camouflaged Range Rovers were going in and out. Now if anywhere contrasts the past and the future, it's this spot in a small industrial estate near Coventry.
But we don't really talk about future stuff here at Car & Classic, unless it was a futuristic concept like the Ferrari Modulo, so let's talk about the E-Type Reborn and what makes it so special and worthy of a £295,000 starting price.
Yeah, I did say £295,000 or to put it another way, around double the value of a really nice E-Type from a dealer or private seller. The point of Reborn though is to ensure it's not just another car, but to make a car that is not only as perfect as the day it left the factory, but in many cases a little bit better. Don't panic Mr Mainwaring, we're not talking about mechatronics here, there's no power steering, ABS braking, carbon fibre or titanium exhausts. But there are a couple of very small tweaks, like a modern ignition simply to make sure it starts perfectly, first time, every time. And a stereo. Not an 8-track push button thing, but a very tastefully designed head unit that fits with period and has DAB radio, Bluetooth and navigation because you might want to know where you're going.
We know you knowledgeable people all know everything about the E-Type, but for the one person that doesn't, here's a quick recap, like an old friend making a toast at your 60th birthday party – "Congratulations old chap, you made it to 60, here's to you." Born in 1961, it was available as a coupe and a roadster, both featuring just two seats until a 2+2 arrived in 1966 for those who wanted to squeeze a couple of kids into the back to go to holiday homes in the Cotswolds.
Initially the Series 1 had a 3.8 litre engine, but then in 1965 it was upgraded to a 4.2 litre in-line six cylinder, the Reborn model we spent a day pottering around in. There were loads of variations too, ones with different carbs for the US, some with bonnet straps, others with flat floors and of course the lightweight models for racing. The Series 2 came along in 1968 and then the Series 3, with production coming to an end in 1974 with 75,520 cars having been made throughout its production life.
That might be the briefest history every written on the E-Type, we could write a book, as many have but you want to know about the Reborn don't you, so here you go.
Firstly, the E-Type Reborn is not a continuation model like the Aston Martin DB4 GT or the Bentley Blower, which means that you can actually drive it on public roads. That's because it's based on an original Series 1, or at the very least, a matching chassis number. Jaguar Classic sources the vehicle and retains as many parts as possible before what is basically a massive restoration project gets underway.
They won't say how long it takes to do the restoration, only saying it's 1000s of hours which we can well believe. We spoke to Dave Foster, the nice chap in charge of JLR Classic and he explained that the whole point is to make sure the car feels exactly the same to its new owner as it did to a person collecting it from the factory in 1961.
The first step is to find that donor car. Foster says it's all about finding the car with the right credentials, so matching numbers, engine, chassis, gearbox, body and so on. Then everything gets stripped and we mean everything. Parts that can be restored go through the full works, right down to assessing their hardness properties in a material lab within JLR's modern facility. Not surprisingly, that access to JLR is one of the things which Foster says sets Classic apart from other restorers.
"What's important is that we've got access to the archive, we've got all the drawings of E-Type and making sure that everything we do is as per the original specification is what makes this important," Foster told us. "Yes, you can go and buy another car from somewhere else – will it drive like the original? We're the only ones that can say whether it will or not. I think that's what makes it so special is that it's the authenticity of the car. We've got a wealth of industry experience, whether they be people who've worked in sheet metal, engines, suspension, chassis, they are poring over the drawings, they're making sure that everything is done as per the original spec from 1961."
There's no denying that there are E-Type specialists out there who have been working on the cars for decades and know them just as well as the team at Jaguar Classic, but you've got to admit, having your car rebuilt by Jaguar is rather special.
It was time to find out if all the time and money has really created something special. I've never driven an E-Type so climbing into the seat felt like I'd entered some kind of holy sanctuary. I wasn't around in 1961 to sit in one new, but it all smelled like new, as I suppose it should really. The leather was more perfect than a handmade Chesterfield, more comfortable too. The driving position was perfect, the instrumentation all pristine and easy to see at a glance. It's nice in there.
It didn't take long to appreciate that newness I'd been hearing all about. I expected there to be more play in the steering than a dodgem car but there was none at all. Instead the steering was as precise as, well the day it left the factory I imagine. The same was true of the four-speed manual gearbox which was such a joy to use that I was comfortable with it in minutes and already wanting to get more noise from the engine.
Good golly, that 4.2 litre engine is nice. It's so smooth and gentlemanly at low revs but push the needle and it goes all Brian Blessed, its throaty notes echoing off hedgerows in a way that makes you want all traffic to disappear so you can keep pressing on.
Unlike the esteemed Mr Blessed, there was also no body roll. I expected the rear coil springs to compress more in the corners, to feel that back end getting slightly twitchy, but it didn't. I wasn't pushing that hard of course, one has to respect the machine and also be conscious of not ending up in a situation that calls on emergency services during these times, but still, I was in an E-Type on quiet Warwickshire roads and I made the most of the opportunity.
I could have kept going. I know it's a cliché to say you could just keep going, to head for Europe's greatest mountain passes, to travel effortlessly along seemingly endless cross country roads and motorways. But I could and would have been tempted to if I thought the phone wouldn't ring with an angry person from Jaguar asking where I was. Those boxes that define a GT, the E-Type easily ticks them and that's without even knowing if I can fit tailored luggage or a golf bag in the boot, which I'm sure you can.
I made a point on my drive of stopping outside Wappenbury Hall, the home of the late founder of Jaguar, Sir William Lyons. It felt like a pilgrimage, one that was even more special for being in the most famous Jag. While there I pondered on his famous quote that adorns the wall of JLR Classic: "The car is the closest thing we will ever create to something that is alive."
How right he was, so as the E-Type celebrates its 60th, my toast is simply this: "Happy birthday E-Type and here's to all those whose passion, knowledge and craftsmanship ensure we continue to enjoy the cars that make us feel alive. Cheers!"