Fiat Panda by M-Sport – It's Pandamonium!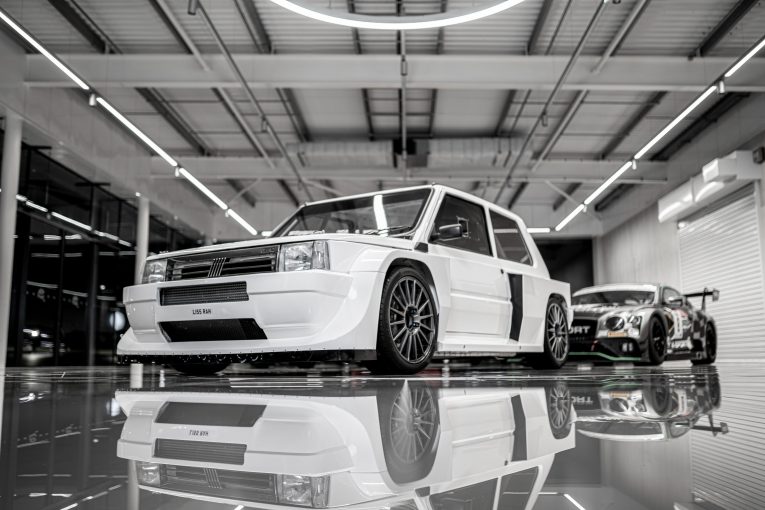 M-Sport, which normally builds top-flight Ford rally cars for the World Rally Championship has rather brilliantly answered a question nobody dared ask: what would happen if an old Fiat Panda and a Ford Fiesta R5 rally car got all kissy kissy and made a baby? See, we told you it was a question nobody had asked. But we're glad M-Sport decided to answer, because the resultant lovechild is, well, look at it…
Yeah, that's a pretty serious bit of kit. It certainly looks the part, that's for sure. The boxy, hard lines of the original Panda are the perfect backdrop for a fantastic foursome of big, box arches. The impossibly low stance, the big wheels, the deep spoilers – it's a glorious coming together of two worlds that have never before met. We love it. It's been built for the sake of building it. For fun. No market research, no user feedback studies, no endless meetings, it's just been built A) to show what M-Sport can do and B) because it's a bit of a giggle. And let's face it, given the current, well, everything, a giggle is most welcome.
So what about the nuts and bolts of this thing? Well, it did indeed start life as a Fiat Panda, but all that really remains is the upper half of the body. And even that has been widened by 360mm to squeeze it over the Fiesta R5 floorpan. And what a floorpan to be stretched over. The R5 Fiesta is M-Sport's 'go to' car for rally drivers the world over looking to make a name for themselves on the stages. Since its launch in 2013, the M Sport has built and sold 294 R5 Fiestas, and they have won 953 rallies around the world (and still counting). It is a serious, serious bit of kit. Take those mechanicals and put them in a car that weighs about as much as a sock, say… a Fiat Panda, and you have something truly spectacular.
And what are those mechanical bits? There's the engine, of course. An M-Sport developed 1.6 litre, turbocharged petrol unit with a hair under 300bhp and 450Nm of torque. This is mated to a five-speed sequential Sadev transmission, which then sends power to all four wheels via some trick M-Sport differentials. It's full-fat, unrestricted rally car, make no mistake. And that theme continues inside, with bucket seats, a custom dash, six-point roll cage (FIA homologated, naturally), fire suppression and of course, harnesses. It's not a joke, this car. There is nothing to stop it from taking to the stages in anger.
But there is the question; will it be used in competition? Of course not. It's a bit of fun. It's a lesson in what can be done, if all the shackles of normality are removed. It's a halo car for M-Sport, something it can rightly show off and say 'we did that' and which will in turn hopefully bring in customers looking to have their own rally car built. And those customers will be able to rally anything, because let's face it, if M-Sport can build a Fiat Panda in to full R5 specification, they can do anything. And do it they have. M-Sport could have said it was possible, and posted some renders online. They didn't though. They did it. For real.