Have You Ever Heard of – The Lancia Trevi?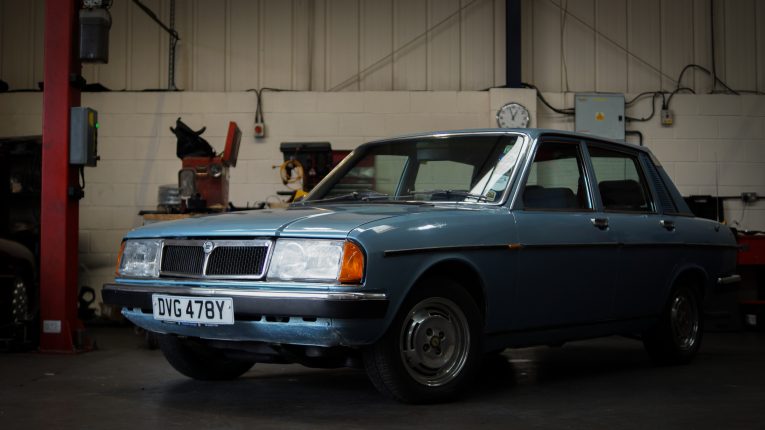 Lancia used to be a powerhouse, a force to be reckoned with, a motorsport master and a design definer. Now all it seems to do is give the world the Ypsilon. And that's a shame, because we don't want the Ypsilon. Nobody does. It's a terrible car.
Thankfully, we're not here to talk about the company's dubious contemporary offerings. Instead, we've stumbled upon a rare gem. This Lancia Trevi could well be the only one left in the country, though if it's not, we're willing to bet the numbers don't break into the giddy heights of two figures. This is an exceptionally rare vehicle. Rarer than some of the world's most sought-after supercars, rarer than some 1930s coach-built cars, rarer than… you get the idea. It's not a common machine.
What, exactly, is it then? Well, on paper it's nothing remarkable at all. It's a traditional 'three-box' saloon – four doors and a boot – with a 2.0 petrol engine and a five-speed manual transmission. It has the ability to seat five. The underpinnings are conventional front-wheel drive, with a transversely mounted four-cylinder engine. It was built in 1982. On that paper we mentioned, it could be anything. It could be a Cavalier saloon, or a Volkswagen Jetta, it is not remarkable in its overall attributes. Yet still, it is captivating. But then, when you slap a Lancia badge on something, it tends to be. Ypsilon notwithstanding.
Yes, the Trevi, or Trevi 2000 in the case of the car featured here, was a car based around a tried and tested formula. But because it was a Lancia the formula was garnished with brave design and more odd features than a Mr Potato Head convention. Just because Lancia needed to respond to the '80s market trend for a sensible four-door saloon, it didn't need to do so in a formulaic and predictable way. It could be very, well, Lancia about it.
The Trevi was a Beta underneath, which was perhaps the car's first failing. Lancia was desperately trying to recover after the debacle that saw the company having to buy back young Betas due to them rusting away in structural areas, namely the subframes. However, because of the considerable fall in sales caused by the Beta problems, Lancia simply didn't have the money to develop a new chassis. Instead, it had to use that of Beta and very publicly assure people that considerable time and money had been spent on developing the car's rust protection. It also argued the point that, rust aside, the Beta was a great car to drive. And it was. For some buyers, the Lancia diehards, there was enough faith left to take the plunge with the Trevi, and for the most part, they were rewarded for doing so.
The Trevi was a decent enough car to drive. Some of the motoring press criticised it for being a tad under-powered, yet curiously still prone to lift-off oversteer. But by way of an olive branch, they were keen to praise the Trevi's on-road manners in general. It handled well, the brakes were well-suited to the car, while the steering was light around town, but frustratingly a little too light at speed. But on the whole, the Trevi was a pleasant enough thing to drive. Until you had to put fuel in it, which owners had to do a lot. The Trevi, to rob itself of another positive, was a bit of a thirsty old beast. Low twenties, tops.
Then of course there was the way the thing looked. Yes, it was just a typical saloon, but that was only until your eyes focused on it. Once they did, it was a confusing collection of panels, and it seemed to almost lean backwards. Very strange, but ultimately it wasn't so weird that one couldn't get used to it. The interior however was a different matter.
The Trevi borrowed the peculiar dash from the Beta and it was almost universally disliked. In 2019 we can look at it as a charming moment of design bravery from the past. Back in the 1980s though, it was quickly branded as "Swiss cheese". This was despite the best efforts of Mario Bellini, the Trevi's interior designer, who somewhat optimistically described it as, "a complex architecture of interiors in a small, very restricted space. A challenge tackled by the architect from a structural, and not purely aesthetic, angle." Right.
Engine-wise, the Trevi was built with a number of options. At launch, there was the 1600 and 2000 models. Though they were, as we touched on earlier, woefully under-powered and as such, incapable of really moving the Trevi's mass. A task that wasn't made any easier given that 72% of that mass was over the front wheels. Lancia did build a Volumex model, which took the same 2.0 engine, but added a mechanical twin-screw supercharger. However, the engine wasn't fitted with fuel injection, and instead had a carburettor. It only offered 133hp, which wasn't exactly a huge leap ahead of the 120 in the non-supercharged version. Still, it was a nice idea and it made a good noise, so that's something we suppose?
The Trevi was not, as you have probably guessed by now, a big seller. In fact, in the Trevi's four-year run, only around 37,000 were built. The Trevi quietly shuffled off the radar in 1984 in favour of the much better – and not Beta-based – Thema and Prisma.
The Trevi was a weird little car. Neither handsome nor ugly, neither revolutionary nor hopeless, neither engaging nor boring. It was very 'middle of the road' and maybe, just maybe, that's why it didn't work? Maybe it was too safe for Lancia? Of course, the catastrophic failure and resulting press around the Beta didn't help, but take that out of the equation and would the Trevi have sold in bigger numbers? Probably not. The wacky dash, strange seat design and half-and-half door cards weren't enough. We wanted more from Lancia.
Now the Trevi lives – in very small numbers – as a historical oddity, a point of learning for car people both knowledgeable and not. It's a 'when did you last see one of those?' car, if you ever have indeed seen one. It's a curio, a thing we look at with fascination and wonderment. So, we guess that even though it's taken a while, we now look at it in the same way we do a 'proper' Lancia. Time has seen the Trevi earn its place. Unlike the Ypsilon.
Thanks to Great Escape Classic Car Hire and Graham Eason for letting us take pictures of the Trevi