Iain Tyrrell Classic Cars – British Eccentricity with an Italian Heart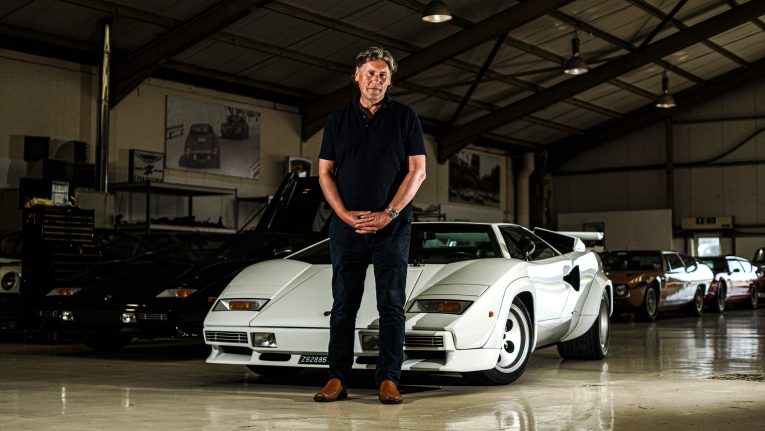 The thing about classic cars is that nobody needs one. They are a toy, a luxury, a thing of passion and heart, not bought through sound logic and reason. We might need a car to get to and from work, or do the school run, and while it may be exciting to use an E Type, it's not a firm prerequisite. Classic cars let us explore our automotive passions, they remind us why we love cars, they remind us that despite being nothing more than a mass of metal, rubber and leather, they can be members of the family. They can be personalities in their own right.
Take a German classic. Staid, solid and unerringly reliable. They can be beautiful, but they are restrained with it. A British classic conjures up a personality of being plucky, keen and eager to please but capable of falling over its own feet in a heartbeat. Then you have the Italian classics. Soulful, bellowing personalities wearing a sharp suit and only ever seen in the most prestigious of settings. Okay, we might be stereotyping a bit there, but the bedrock of the sentiment remains – different classics have different personalities.
It's with that thought that we turn to Iain Tyrrell. He is, make no mistake about it, a larger than life character. But not in a brash or imposing way. Instead, you find yourself hanging onto his every word as he talks of his company's offerings and current projects. As we sat there, listening to Iain answer our questions, the passion with which he spoke was gripping. He's brimming with enthusiasm; he clearly lives and breathes for the incredible machines sitting in his workshop, and he most definitely has a huge deal of personal investment in the quality of what he and his company does. The business bears his name, yes. But it's the man behind the name, for whom this business is so obviously an extension of his very being, that's what makes this place special.
"I've always been nutty about cars, the first word I said was car!" Enthuses Iain, as he begins to tell us how he got to where he is now. He admits to always having a passion for engineering and mechanics, and as such, studied both art and engineering for his A Levels. It was a positive choice of subjects, as he soon landed a job with a Rolls Royce Service Centre, namely the one his parents used for their Silver Cloud II.
Iain started as a trainee mechanic at the age of 19, but it wasn't long before he felt the need to brighten his horizons, so at the age of 21 he set up his own company, Tyrrell Engineering, from which he would be able to truly make a name for himself. "We did all kinds of mechanical work on all kinds of cars. From Bristols to Lotus Cortinas, we'd do it all. But the first car I actually restored from the ground up was a 246 Dino. I walked into the guy's office in Birkenhead and said 'if I can convince you I know what I'm doing, can I work on your car?'" Quite a bold move for a fellow in his early twenties, but it paid off. Iain got the job.
Things grew from there. Tyrrell Engineering existed from 1984 through to 1996, and during that time the company's profile grew to such a level that it was appointed as the only external agent cleared to carry out warranty work on behalf of Rolls Royce and Bentley. But after this, things took an interesting and somewhat different turn. Iain was able to put his vast knowledge to good use by working as an expert consultant on cases involving high-end machinery, most notably being the Lord Brocket case.
Soon though, there was a need to get back to cars and with it came an important evolutionary step in Iain's vehicular offerings. In 2004, Cheshire Classic Cars was born, occupying the same place as today. The idea was simple in that Iain and his small but incredibly knowledgeable team would offer a complete service facility. That meant buying, selling, service, repair; the works.
However, the sales side wasn't something that ever really 'did it' for Iain. "It was moving away from my sweet spot, which was the technical side of things. It was too sales orientated, too big." Looking back on the time, Iain expands "it seemed like a good idea at the time, I could fall back on my technical knowledge. But ultimately, the sales weren't where my heart was. I still do the odd deal here and there, of my choosing, but it's more for fun now than as a business function. That's where the business as it is today comes in."
In 2018, the business evolved into its current guise. A landmark destination for owners of some of the world's rarest and most highly sought-after machinery. Iain has never once taken his journey here for granted, and has instead learned and adapted, and discovered where best his talents, abilities and passions lie, resulting in the business in place today. And certainly, the clients Iain attracts would stand to cement the company's reputation.
As we walk through the workshops, we count at least five Lamborghini Espadas, there are a couple of Ferrari Dinos, a Lamborghini Miura or two and more examples of the Lamborghini Countach than you would find on the bedroom wall of a teenage boy in the '80s. Then there are the rare oddities such as the SD1 Vitesse with manual transmission, the Broadspeed XJC race car and the Ferrari 575. Cars that command knowledge and passion, not just the exchange of cash.
Iain's team here is small, but each one brings a special set of skills. You have guys to take on the rebuild of those precious V12s, there's a chap doing all the re-trimming and upholstery work by hand to an incredible standard, and then there is Iain himself who will jump at any chance to get his hands on the spanners. He's part of the team, he's not the big wig sitting in a glass box directing everything. That's a rare thing.
There's an energy to the place, a gentle buzz of excitement and of passion. Though that buzz will soon become a full song if you let it, as Iain's background isn't just mechanical, it's also one of performance. An accomplished trained singer, musician and actor, Iain put his talents to use via a re-record of Matt Monroe's 'On Days Like These'. This might seem like a flight of fancy, but given one of Iain's many claims to fame is that he unearthed and verified the original Miura from the opening scene of The Italian Job it makes sense. He took the car to Italy and re-shot the famous scene, but this time with him driving, and with him singing! Thankfully no tunnel-dwelling bulldozers were involved.
And there rests another example of Iain's passion for cars. He and his company produce high-quality, content rich, beautifully shot videos so that others may learn and enjoy the cars that pass through the workshop. He and his team aren't 'closed door' about what they do. Quite the opposite in fact. They want to share what is being done, what's being worked on, what's being restored and how it's being carried out. It's not a just business, it's a passion that has turned into a business, and that's why Iain and the team behind Iain Tyrrell Classic Cars should be celebrated.