Jaguar XJS V12 – Breaking Curfew…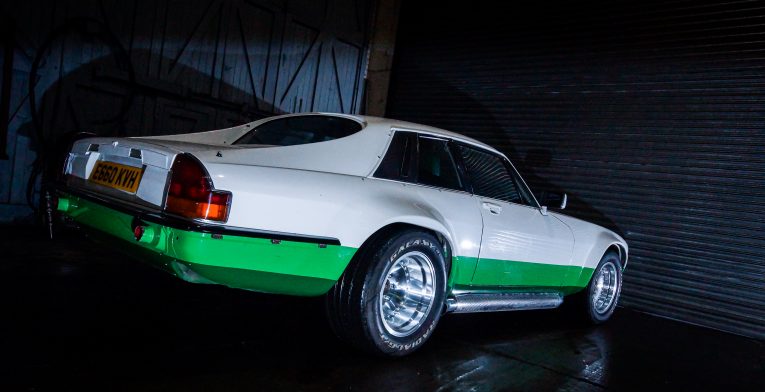 It's got a brace of dials mounted on top of the dash, but none of them work. It has side-pipes mounted to either sill, but neither are actually connected to the exhaust system. There's a chrome python head gear knob complete with flashing LED lights in the eyes and the bonnet is garnished with four spotlights that would look more at home serving as down-lighters in your kitchen. This Jaguar XJS is, at first glance, not great. But if you're looking at the pictures and nodding along, you're looking at them wrong. You see, the bits that don't work, or that aren't connected to anything don't matter. They serve no use now, as the car broods in the corner of an Essex workshop. But they're not meant to be of use now, here, in the real world. This car exists to be a vehicle of fantasy, to play a role and to be a character. Much like it would be odd if a Broadway actor were to step off stage in his costume and pop out to the shops, so too would it be strange to see this XJS anywhere else but on a TV screen.
You see, this Jaguar XJS was not built like this to fulfil someone's absurd motoring wants. No, it was built for the 'blink and you miss it' Sky One TV Show, Curfew, starring Sean 'I die in everything' Bean – his character, The General, was the driver of this XJS. The series is set in a barren wasteland in the not too distant future. A lawless land in which only the fittest and the fastest survive. And where, for some inexplicable reason, people have to drive hundreds of miles to outrun a virus or something? One could sit and ponder why the characters didn't raid the local, presumably abandoned, Toyota dealership and grab a new HiLux Invincible or something. Why the people in this show chose a notoriously unreliable Jag, an ambulance and a Volvo 240 wagon (no, really), we have no idea. But here we are.
We're not here to look at the questionable plot that forced this old Jaguar XJS into existence. Instead, we're here to look at the car itself. Three were built for the show, but this one, now owned by Luke of Luden Automotive, is believed to be the only one that survived. Presumably Sean Bean died in one of the others. Because he dies in everything. Usually twice.
The car came up for sale a month or so ago at an H&H auction up in Buxton. As you can imagine, the car was the subject of much talk. Not least because it has clearly been built to emulate the heroic Group 44 Jaguars of the '70s – the most successful competitive Jaguars ever, campaigned by Bob Tullius. Chatter was also in the air about how… dubious it all is. But the people were looking at it all wrong. This Jaguar XJS isn't an XJS any more. It's a character, it's an actor. It's allowed to have silly things glued to it, because the character needs them. The boys looking at it and tutting… leave them to it. All that matters is that Luke saw some potential in the old car, and as such, he won the auction.
When the car was delivered to his Essex workshop, it presented Luke with the first proper opportunity to really explore this car. Built for TV, it truly is the embodiment of a ten yard car. It needed to look good on camera, and that was all. As such, the huge arches are just plopped over the old bodywork. Look under them and you'll see two sets of arches. The wheels are new and shiny, because the camera likes shiny. The paint, while not a show-winning job, is actually pretty decent. But again, this is because the camera commanded it. The interior is very green, but is also nice. It's also the home of three pedals. Yes, this XJS is a V12 and a manual, which is unusual. Evidently, The General was not a man to tolerate the recalcitrance of a traditional slush-box. He was also a man who liked to drift, apparently. Protruding from the dash is a hydraulic handbrake lever, which works. However, in true TV production fashion, it's plumbed into the rear brakes at the expense of the pedal operation. Press the brake pedal now, and the force only acts upon the front calipers. Still, the calipers are new, so that's… something?
The XJS shows no MOT history online, which means it's not been on the road since 2005 at least. However, upon inspection, it seems pretty solid underneath. There is some rot around the front valance, but it's a visual imperfection rather than anything structural. Further underside inspection reveals that the side-pipes are crudely bolted to the sills, but are not in fact connected to anything. Instead, the stock system has been cut off half way along and pointed out to the side of the cars. Again, it just needed to sound angry for TV, and this was a way of delivering that.
Speaking to Luke, who is actually mildly addicted to owning many a Jaguar XJS, he tells us his plans for the car. There is no getting away from the wide-arched, big-wheeled look of the thing, so that will be staying. The small race fuel cell won't be staying though, and instead the factory tank has been put back into use. The spotlights on the bonnet will go in the bin, and the jury is still out on the side-pipes. The interior will be sorted, the python head knob will be cheered as it flies into the bin and the brakes will be made to work properly. Luke wants to take this, what is essentially a prop, and turn it back into a real car that can be used. Luke loves the attention it gets, good or bad. It's a car that starts conversations even for those who have little to know interest in cars. Old ladies gasp, men stand agog and small children make terrifyingly high-pitched noises when they see it.
On paper, this is a classic Jaguar XJS V12 with a manual 'box, a killer body kit and half decent paint. The fact it was on a TV adds to its history. Think about it, if it hasn't been MOT'd since before 2005, was it ever going to be? In a way, by modifying it for TV, the production company has saved it. They built it, they made it safe (new GAZ suspension, new tyres, new brakes including calipers, fuel cell, etc…) and now they have passed it on. Were it not for Sky One, it would still be languishing somewhere, never to be used again no doubt.
And now, post television, Luke owns it. A young man who is passionate about the Jaguar XJS (seriously, he has around ten) and as such, will take this TV star into the future. Yeah, it'll lose some of the tacky bits, but that's fine. That's a part of its evolution. We love the journey this car has been on, and we love that it's survived throughout. Just surviving Sean Bean is an impressive feat – that man is followed by the scriptwriter's Reaper wherever he goes. Luke, thankfully, is less likely to be written out of the picture. As such, this unusual, but somewhat lovable old Jaguar XJS will now go on to live a new life, one that will see it on the road.