Larkin' Around – 1934 Rolls-Royce 20/25 Pullman Landaulette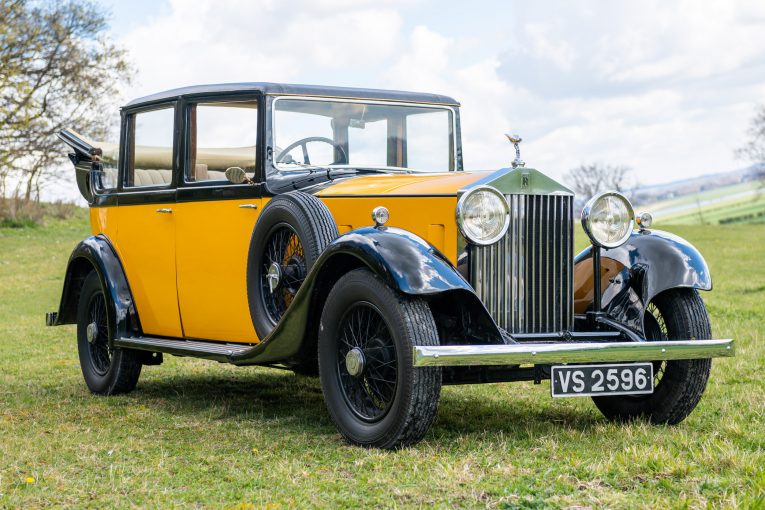 Britain in the 1920s was a somewhat tense place. As a nation we were, along with our allies, still reeling from war. Something that almost the entire country's industry had been involved with, building weaponry, flying machines, military vehicles and everything else the armed forces needed. As the war rolled further back into history, companies started to look forward and focus on what they were doing before the bullets flew. For Rolls-Royce, that of course meant building world-beating luxury vehicles.
Rolls-Royce had form, as was evidenced by the hugely popular Twenty model that had been introduced in 1922. But the fact it was so good of course presented a problem; how could Rolls better it? The answer was, quite simply, to build something more powerful. As such, in 1929 at the Olympia Motor Show, the 20/25 was unveiled. Again, it was focused on the owner-driver, it was refined, it was modern and it was powerful.
The 25 in the name related to the RAC rating, which was 25hp. At least, mathematically it was. The RAC rating was a simple calculation based on bore and number of cylinders. In 1910, this calculation ran true, but as engines evolved, they actually had more power than the 'tax horsepower' as it was known. In the case of the 20/25, the true power was somewhere in the region of 70hp. It was a fast car.
The power, achieved by increasing the engine's capacity from 3,128cc to 3,675cc via a bore increase of 3.0in to 3.25in was enough to see orders come flooding in. The 20/25 would go on to be one of the most successful cars Rolls-Royce would ever build, with some 3,827 being built between 1929 and 1936. It was so popular that it saved Rolls from the pressures of the Great Depression, and it even helped with the acquisition of Bentley, as the engine would form the basis of a new model. The 20/25 was, make no mistake, an important car.
So what of the vision in yellow you see here, which is a 1934 model? Well, firstly, there is no escaping the obvious link to TV's The Darling Buds of May. Okay, so Pop Larkin had a 1926 model, but come on, it's a yellow Roller. Okay, so Pop's was a Park-Ward Twenty, but we wanted to use the above title, so here we are!
Anyway, back to the car in question. This is an incredibly rare Barker-bodied Landaulette, meaning the rear seat passengers – as per Pop's car – are under a convertible top, while the front seat occupants have a traditional roof. It's perhaps somewhat ironic that this car, which in essence was built for the owner-driver, focuses so heavily on the conditions afforded to the passengers. But sure enough, that's what this car does, and it's all the more glorious for it.
Barker can be traced back to 1710 London, when it was of course a traditional coachbuilder. Founded by a guards officer, the company had strong ties to the Monarchy, so it made sense that it would evolve to be the recommended supplier of Rolls-Royce bodies. To give you an idea of their credentials, Barker would body a Silver Ghost. That's no small thing.
As per many coachbuilders, time was unkind. The outbreak of World War 2 saw the end of many, while those that survived were absorbed by others. Barker, for example, was bought by Hooper, who would in turn be bought by Daimler. With manufacturers building their own bodies, the bespoke offering was of declining demand. But, they left an impressive legacy of now rare and unusual cars like this 1936 example.

Believed to be one of only two still in existence, this Barker-bodied 20/25 is a glorious thing to behold. In good fettle throughout, it has survived remarkably well having been owned by caring individuals all too aware of the car's significance. The interior is believed to be the original, which is remarkable, and while the body has been subject to some restoration works in the past, this too is all largely original. The underside is just as good as the topside, having been inspected and cleaned and all points greased and treated. And of course, that magnificent straight-six engine is in excellent health and, having been overhauled by Fiennes Restoration, has many more years of touring left in it. It's an exquisite thing, a machine to make one marvel. An event of a car, if you will.
And unlike the others, this one can be yours. It's currently available on our very own Auction platform. Be warned though, the bids are flying in thick and fast, so you need to act fast. And act fast you should, because this is a glorious example of an already great car. It's the machine that saved Rolls-Royce, and it's bodied by one of the best in the business. And with only one other known to exist, this isn't an opportunity that is going to present itself again any time soon.