Licensed to Thrill – Getting Your Motorcycle Licence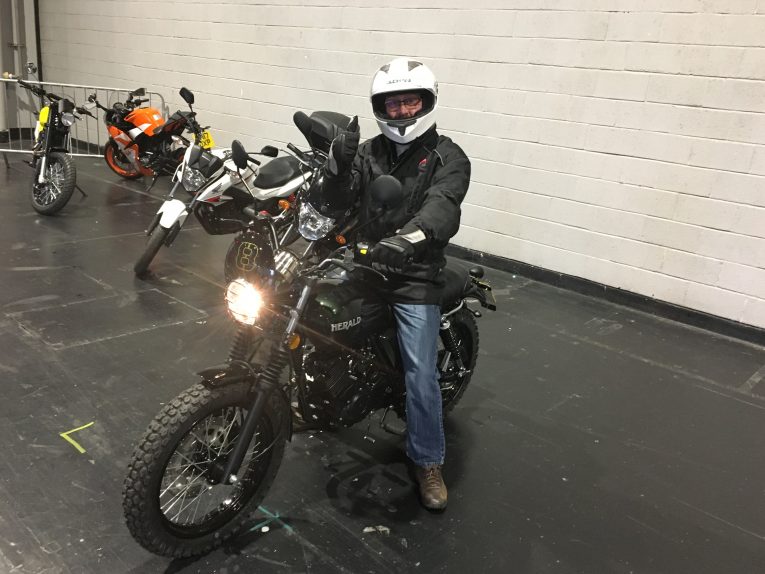 Getting your bike licence and taking to the open road on your own is one of the most liberating experiences possible. And while it can seem a daunting prospect, it's actually an enjoyable, straightforward and achievable process.
Back in the day, getting going on two wheels was simple; you applied for a provisional license, rode around on a 125cc bike with L-plates on for a bit and then took your test. This generally involved riding around the block a couple of times until the examiner (stood by the side of the road) jumped out with his clipboard raised, you did an emergency stop without hospitalising him and, as long as you didn't cause a pile-up, you passed.
Today, things are a bit more complicated. However, that's not a bad thing – the route to a licence is designed to impart as much skill and safety as possible before riders take to the roads on their own.
There are various types of licence, depending on your age and what you want to ultimately ride but all start with a provisional Category A entitlement. You can start at 16 but the best a 16-year-old can hope for is an AM license, allowing them to ride a 50c moped with no L-plates, assuming they complete the relevant courses and pass the necessary tests.
In addition to a car provisional license, 17-year-olds can now take their test to get an A1 license, so they can ride bikes up to 125cc with no L-plates and carry passengers. Once they reach 19, it starts to get interesting; assuming they pass the relevant tests, they can ride an A2-compliant motorcycle (most manufacturers produce them) that will have less than 46bhp. Many will be de-tuned examples of larger bikes. Then, having held their A2 license for two years, they can now take their test on a 595cc or bigger/40Kw bike and if they pass, ride any bike they like – the full A license.
New riders aged 24 and older can avoid all of this and do the 'Direct Access' scheme, which takes them from pedestrian to license holder for any motorcycle on an intensive course, in as little as five days. Again, by the time they have finished, they will have (hopefully) achieved the full A licence and can ride anything.
How to actually do it (average prices)
Try-out, £50
Various motorcycle schools offer try-out sessions but TryRide is a programme backed by the Motorcycle Industry Association (MCIA) and aimed at getting people riding. The first step is a try-out session lasting around an hour, to give you an idea of how a bike works, the safety gear you'd need and a basic try at riding a bike. It's intended as a safe and no-pressure way to get you interested.
CBT, £125
If you want to get your licence, then the first 'proper' step, for anyone who wants to ride, is Compulsory Basic Training (CBT). It's not a test– you can't fail it; it's a training and assessment day based in a large car park or similar, away from traffic to begin with. You learn the basics of motorcycle operation and maintenance and core riding skills. If you're up to the mark, then you go out for an accompanied road ride and if the trainer is happy with what he sees, he issues you a CBT certificate. If he's not, then you will have to come back and do the training again as necessary until you get the certificate.
Armed with a CBT, you can now ride a 125cc bike with L-plates for up to two years. After this time, you either need to move up the license ladder or re-do the CBT, which gives another two years of riding. The CBT can be re-taken as many times as you like – forever if you only ever want to ride a 125 and aren't fussed about wearing L-plates…
But if you want to ride a bigger, more interesting bike, then it's back to the classroom.
Theory test, £23
Just like car learners, this involves a multiple-choice exam on a computer at the test centre, followed by a hazard perception test, also on a computer. Even if you passed your car driving test 40 years ago, you still need to take the theory test. The multiple-choice bit is straightforward but it's spotting hazards that can prove tricky for experienced drivers, as you'll see them everywhere. However, it's developing ones that matter and the key is understanding what you are required to see to pass this section. There is plenty of training material around, as well as trial tests so it's easy to get the hang of it.
Module 1, £15.50 (test)
The first part of the practical test goes back to the car park for a series of manoeuvres to test a rider's ability to control the bike. There are slaloms, figures-of-eight (don't go too wide), the dreaded U-turn (putting your foot down is an instant fail) and higher-speed emergency stops and avoidance moves. Typically, you'll be riding a much bigger bike than on the CBT – around 600-650cc or so, since the later tests require you to be on a larger bike. Module 1 usually takes two days – one day of specific training, half a day of road riding with your instructor giving directions in a radio earpiece to inspire new riders and put all the training into context and finally, half a day to ride to the test centre and do the test itself.
Module 2, £75 (test)
Once you have passed your Module 1, you're set for the final part of the process – the accompanied road ride. After more road-riding in a variety of conditions – rural, urban, dual-carriageway – your instructor takes you to the test centre and you'll be wired up to the examiner instead. You ride ahead on a road route, following the examiner's instructions and they assess your riding to see whether it is up to standard. If so, you send the pass certificate off with the rest of your paperwork and a couple of weeks later, your full motorcycle licence comes back and you can go shopping for your bike.
Where to train
Several bike manufacturers offer a riding school with a variety of courses, including Kawasaki, Honda and BMW. These may be slightly more expensive than an independent training school but you may get incentives or deals on their bikes or kit once you have passed your test. Alternatively, the MCIA website has a list of approved training schools – just search for the nearest on their interactive map and away you go.
How much to pay
On top of the cost of the tests (outlined above), you can expect to pay from £500-600 for three or four days of training, to cover the Module 1 and Module 2 requirements. The costs can be higher than this though, depending on your skill level, your aptitude and how well your instructor thinks you are progressing.
The types of licence
AM – 16 years of age, 50cc moped
A1 – 17 years of age, 125cc, carry passengers
A2 – 19 years of age, restricted (46kW) bike
A – 21+ years, any bike
I did it. And I'm so glad I did…
A few years ago, I was given the opportunity to get my bike licence through the Direct Access route and I'm so glad I did. It was thrilling, empowering and ultimately, rewarding but it was also something of a challenge. I had to rearrange my mindset and re-learn many of the habits and skills I had spent the last near-40 years as a car driver developing. But it was worth it.
I'd ridden bikes back in my youth, so I had an idea of what controls did what. My CBT was in a local swimming pool car park and was fine. The road-riding part was on a particularly asthmatic 125 and even though it didn't have the ponies to even pull sixth gear, I knew I wanted to do this. The instant feeling of liberation was palpable.
I enrolled with OnYerBike to do the four-day DAS course, once I had passed my theory test. Saying it like that makes it seem like a formality, but it was far from it. Re-learning the Highway Code was one thing – learning how to spot a hazard the way they wanted me to was another. I met a bloke who was going for his HGV licence and we both had the same problem – we spotted way too many potential hazards. But eventually, I worked out what they were looking for and obliged.
So having done that, I spent the first of two two-day spells in Aylesbury, learning to perform set manoeuvres in a car park to satisfy the requirements of the Mod1 test. This was all very… necessary but venturing out onto the open road on a Kawasaki Z650 was a revelation – here was a bike that could actually propel my not-inconsiderable bulk at a rate that made it exciting, not terrifying.
The Mod1 test itself was a bit nerve-wracking – a sea of cones laid-out in Oxford United's stadium car park and eventually, riding home with the correct bit of paper in my hand. Next came the Mod2…
The training for it was fun – lots of road riding and looking out for speed limits, direction signs, other traffic – proper riding. Entering the test centre, there were a plethora of driving instructors waiting for their clients to return with smiles or scowls and I (there were two of us with one instructor) ended up going second.
Just as I walked out to mount up, the heavens opened and the roads became shiny and slick. Like many have done on their driving test, I made an early mistake – I thought a biggie – and figured I'd blown it. So I relaxed, just rode and looked forward to getting it done and back in the dry. By the time we returned to the test centre, the instructor told me what I thought was a big mistake was the only minor I'd made and that he saw me realise I'd done it and correct my approach to the roundabout. He handed me my pass certificate, which I took numbly, mumbled something incoherent and tucked it into the sandwich bag containing my wallet and mobile and began my first ride as a fully licensed rider.
I got home wet and cold but I was absolutely buzzing…