Lotus Carlton – Lots of Turbos, Usually Speedy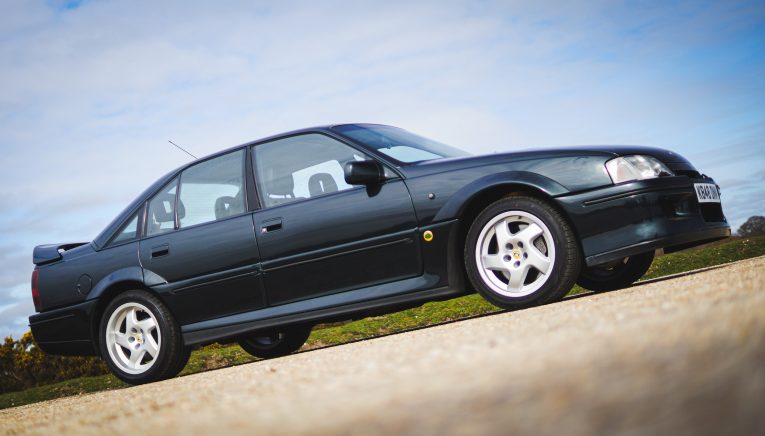 We've spoken about the legendary Lotus Carlton before. In fact, we did an article on it last year in celebration of the fact it had turned thirty years of age. This time though, rather than celebrate the car in general, we are focusing on one Lotus Carlton in particular. Namely K848DNM, which is Lotus Carlton 0783C. And this one is not like the others for two reasons. One, it's faster. Two, it could be yours. Yes, we have this car on our auction platform, which means if your pockets can do it, this very special Lotus Carlton could be yours.
So special is this car, we dispatched cameraman supremo, Nick Wilkinson, and professional car talker-abouter, Alex Goy, to have a drive and see what it was all about. You can watch the video here…


Find a Lotus Carlton today and the chances are, unless it's the car from Vauxhall's own Heritage fleet that they encourage people to drive, it will be a seldom-used exhibit of a car. The Lotus Carlton, a powerhouse though it may be, is not a car people like to use too often. Too rare and too expensive for all that, right? Well, no actually. Dave Wheeler, the owner of this magnificent Lotus Carlton has built it not only to be used, but to also be faster. Yes. A faster Lotus Carlton. That's impressive. Mad, but impressive.
Dave has owned the car for some fourteen years, and in that time it has been through a lot of changes. The most significant was a full lower body restoration to keep the rust out. The Carlton, in particular the rear arches, has always been something of a magnet for rust. This one though is now clean as a whistle after hundreds of man hours were spent renewing what was starting to fail. It's now one of the most solid examples out there. And thanks to a fresh coat of that all-important Imperial Green paint, it's one of the best-looking too.
Inside, it's much the same. A return to how it would have once been when it left the factory. The only addition is a boost gauge where the clock would have once resided. Amazingly, the Lotus Carlton, despite being fitted with two Garrett T25 turbos, did not have a boost gauge from the factory. Other than that, it's all dealer specification. The seats have been restored, the door cards too. The dash is a sea of originality (gauge notwithstanding) even down to the new, old stock Grundig tape stereo. It's a glorious, comfortable, solid place to be.
Under the bonnet though, things start to get a bit more wild. This Lotus Carlton is not like the others, in that it now runs more power. It's also a car that its owners have been keen to enjoy, and rightly so. As such, there are over 100,000 miles on the clock. This in turn meant Dave needed to give the oily bits a tickle if they were going to keep running well. A curious episode of oil getting into the water – a common problem on the Lotus – forced Dave's hand.
The engine was removed and stripped down, at which point it was discovered that the block was in essence, scrap. Dave didn't want to simply put another OE block in though, as this would inevitably lead to the same issues. So instead, after some considerable searching, he managed to find one of the rare development engine blocks that had been created to remedy the common fault. Stronger, better engineered, it was the way to go. As for the cylinder head, it was fine. However, Dave opted to send it to Damico Engines so they could work their magic. It was ported, polished, fitted with improved valves and springs and then fitted to the new engine block. It gave the Lotus Carlton a cardio workout, allowing it to breathe deeper with more power.
But that's not all the newly-built Lotus Carlton engine was gifted. The turbos, T25s in stock form, were treated to T28 internals and new bearings. The result? A faster spool and of course, a bit more power. The engine management was also tweaked, this time to run what Dave references as the 'launch map'. Only initially designated as a testing map, this now runs full time. The result of that? Dave recons 440bhp. But with those upgraded turbos, it could be wound up to be north of 450bhp, should the new owner wish.
Yes, the new owner. You see, after fourteen years together, Dave has elected to let this Carlton go. Other projects loom, and so it's time for this impeccable machine to live on with a new custodian. And that new custodian will be very happy indeed. This car is rock solid, it's alarmingly fast, it looks every bit as good as it did when it was new, and thanks to being in regular use over it's life, it's not something the new owner needs to nanny or be scared of. They can get in, fire it up and enjoy it without hesitation. It's been built, maintained and modified to be used, and that makes it a very exciting proposition indeed.