Norfolk Premier Coachworks – Company Profile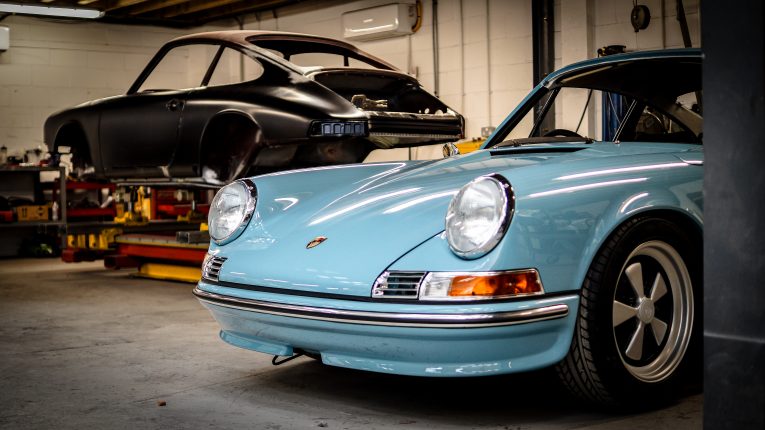 Norfolk is perhaps not the first place that comes to mind when thinking of restoration shops. An accent with a fondness of a hard R? Absolutely. The Broads? But of course. James Blunt? Um, yes actually. Eye-wateringly beautiful classic car restoration, however? Not so much. 
Though it should be, because Norfolk, or more specifically, Norwich is home to Norfolk Premier Coachworks, and let us tell you, the level of work on display here is nothing short of astounding. Before we get into the cars though, let's look at how the company came to be. 
The journey started in 2004 when Wayne Parker, a skilled body man and fabricator, decided it was time to take the plunge and go all in. Previous to this, Wayne had been working in the body shops of luxury brands, so was well-versed in high-end work. However, it was his projects outside of the full-time job, namely working on classic Porsches amongst others, that he found to be getting some serious traction. It was a brave move, but one that was clearly worth it. 
Wayne started with just a small industrial unit – just about big enough to hold three cars – and from there things grew. Such was the reputation of Wayne and his small team, he soon needed to take over next door's unit to make more space for a seemingly ever increasing number of customer cars. The team grew to four in this time and things were looking good for the business that seemed like such a gamble in '04. 
Sadly though, Wayne was struck with a sudden health issue in '09 and what was a flourishing business looked to be something that Wayne would have to put behind him. Happily though, that wasn't the case thanks to one customer in particular. That customer was Gary Steward, who is now a partner in the business. 
Gary saw it as a terrible shame for Wayne to pack up on what he had built, so instead the two devised a plan to not only keep the business going, but to also expand it and thus leave Wayne to focus on what he loves doing – metalwork and fabrication. 
The first key expansion was a paint shop, as the team were keen to ensure that their metalwork was finished with the highest quality paint finish. As such, the business now boasts a full bodyshop, low bake oven and Glassuit 55 line solvent refinishing system and De Beers water based facilities. It's all very cutting edge, and when you see the finished cars, the quality is evident. 
In 2010, the fabrication side of the business needed to grow, which brings us to the workshop the business is in today. The paintshop is still down the road in a separate unit, because as we know, these two disciplines don't really mix. That said, there are talks of a unified facility in the future, but with solid provisions for allowing happy cohabitants. 
So what of the cars? Well, in the early days the onus was indeed on Porsches but not through any deliberate act. They were simply the cars that came through the doors, then because of the quality of the work one owner would speak to another – it became self fulfilling. The company now enjoys an enviable reputation in Porsche circles, and that shows when you look at the cars the team can tag their name to. Cars like the 1973 R6 Martini Racing Porsche Carrera RS prototype, or how about the 356 that is thought to have once been owned by Ferdinand himself? You don't get those kinds of gigs by being average. 
As Wayne and Gary talk us through the business, they both point out that while Norfolk premier Coachworks is indeed a formidable force for fans of Ferdinand's finest (try saying that ten times, fast), they don't want to be pigeonholed. Gary is very keen to explain what other great work the company has done and is doing. One such car being a Bentley that has consumed some 8,000 hours during its initial restoration. During our visit, it was back in the workshop for some much-needed refinishing work after covering some miles back out on the road. 
There's the Lancia, which gives a deep insight into where the specialism lies. This bespoke, hand-built car was not only in need of restoration, it was also subject to some sub-par work previously. Most companies would look at such a machine and try to avoid it. Not here though, and not with Wayne. He relishes such a project. Rectifying the old work was one thing, but then building up the steel frame was another. But that's not where it ends, as Wayne is also in the throes of remaking the aluminium body… by hand. There are no off-the-shelf parts for a machine like this. It's skill, it's time-served hands and it's passion that gets projects like this done and done well. And this, Gary points out, is where the business shines. Certainly, looking at the XK Jaguar, the Mk2 Ford Escort and the myriad Porsches you can see that fabrication is what these guys strive to deliver to outstanding level. 
Each car has its own dedicated workspace, the now eight-strong team has access to all manner of modern machinery as well as more traditional English Wheels and the like. Spanesi jigs are employed to ensure pinpoint accuracy when re-engineering the chassis and structure. It's precision stuff throughout. Both Gary and Wayne explain that they want to be in a position to take on the jobs that others might pass up on. There is a lot of pride here based around the metalwork, and they want the company's reputation to spread on that basis. 
That said, don't think this is just a place for metalwork. There is the paint shop as we mentioned, where Wayne's son is lead painter in fact. Then there's the third arm of the business, nestled around the back of a Norwich educational building. Here, Wayne's brother has a mechanical garage, and while this is a separate business, most of the work comes from Norfolk Premier Coachworks, further demonstrating its determination to be a one-stop shop. Indeed, all works that can't be done on site, the team will happily sub to trusted experts in their field. Trim, electrics, chrome, veneering and so on. 
You might not think that Norfolk would be the place to go for an outstanding classic car restoration shop, but here we are. Norfolk Premier Coachworks calls it home, and if what we saw on our visit, and what we heard from Gary and Wayne is anything to go by, it will be there for a long time to come.