Players Classic 2021 – Ready Player One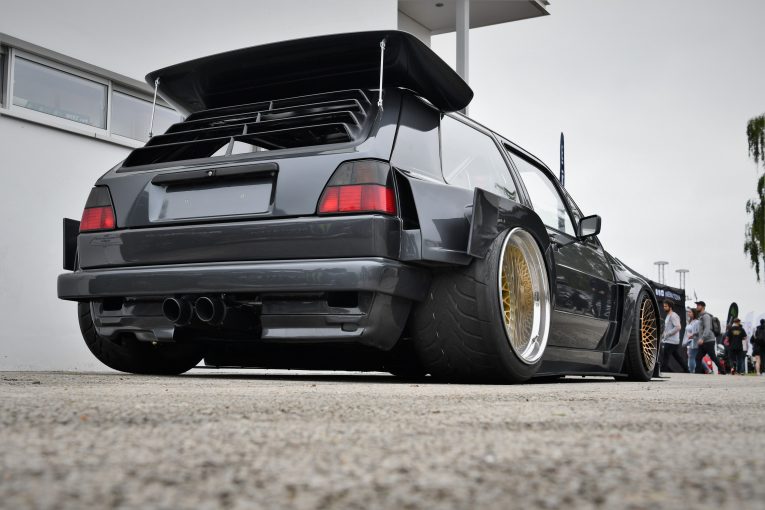 When the Players hitmakers roll into Goodwood, you know you're in for a good time. There's something deliciously naughty about the idea of this iconic, historic and hallowed motorsport venue being taken over for an entire weekend by the sort of cars that would quite possibly have some of the GRRC's more, er, advanced-in-years members scoffing in distaste, and that's really what makes it all the more entertaining. Taking these beautiful surroundings and refracting them through a more youthful filter, the Players Classic doesn't pretend to be a traditional Goodwood event, it simply exists as what it is: a chance for thousands of like-minded modified car enthusiasts to get together, showcase their latest projects, and appreciate one another's cars.
This is by far one of the most eclectic and diverse shows on the UK calendar. The 'Classic' name is a bit of a curveball, as it's not exclusively a show for older cars and retro stuff; think of it as a combination of the Nathan Barley definition of the term (as in 'oh my days, you absolute classic') and a counterpoint to the annual Players North Weald show with less of a modern focus. There's still a whole bunch of latter-day modded cars there too – it's a sort of greatest hits of car shows; a jack of all trades, but a master of all too.
This event's been growing in stature for a while, and the move to make it a two-day event a few years back means that now it's broader than ever – the first day sees all sorts of track action and drifting shenanigans, while the second day is more of a chilled-out display sort of vibe. Throughout the weekend you'll find the cream of modified cars from across the UK and beyond into Europe, with thousands of people making the pilgrimage to West Sussex… and lots of boys and girls now using the event as a target to finish and debut their fresh builds.
Given that there was no event in 2020 (for obvious reasons), the quality of cars on display was even higher than usual this time. So many people had reacted to the string of lockdowns by squirrelling themselves away in the garage to build better cars than ever, and this was in evidence everywhere you looked. After much head-scratching and narrowing-down, we've managed to distil it all to a top-ten of our favourites here – a diverse bunch, with something for everyone.
Crazy Golf
Undoubtedly one of the stars of the show, this astonishing Mk2 Golf looks more like a digital render than a real car – but trust us, it exists. Conceived as an interpretation of what a Group B rally Golf might have looked like, this car began as a render by renowned automotive artist Khyzyl Saleem (aka The Kyza), which was then brought to life by Prior Design and built by Jean Pierre Kraemer at JP Performance in Germany. It incorporates a number of today's scene touchpoints – custom widebody kit, Air Lift suspension, Rotiform wheels – but this isn't just about aesthetics.
It's a comprehensive engineering project. Peep through that louvred rear and you'll find that the Golf is now mid-engined and rear-wheel-drive, with a hysterical VR6 providing the aural drama. A truly incredible project.
Street-racer Escort
Finished mere hours before the show, this jaffa-hued Mk2 is like no other RWD Escort we've seen before. These are cars dear to the hearts of a generation who grew up amid a piquant blend of rally jackets and my-dad-had-one-of-those, and there's often a certain formula to modifying or upgrading them… but any semblance of formulae has been entirely ignored here, with the car's builder (calling himself 'The Mexorcist') creating a true one-off. Under the bonnet we find a Zakspeed twin-cam with a whacking great turbo hanging off the side, while the interior is shorn of everything beyond race-oriented functionality. And everywhere you look, you find bespoke details: the zany taillights, the ducted and tinted polycarbonate windows, the side-exit exhaust like an elephant's leg, the pinprick headlights, the racer aero… the rulebook is being rapidly rewritten here.
Players RS Turbo
This is no ordinary RS Turbo – and there's an interesting story behind it too. The car belongs to Carl Taylor, one of Players' founders, and he wanted to do things to an RS Turbo that had never been done before. However, with the car being in the UK and Carl living in California, Covid made the back-and-forth elements rather tricky… so Carl handed the Escort over to Jez Bonner at Carrera Bodyworks (a high-end bodyshop specialising in Porsches; Jez himself is a lifelong Mk4 Escort expert) and gave him free rein to create a show-stopper. What resulted was a masterpiece, slathered in Rubystone Red – a Porsche shade, natch – with an incredible amount of bespoke carbon fibre parts. The cartoonish stance is achieved with 19" Aerodiscs attached to 17" wheels, along with a custom air-ride setup. And our favourite detail? The carbon fibre Cobra Nogaro seats are trimmed in genuine Harris tweed, with the gear gaiter, sun visors, door pulls, boot trim, glovebox and spare wheel strap all trimmed to match. There are even Harris tweed face masks hanging from the rear-view mirror.
Meguair's Jaguar
Ever seen a Jaguar S-Type like this? No, because no-one's ever tried to turn one into a hardcore road-going race car before. On paper the idea sounded a bit bonkers at the project's inception, but Dale Masterman has a keen eye for detail and a Rolodex of quality contacts. Working at detailing specialists Meguiar's, Dale ran the build in the project pages of Fast Car magazine through 2020, with Bristol-based Jaguar specialist Swallows Racing finishing the car early this year. The details are superb: the supercharged V8 is putting out 500bhp and has been converted to run a manual gearbox, and inside the cabin we find Cobra buckets and a comprehensive custom rollcage. And just look at the magnificent wheels: custom-made by Image, they're staggered 19" alloys built to look like upscaled classic steels.
K20 BRZ
A wise man once said that there are no difficult tasks; some jobs just take longer than others. And it follows that, in essence, you can make any engine fit into any car, you just need to shove it hard enough and use the right swear-words.
What we have here, then, is a sublime exercise in engineering simply for the sake of it. Fundamentally, there's very little point in removing a native 2.0-litre engine that makes around 200bhp from a car, and replacing it with an entirely different 2.0-litre engine that makes around 200bhp. But this has been done just to prove it can be: the Subaru BRZ, sister car to the Toyota GT86, usually runs a 2.0 flat-four. This one, however, has been fitted with a 2.0 straight-four from a Honda Civic Type R. The K20 engine is VTEC-equipped and delivers its power very differently, so the characteristics of this BRZ will be far removed from its factory brethren. And yes, it's a much taller motor and doesn't totally fit in that engine bay – but don't worry, the bonnet now has a sizeable bulge grafted into it!
Driftworks Lambo
Another example of a car being built simply because it can be, this has been a real labour of love for boss-man Phil Morrison at Driftworks. His vision here is the fusion of two significant developments in the Lamborghini Murciélago's evolution – firstly, there was the LP640 facelift of 2006, which enlarged the engine to 6.5-litres and served up a meaty 631bhp. And secondly, there was the R-GT – a race car developed jointly by Reiter Engineering and Audi Sport, heavily modified to satisfy FIA and ACO regs, converted to rear-wheel-drive and wearing some seriously aggressive aero. Just nine R-GTs were ever built, and for a number of enthusiasts they've become something of a Sant'Agata holy grail. Sourcing some actual (very battered!) body panels from the 2008 Interprogressbank Le Mans car, Phil quickly discovered that GT1 panels don't fit production cars, and his road-going 2006 Murci was fighting back from day one. There's a hell of a lot of hard work in this car, from the bespoke body panels to the manual gearbox conversion – and even the custom door hinges! Every inch of the car caused problems, which makes the outstanding finished product all the more satisfying.
Live To Offend E30
Another project mastermind by The Kyza, this car is the UK's first example of a BMW E30 reimagined by Khyzyl's fresh bodykit brand, Live To Offend. Like the aforementioned Golf, this brutal widebody aesthetic began life as a render, before being spirited into being by the newly-minted Live To Offend company. The car was built by The Tuning Store, an outfit based in Hayes, London, as an offshoot of the scene linchpin Car Audio Security – a long-established business which has always been elbows-deep in the modified car scene.
In addition to the outrageous bodywork, Khyzyl designed the in-your-face livery, which was inspired by the BASF colours of the 1979 M1 Procar. A piquant melange of retro-inspired ingredients, with a future-facing approach.
S15 YAY
The real magic of car shows lies in finding things which have been crafted with a truly offbeat and creative approach. Yes, you always find a few formulaic projects scattered about (a new car on finance with financed air-ride and financed wheels may look good, but anyone can do that), but in amongst all this you find stuff like this S15 Nissan Silvia. Its owner bought it as a totally standard example that had been converted for motability use. Before long it found itself converted back to manual, the SR20 four-cylinder engine ousted for an RB25 straight-six, and then he set about throwing in some custom touches – like the nineties-style scissor doors! But undoubtedly the best bit is the interior: he's trimmed everything in bizarre cat fabric that he found online (buying up every roll so that no-one else could copy it); one of the cats looks exactly like his own cat, so this one is repeated four times on the gear gaiter – and if you look upwards, you'll find a hand-made Rolls-Royce-style starlight headliner, with individual fibre-optics poking through every star in the fabric's pattern. Brilliantly bonkers.
Uno Turbo
One of the more niche hot hatches of the 1980s, the Uno Turbo's very existence was founded on a lie. Fiat claimed that its engine was 'specifically developed for turbocharging', when in fact it was just the old 1.3 lump from the Ritmo with a fuel-injection system glued on. Nevertheless, the addition of a water-cooled IHI turbo liberated a rakish 105bhp and pushed what was a budget shopper hatch into the club of cars that could square 125mph. Which was impressive in 1985.
People were pretty ingenious with modding these too; wedging in the block from a Tipo beefed the engine up to 1.6-litres, and with some uprated fuelling, a bigger intercooler and a bunch of headwork you could be knocking on the door of 250bhp – in something that weighs about as much as a wheelbarrow.
This example belongs to seasoned retro car collector by the name of Jason, who also counts among his stable a V6 Clio, Delta Integrale, Escort RS Cosworth and assorted others. The formula for each car is simple: a bodyshop makes the body and paintwork absolutely flawless, the mechanicals are refreshed, the interior is sumptuously retrimmed, and the car is artfully lowered over well-chosen wheels. As with all of his cars, the results with this Uno are absolutely spot-on.
Volvo MX-5
The Mk1 Mazda MX-5 has always been an exercise in tactility, with a Lotus-like approach to chassis balance, light weight and sublime handling to allow the exploitation of relatively modest power outputs. In factory form, buyers had a choice of a 115bhp 1.6 or a 131bhp 1.8, and while these jewel-like twin-cams are wonderfully suited to the car's character, people have long been exploring avenues for increased horsepower. Turbocharging is popular – after all, this engine was designed for forced induction from the off, being also used in the 323 Turbo. Engine swaps are not uncommon too; some people have swapped in 13B rotary engines to create the Wankel roadster that Mazda never did, while aftermarket specialist Rocketeer has deduced that a Jaguar V6 is lighter than the stock engine while also being markedly gruntier.
But we've not seen this done before. This MX-5, quite unexpectedly and completely splendidly, is running a five-pot turbo motor from a Volvo, plus some juicy Jenvey throttle bodies for good measure. You can call it an MX-T5 if you like. We'll just call it brilliantly demented.