Players Classic 2022 – West Sussex Customs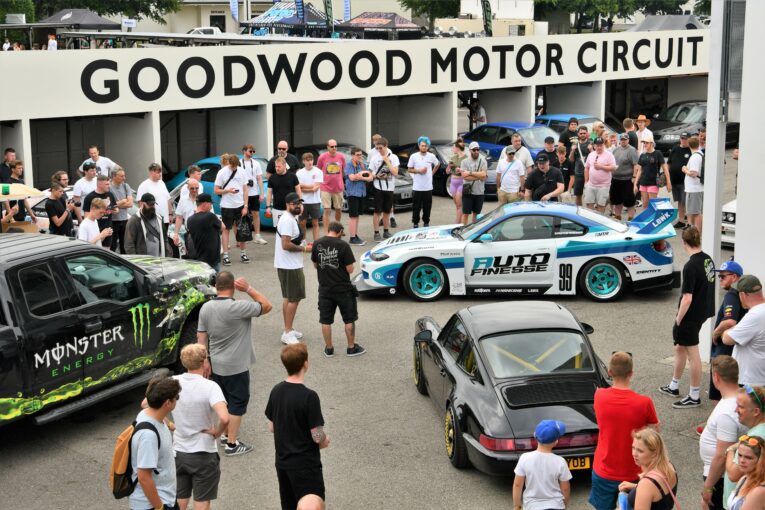 Oh, frabjous day. After a couple of shaky years, the show scene is buzzing again, bigger and brighter than ever before. And for the Players Classic, that meant record crowds, dazzling diversity, and the unveiling of a galaxy of hitherto unseen lockdown builds.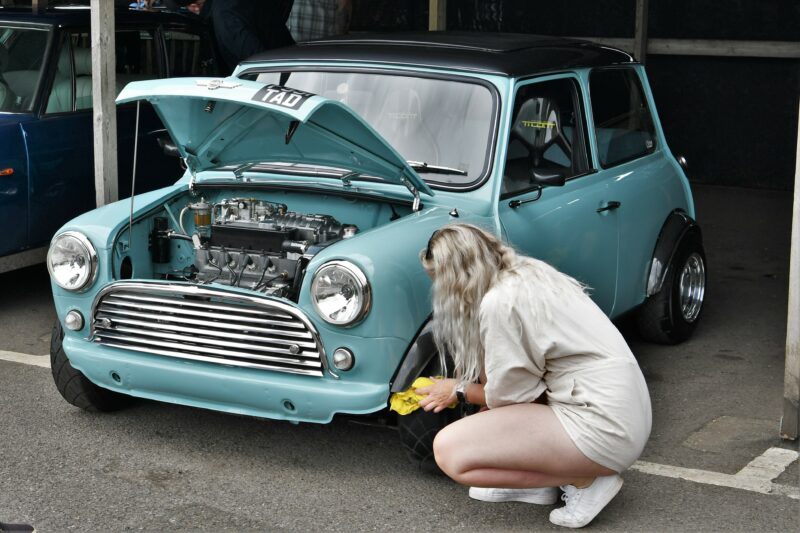 For the die-hard classic car enthusiasts among you, the Players Classic may well have passed you by. Viewed from afar, as you chip away the rust from the haunches of your Talbot Samba or bang your Opel Ascona with a spanner, it may be hard to visualise the crossover between your own interests and those of a group of enthusiasts of relatively modern cars. You may not care about air-ride or Bentley-grade leather, or who's got the latest designer rims from WORK or Rotiform. But with these blinkers attached, you may be missing a trick. You see, this isn't just a collection of stanced Mk4 Golfs and spangly Audi TTs. Players frames itself as a lifestyle brand; a welcoming, all-encompassing umbrella beneath which ideas are exchanged and originality encouraged. And any concerns about the potentially cliquey nature of such an event are comprehensively blown away by the venue: Goodwood is an inherently cheerful and friendly place and, while the tweed jackets and sensible shoes of the Revival may have made way for tattoos and vapes, the atmosphere is much as you'd expect to find at any other Goodwood event. Everyone's happy, out for a good time, and the quality of cars on display is truly other-worldly – passion positively oozes from every pore of the Classic. And so, after much debate and internal conflict (because there really was a phenomenal quantity of really excellent cars), we've managed to whittle our sightings down to a top-ten for you. Here they are, in no particular order…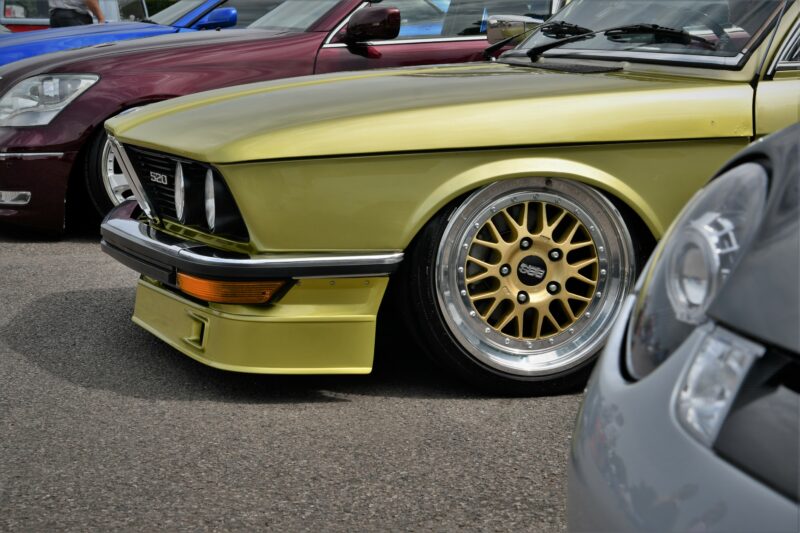 Carrera Escort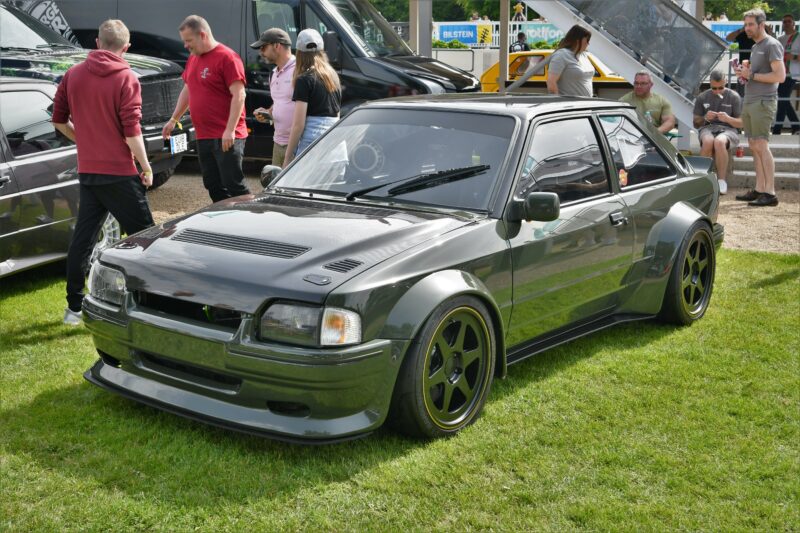 For those in the know in the UK modding scene, Carrera Bodyworks is an important name. So-called because they specialise in Porsches, the head honcho – Jez – is a lifelong Ford fan and tuning aficionado; his own Mk4 Escort is one of the most astonishing builds out there, and has been evolving over many, many years. The car we see here, however, is not his Escort. This is one being built for a customer, publicly debuting at the 2022 Players Classic. As you can see, it's not quite finished, but it's not far off – and what a tremendous piece of art it is. Carrera specialise in high-end paintwork, and it's the attention to detail and custom craftsmanship that really makes their builds stand out. We can't wait to see this one completed.
Alfa Romeo 4C
The Alfa 4C is a funny old sausage. There's only a few hundred or so of them in the UK, and they had a bit of a rough journey at launch: remarkably expensive due to the supercar-like carbon fibre tub, and yet powered by a distinctly un-supercar-like four-cylinder motor, a lot of people didn't know what to make of it. As such, many of those who did take the plunge have mothballed their 4Cs in private collections.
This fella, however, knew exactly what to make of it: a track car. Check out that mighty rear diffuser, and the colossal 8-pot front calipers – this is a keen exercise in how to take something unusual and transform it into something remarkable.
BMW E21
Undoubtedly one of the most talked-about and photographed cars at the show, this BMW E21 is frankly unhinged. Evoking the spirit of Group 5 racers and Art Cars in one psychedelic package, this has been vibrantly coloured-in by the artisans at Kustom Kolors in Dorset. With bespoke bodywork draped over a custom spaceframe, the beating heart of the monster is an M62 V8, running one of the most deliciously crafted exhaust systems we've ever seen. It's on Air Lift Performance suspension, with ludicrously huge centre-lock split-rims and even huger aero… it's like an insane fever dream brought to life. Which is precisely what the scene should be about.
Jensen Interceptor
Players is a loud show – you've got noisy engines, a noisier DJ booth… and yet, in amongst all of this, everybody stopped and turned with mouths agape when this Jensen Interceptor rolled into the paddock. It's so aggressively thrum-thrum-thrummy it almost sounds like it's deliberately trying to poke you in the ears to make you squirm. The source of this skulduggery is a highly tweaked 440 Hemi which was reportedly fitted from the factory; it's since been stroked and had all sorts of other mischief applied – the owner's website claims power to be 'nearly 2500hp', although today it's got badges reading '3000hp' along the bonnet scoop. Whichever way, it's absolutely terrifying.
Mercedes-Benz 190E
Race cars have spartan interiors, that's just a fact of how they're made and what they're for. If it's not necessary, it's dead weight and it goes in the bin. However, this line of thinking does mean that if a specialist in interiors wants to make an eye-catching promo vehicle, a race car is the best possible base – after all, it's a blank canvas, and the makeover will be all the more dramatic. So that's what d:class have done here. As you can see, the exterior has all the menace and forthrightness of a period DTM racer. But inside it's all high-end materials and sumptuous luxury; sure, it's got bucket seats in the front and a rollcage in the back like any good race car should, but it's all luxuriously trimmed in soft leather, the cloth inserts fabulously tactile, the custom dash and Momo Prototipo wheel so evocative of sepia-tinged grand touring. All very easy on the eye, we like this a lot.
AZLK 2140
You don't get a lot of Moskvitch action in the UK, for a variety of fairly obvious reasons, so it's always a bit of a treat to see one being used and enjoyed. And it's even more compelling when you see one that's been given an unexpected custom makeover. The product of Panda Speed Shop (purveyors of 'rough and ready driveway builds, basic fab and ghetto paint'), this 1985 AZLK 2140 is wearing an utterly glorious metalflake paintjob on the roof that could have been lifted straight from a lowrider Impala in downtown LA. Goodness only knows how many hours that took to mask up and painstakingly lay down. Such capitalist western decadence.
Alfa-engined Skoda
One of the most entertaining ways to irritate horsepower bores is to turn up at a track day in something totally unassuming that they think is going to be a bit rubbish, then blow them all into the weeds. This is very much the approach taken by the owner of this Skoda, who's harnessed a sheaf of old dad-jokes about the once-maligned brand and used them as potent fuel to his fire: in the tail of the Skoda resides a hot Alfa twin-cam, while much of the bodywork has been cunningly and subtly re-manufactured in fibreglass, to make for a superleggera Czech missile. So if he pulls up alongside you at the lights, don't even try it. That's exactly what he wants you to do. And you will lose.
Skoda Octavia
…and if surprising Skodas flick your switch, this is one of the most entertaining on the UK scene right now. There are certain elements of the community that can be a little formulaic, with people building similar projects from similar base cars, and there's always a keenness to seek out ever-more offbeat bases to counteract this… but it takes a truly inspired line of thinking to make such a thing out of a Skoda Octavia estate. Magnificent though, isn't it? A full-on Touring Car-style build, borrowing elements of the BTCC of the 1990s along with Japanese tuning circles of the early 2000s, it's a proper race wagon: cage, buckets, massive power, extreme aero, it's utterly demented and we just love it.
Auto Finesse S15
Auto Finesse is, as you may be aware, a detailing brand. And this company is staffed by the sort of dyed-in-the-wool petrolheads who live and breathe modified cars. The company has built some absolutely stellar projects over the years, which act on paper as a sensible means of promotion at car shows (although we all know that really it's just an excuse to build awesome cars), and this one tops the lot: a Nissan S15 crafted to evoke the spirit of old-school S12 Super Silhouette racers of the 1980s, with super-wide Liberty Walk styling and bespoke race graphics. It's a faithful tribute to those old silhouette heroes, but with twice the power, many times the braking and handling capabilities, and an almighty dollop of new-school malice. It's a whole bunch of wasabi stirred up with English mustard, a no-holds-barred build in the most extreme style.
Purist Mini
Minis have been around for so long that absolutely everything possible must have been done to them by now, right? Er, no, not by a long shot. As Chris Denn is proving with his ever-evolving and amusingly ironically-titled 'Purist' Mini, there's plenty of life in the old thing yet. Fusing styles lifted from Japanese shakotan and bosozoku, a bit of Euro, a bit of USDM, and any other genre he fancies magpie-ing a twinkle of flair from, this is an incredibly detailed and highly innovative build. And it's not just a show pony either – sure, he's got a cupboard full of show-and-shine trophies, but Chris has also stuffed in a clever twin-cam A-series with all sorts of racy tweaks. There's a lot of custom Minis out there, but in 2022 this is the gold standard.