Retro Rides Weekender 2021 – Living for the Weekend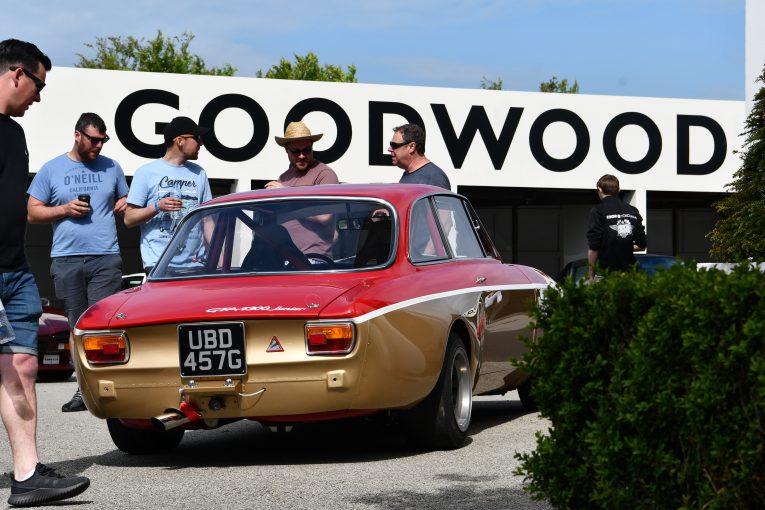 OK, this is a bit weird. Actually being at a car show, a real and proper one, after so many agonisingly endless months of yearning? It's like a madman's fevered dream. And yet here we are, in our favourite little corner of West Sussex, drinking in the atmosphere we've craved so long and so hard. The Retro Rides Weekender – a full-sized event, packed to the rafters with old-school modified cars. So, so many cars. And Goodwood's airfield is live, so there are random biplanes buzzing about. And best of all, the weather. Oh, the weather! Baking, blazing, glorious sunshine for the entire weekend, reminding us all what sun cream is for and how doughy and pale we've become under lockdown after lockdown. This new-found lobsterfication is a splendid and welcome release.
So what's this all about? Well, the Retro Rides forum is a global behemoth, pulling together enthusiasts of modified classics from across the planet to share their stories, build threads and inspirational photos, and generally revel in the mutual enthusiasm of, let's face it, pretty much the coolest hobby a retro kid can have. The all-encompassing nature of the forum has led to a blossoming real-world scene too, as evidenced by their huge annual show – The Gathering – as well as any number of garage communities and countless regional meet-ups.

With the ever-growing scale of the forum, it was inevitable that it would spawn a show, and the Retro Rides Gathering has been running for years, growing from the 'Retro Rides Show' at Mallory Park, through its inauguration as the Gathering at Gaydon Motor Museum, over to the historic Prescott hillclimb, and into its current guise at Shelsley Walsh. But what we're seeing here is something else… debuting in 2018, the Retro Rides Weekender brings all of that sepia-tinged splendour to the fabulous environs of Goodwood. The two days have a distinctly different flavour; the track is open on Saturday for anyone who fancies to sign up for some hot laps; on the Sunday, there's an autosolo set up while the rest of the track is used for static show parking. And of course the paddocks and parking areas are positively brimming with show cars of mind-boggling variety.
This year should have been the fourth running of the Weekender… but of course, thanks to that spiky little virus, nothing happened in 2020. But if we can winkle out one tiny silver lining, the hiatus means that the enthusiasm is ever-stronger in 2021; this year's show featured some frankly remarkable builds, with people evidently having been very busy in their garages over the past year or so. But even better than that, it's just so nice to have a glimpse of normality. We're not out of the woods yet, but we've tasted the future, and it's sweet and divine.
What was really noticeable, more than anything else, was how much everybody was smiling. For us, and for many, this was the perfect car show. And here, after a lot of head-scratching and narrowing down, we've whittled down our ten favourite cars of the weekend…
Bonneville A2
This is the kind of car that Retro Rides is all about. It's weird, it's different, it's polarising, and – most importantly of all – it's unique. Now, there will always be naysayers who argue that a particular car is too new to be defined as 'retro', and really life's too short to worry about that sort of nonsense; what's important with the A2 in general is that it's a) a bona fide modern classic and b) undoubtedly a proper future classic. And this A2 in particular? Well, just look at it. Never seen anything like it before, have you?
The brainchild of forum stalwart Dan Haines, whose history of creating belligerently weird automobiles is long and distinguished, his rationale was clear and his logic faultless: the A2 was designed to be extremely aerodynamic, and what else is extremely aerodynamic? Salt-flat specials. So here we have the Moon discs and aluminium spoilers straight from Bonneville, plus the eye-candy colour and retro graphics. So simple, so clever, so beautifully executed.
Rotary Escort
We could bicker all day and all night about what constitutes a 'sleeper'. Traditionally, we'd be talking about a car that looks totally unassuming, most likely a lowly-spec base model, that hides surprising firepower in the form of a massive engine that oughtn't be there, upgraded brakes and suspension, and thus the power to relentlessly surprise people at the traffic lights. Now, in light of this you might say that this Mk3 Escort isn't a true sleeper, in that there's a whacking great exhaust poking out of the front wing and the car's hunkered down over some sparkly oversize steels.
Nevertheless, it would present a gentle image to most, looking for all the world like a 1.3 GL that's been well looked after. But in fact, this car was built by the ingenious brothers at Stolton Engineering (whose recent CV includes a Sapphire Cosworth track car with a Lexus V8, and a Mk2 Fiesta with aero addenda that'd stabilise a Piper Cub); it's got a Mazda 13B rotary brap-brapping away under the bonnet – so you could argue on a technicality that it's still a 1.3, sort of – and it's been converted to rear-wheel-drive. Utterly magnificent.
K20 205 CTI
In a rather different way to the Audi A2, this is also the sort of car that Retro Rides is all about: taking a base car that most people would probably overlook, and turning it into something absolutely hysterical. You see, while the Peugeot 205 GTI has gone down in history as one the world's favourite hot hatches of all time, its drop-top sibling, the CTI, has always been rather side-lined as a soft option. People mutter things about scuttle shake and torsional rigidity. But take one look at this car and you'll see that the solution is clear – you just need to brace the whole thing with a colossal roll cage!
But that's not the whole story. Oh no. You see, this splendid lunatic has seen fit to install a K20 engine – that's the 2.0-litre VTEC unit as found in the Honda Civic Type R in its EP3 and FN2 generations; a rev-hungry monster that howls like a banshee when the racier cam profile kicks in at 5,750rpm. And that's not all. Look closer, and you'll see that they've turbocharged it for good measure. That's the sort of Kool-Aid we want to be drinking.
Camber Micra
Camber cars aren't really a thing over here, but if you look to the tuning scene in Japan you'll find that this niche sub-culture is surprisingly broad in its reach. The essence of its roots was to take the slight negative camber of race cars and apply it to road cars, but then to keep making it less and less slight (that is to say, more and more extreme), until the whole thing spiralled into a sort of arms race of angles. Feeding into the VIP ('bippu') scene but also really going its own way, the enthusiasm for camber has become a way of life for many. Yes, it's deliberately ridiculous, and yes, driving around on the road like this would have you wearing out a set of tyres on a weekly basis, but the point of it is the challenge: engineering the car to actually work properly even though the wheels are at obscene angles.
The fact that it's not really a thing in Britain makes it all the more brilliant that someone's opted to do it to a K11 Micra. Camber cars are usually big luxury saloons, so the caricature is all the more splendidly bizarre on a grandma-spec shopper hatchback. And yes, before we get a bulging mail-sack of complaints – it was built for the show, it was trailered to Goodwood and trailered home again. Don't think of it as a car, but a moving sculpture; something built just to prove it can be done.
Kaido racer
You may be familiar with the term 'bōsōzoku'. This is a subculture that often takes a lot of explaining; literally meaning 'reckless tribe', the ethos traces its roots back to illegal motorcycle street-racers of the 1950s, their outrageously styled bikes tearing up the streets of suburban Japan with little regard for safety or the law. Fast-forward seventy years, however, and the modern bōsōzoku car actually owes a lot to the styling treatments of the 1980s, which are enjoying a huge renaissance of late. We're talking sump-clattering ride height, surreally caricaturised body kits, jutting sharknoses, comically extended exhausts, in-your-face retro colour schemes – a deliberately jarring aesthetic. Imagine a Group 5 racer from the 1970s, if it were animated by Marvel Comics. It's the kind of vibe that makes the majority of onlookers laugh and scoff. Which is just what the bōsō driver wants.
The car you see here is perhaps the purest iteration of street bōsōzoku without the crazy takeyari exhausts; a GX71 Toyota Mk II, built in Japan and recently imported from New Zealand, sporting all of the genre touchpoints: the sharknose bonnet/wing extensions, the insanely deep-dish wheels under aggressively flared arches, the lurid race-car-on-acid graphics. A genuine slice of modding culture, unexpectedly teleported to Goodwood.
Laddie Capri
Many years ago at the age of sixteen, Andy Bower bought a Mk2 Escort. He learned to drive in the 1979 two-door, and then to paint, weld, swap engines, modify and customise; this car was instrumental in him becoming an engineer. Andy and his Escort were inseparable – it served for harsh winter commutes, pan-European road trips and countless track days; it kissed the Armco at the Nürburgring, earned 40,000 miles in his tenure, and received a few miles of welding wire over their eleven years together.
…and then, at the 2009 Retro Rides Gathering, the car rolled on track and it was all over. Which came as a bit of a surprise.
Andy, however, is always focused on solutions. In 2011, he bought himself a Capri – this Capri – which had already been prepped as a race car. Ish. But it was a bit ropey, so he stripped it all the way down and built it back up properly, borrowing specs from Group 4 Escorts. In a flash of inspiration he formulated this fabulous blue aesthetic, paying homage to the racer liveries of yore and using the Bruichladdich name simply because he likes the whiskey; the distillery loved the idea and even sent him a bottle of Laddie Classic 'to get the right colour from'. The car is now a dedicated track machine, getting its neck wrung as often as possible, and we just love it. Form and function in perfect harmony.
Grey 2002 Touring
Back in 1971, BMW released a hatchback version of the popular 02 saloon series. Designed by Michelotti, it was substantially different in construct to its three-box brethren; the Touring was a fair bit shorter, had a steeper windscreen, and initially entered the market in 2000Tii form. The range then grew to include 1600 and 1800 models, and the '02 suffix was added to the model designation in 1973. Being L-registered must make this gleaming grey example among the first to be badged '2002', and it's a truly astonishing build to boot. We've seen a number of extremely high-end 2002s on the scene in recent years, as the growing enthusiasm for classic 3 Series stretches backward through the E30, the E21 and back into this genesis line of 02s, and the artisan behind this particular car has evidently followed a no-expense-spared approach. The bodywork is faultless and arrow-straight (just look at the reflections in the paintwork), and the more you look, the more custom details you find. The twin headlights are a neat touch – these were a period aftermarket accessory, sometimes installed by European dealers – and the stance is spot-on with those Turbo-style arches filled out by wide BBS splits. The interior treatment is glorious, retaining the period style but tastefully upgraded with sumptuous modern trim. We like this car a lot.
Shorty DS
Given its uber-squishy interior and pillowy ride, people are often surprised that the spaceship-like Citroën DS has a decent history in motorsport. It does make a lot of sense when you think about it though; that clever hydropneumatic suspension is excellent at smoothing out bumps, and if you're spending a long time crossing harsh terrain, that's what you want – so the DS was an offbeat but pleasing choice in period for endurance rallies. Indeed, a DS won the 1000 Lakes rally in 1962, as well as Monte Carlo back in '59, and these wonderful machines were competing in long-distance events right up to the mid-'70s.
What's particularly interesting about rally DSs is that they weren't always strictly based on production shells. Much like with the Maserati-powered sister car, the SM, rally cars often got shortened and bobtailed, which paid dividends when it came to handling and weight distribution. And that's the treatment you're seeing here: the once-four-door DS has had a chunk scythed from the middle, making it into a diminutive two-door. It looks like a full-sized Citroën that's been shrunk in a hot wash. And that's a very good thing.
Mini on hydros
There are certain touchpoints that have become integral to lowrider culture over the generations: the vivid paint, the flawless finish, the in-your-face interior with the chain steering wheel… but one undeniable fact is that these cars are invariably big-body American cars. Chevrolet Impalas, Cadillac Coupe De Villes, that kind of thing. So it's off-the-charts fantastic that all-round nice guy Paul P has opted to apply this iconic treatment to a Mini, of all things.
The plan was to squeeze as much hardware as he could into the smallest car possible, and the unsuspecting Mini found itself stuffed with a proper 4-pump/4-battery hydraulic suspension build. It bounces like Tigger on speed, and the best part of all is the custom hydro controller he's made, which is itself a little orange Mini.
V6 Bedford
"I'll be gla-a-a-ad when you're dea-a-a-d, you rascal you." So sang Hanni El Khatib back in 2010 (or, since we're following a retro theme here, Louis Armstrong in 1931), although this killer tune misses a fundamental point: rascals don't die, they shapeshift and evolve. Anyone who's driven a Bedford Rascal will be equally aware of how they cunningly pack a huge amount of cargo into a teeny-tiny footprint, and how they're a little bit scary to throw into corners. Well, how about if the cargo in question was a huge Ford V6? That's a magnificent way to really amp up the scary, putting the Ford in Bedford and, er, making sure you've got nowhere to sit. Presumably there's some manner of engine cover to perch on, thereby ensuring toasty-warm cheeks on even the frostiest of winter mornings. And this project, perhaps more so than any other, serves to summarise what the Retro Rides Weekender represents: cool things, created simply because they can be.