Roving Rovers – C&C's Brits Hit the Road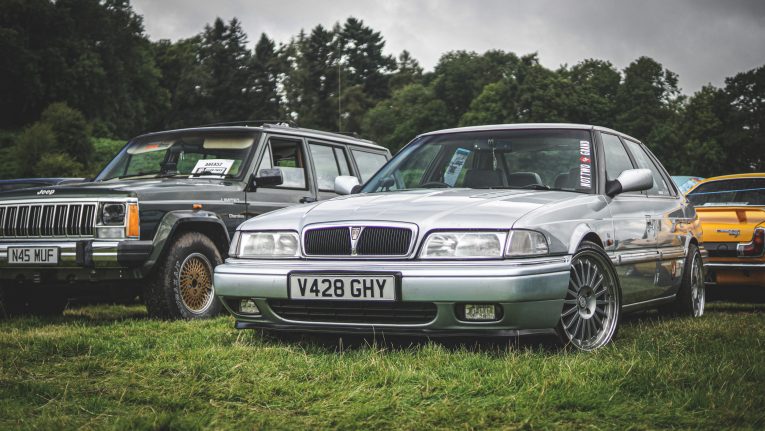 We like a Rover here at Car & Classic, which is why several of us have them. For two of us, namely Tom Wood and myself, Chris Pollitt, the weekend just passed was an important one. You see, both of our Rovers would be undertaking significant journeys. One of the Rovers would have to drive some 1,600 miles to Italy. The other would, well, it would just have to drive. That was the basic goal. If you're not familiar with our beloved Rovers, allow me to introduce you to one, and reintroduce you to the other.
Chris Pollitt's Rover 800
I'll get out in front of any comments by stating that I am well aware of the fact the 800 wasn't Rover's greatest achievement. It was, like so many of its later products, a rather excellent idea that was ultimately let down by frankly appalling build quality. Having taken mine almost entirely to pieces before putting it back together, I can tell you that it really was a shambles of a car. However, I love them. I always have. I like a big old Rover, and being 38, the 800 is very much of my era. Plus, when I was 16, my boss had one. A vision in gloss red (not Nightfire), it was a T registration Vitesse saloon. To me, it was a rocket ship. 197bhp of turbocharged joy. It had no right to be as fast as it was. I had to have one. But I was 16, so I couldn't.
I did buy one eventually, a Zircon Silver Vitesse saloon, again on a T plate. It was £700, I owned it for seven months and it worked for seven days. It was horrible, and I was glad to see the back of it. However, I was saddened at the thought of no longer being able to drive past the other Vitesse in the next village up. Exactly the same as mine, but on a V, it was amusing to me to see another. Little did I know that – and here's a plot twist – in 2018, I would buy that very car. For £475. You can imagine how un-good it was. But then, when have old Rovers been anything but?
However, I'm a lot older, a little bit wiser and as such I relished the challenge of putting this car back on the road. Over the last few years I have done everything to it bar paint (but that's very much on the list). New clutch, full service, new belts, pumps, fluids, plugs, leads, completely new cooling system, new interior, new suspension, new brakes, new brake lines, new wheels, new tyres, electrical overhaul, bodywork (it had some rust) and exhaust. I know this car intimately. As do my scarred knuckles and weeping bank account. And I wouldn't change a thing.
Tom Wood's Rover P5B
We first introduced you to Tom's Rover P5B back in January. He acquired it back in 2003, swooping in like some sort of spanner-wielding Superman to save this handsome old machine from the most undignified of endings. Yes, had Tom not appeared, this poor old car would have been unceremoniously sent out on the banger track. Despite being a student at the time, he took the Rover on and brought it back to life. It has been with him ever since. Like a four-wheeled trusty companion, it has been by his side for decades now. It's a bit rough around the edges, but in a shabby chic way, not a neglected way. This old V8 earns its place on Tom's driveway because it can always be called upon to be used. It's not a show pony, it's a working car. One that works better than most, in fact.
In the last piece I wrote about this car, its mechanical overhaul was coming to an end. The car had been with Richard Jones of Roundham Garage in Paignton. A master of the craft of carburettors, there were few better suited to bring this old Rover's oily bits back to life. Certainly, when I saw the car last, I commented to Richard that they probably didn't sound that tight and that healthy when they were new. His work, which covers new valves, springs, new cam, new pumps, a pair of NOS carbs (what a find!),  a complete cooling system overhaul and a final clean and repaint means that the car is now in enviable mechanical condition. Richard also overhauled the transmission and brakes, and thus gave the big old P5B a new lease on life.
Since the work was completed, the car has been down in the sunny South West. However, Tom isn't. He's in Italy. But, thanks to the small issue of a global pandemic, there wasn't a lot that could be done to reunite the two. Sure, a shipping company might have been able to pick up the car and scoot it over to Italy, but where's the fun in that? Tom wanted to drive it home. What better shakedown than a breezy *checks notes* 1,600 mile run? Blimey.
The 800 Shows Off
Back to my Vitesse. It didn't need to do 1,600 miles, thankfully. It just needed to do 200. It had to get me to Shelsley Walsh and back for a weekend of camping as part of the Retro Rides Gathering. Pah, you may be thinking. A mere 200 miles is nothing. And you're right. However, while the car has had one MOT since being with me, a lot has happened since then. It broke a driveshaft for one, the boost lines failed and made the car near undrivable, there were suspension issues and a few other teething problems. It had been in long-term ownership prior to me, but it had not been looked after. As such, I had little in the way of faith in it. Despite all the work done, the thought of driving it any distance filled me with anxiety. But I needed to do it, otherwise it would just sit there doing nothing. And that's silly, because it's a car.
Needless to say, my anxiety was unfounded. But old Rovers will send your mind that way. In the end though, the car is a dream to drive. The new electronic boost controller stops me from hitting the fuel cut-off, and also my head on the windscreen. The suspension is firm, but not jarring. The temperature is good, the driveshaft didn't break again and the whole thing was just, well, it was just a joy. I was and still am so proud of it. There are teething issue to sort. The big alloys are a bit out of balance, and the expansion tank needs to be swapped out for a new one. But that's it. It pulls like a train, it handles well for a big old thing and I even had a few men in white vans shout happy noises at it. Lovely. I'm excited to get more use out of it now than I ever have. Old Rovers, got to love them.
The P5B Conquers Europe 
Now onto the P5B and its planned jaunt across a good old chunk of Europe. You'd think, if you're partial to the occasional stereotype, that such a journey would end not with the hills of Italy, but with steam and maybe some engine internals ending up somewhere other than the internals of an engine. That wasn't the case though, as the picture above was indeed taken in Italy just the other day. Not only that, this Rover made it there under its own steam. Though yes, there was some steam involved. Rovers, right?
Day one saw Tom and his passenger drive from London to Basel in Switzerland. A journey I have done myself in an old car (a 105E Ford Anglia) I know it's a hell of a slog for one day. But, thanks in no small part to the quality of Richard's work on the engine, the P5B made it without incident. On day two, it was Basel to Bern. Yes, Bern in… Switzerland. This wasn't the plan, but while negotiating the Simplon Pass, the P5B did indeed overheat. This was a problem, and a concern. However, after hiking to a waterfall for some much needed drink, Tom had the realisation that it might be something to do with the fuel additive being used. It was. The Millers SVP claims to be a bottle for 50l of petrol. Turns out that's underselling it, as it was in fact too much and caused the P5B to get a bit hot under the collar. Splash of fresh fuel to dilute it some more and all was well.
The unplanned hike put a dent in the schedule. And then, feeling more than a little tired, Tom navigated a few bends only to be greeted by the Simplon Tunnel train. A train you can get your car on, and that takes you to Lake Maggiore in Italy. Rovers rejoice – result!
Day three and it was the final push from Maggiore to Umbria. Though this did involve a short stop on the Tuscan hard shoulder, much to the chagrin of two Italian police officers. Tom explains, "We had a blowout and met some angry policemen who got less angry when we chatted to them about their Fulvia HF". Cars, there, being a universal passion and one that can calm the authorities down, it seems. Happily, Tom of course had a spare. However, it was lacking in air. "Yes had a new spare but needed air – top tip pump your spare up." So he did, in the scorching Italian sun. Rather you than me, Tom.
Happily, the P5B made it the rest of the way through Italy without incident. And while my journey was considerably shorter, so did my 800. And needless to say, both Tom and I are extremely proud of our old Rovers. They're both a bit dog-eared in places, and neither is lacking in idiosyncrasies, but we wouldn't have it any other way. And we're sure you feel the same, whether you own a Rover or if you own any other old car.
Getting out there and driving them is what it's all about. I try to be eternally optimistic about the future of classic motoring, but the reality is that we don't know what it holds. So get out there, drive them, have adventures, have fun. These things transcend their original purpose. They become characters, we talk to them, we engage with them, and we feel honest to god emotions when something goes wrong, also when it all goes right. You never put your kettle and say "nice job" under you breath. But I bet you have with your car, haven't you?