Super New Morgan Three-Wheeler Jets In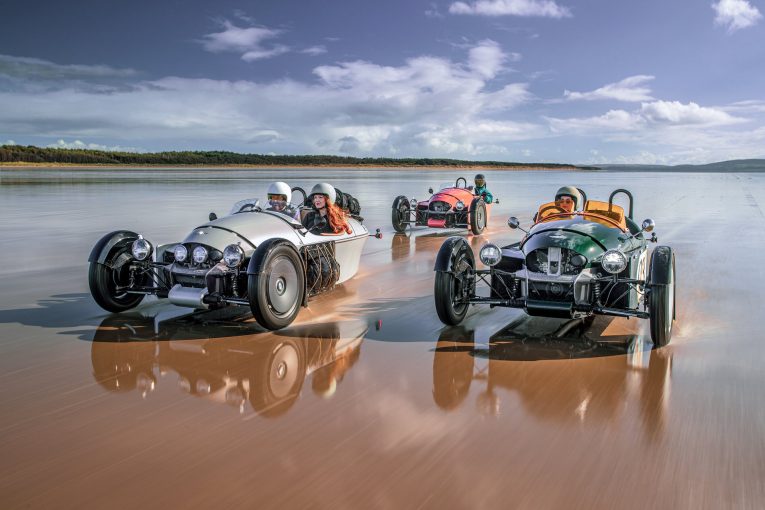 The Morgan 3 Wheeler was introduced in 1909, five years after the formation of the Morgan & Co Garage and Motor Works in Malvern, Worcestershire, where of course the famous car maker is still based. Today we have powerful sports cars, electric cars, classic cars as electric cars and the prospect of cars that drive themselves, so you'd understand if the quirky Three-Wheeler was finally being killed off after 113 years.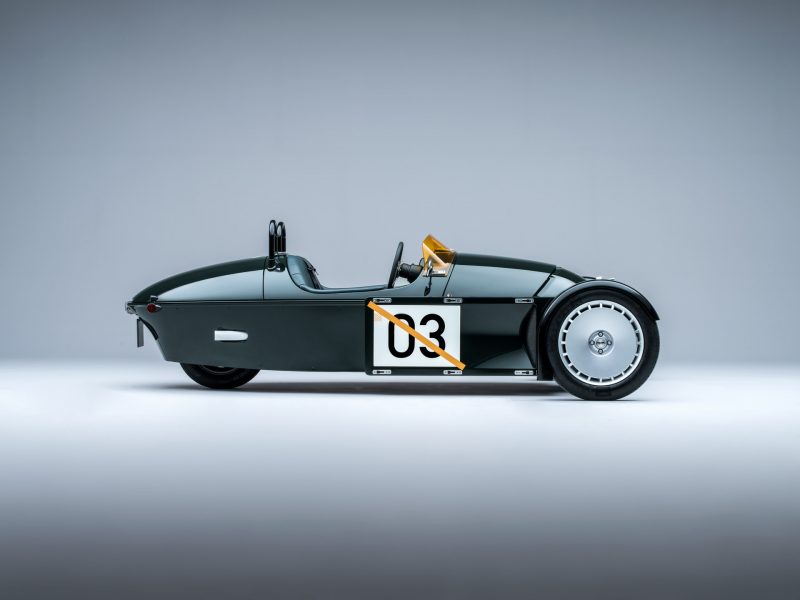 Well it is and it isn't, but before fans panic, it's only the famous name that is being put out to pasture. Morgan has given the 3 Wheeler a whole new lease on life and it will live on as the new Super 3 – cue rapturous applause. It still has links to the original but Morgan's head of design, John Wells, told us that the new one is not simply a successor to the 3 Wheeler, so they had to give it a new name.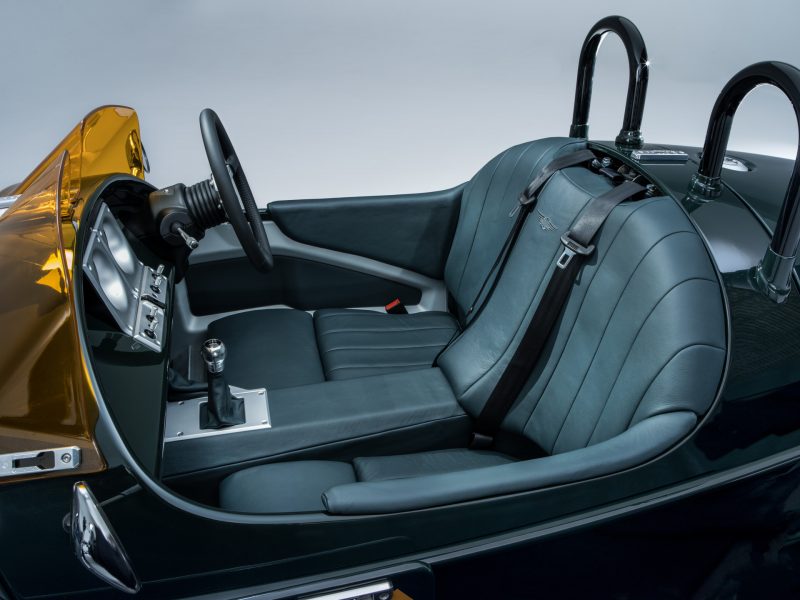 He was chatting to us at a top secret preview, this one at the company's new centre at Bicester Heritage. The last generation sold over 3000 around the world between 2011 and 2021, but its powertrain was becoming harder to get through tightening legislation in some key markets.
He describes the Super 3 as a total antidote to much of what is happening in the automotive industry at the moment, but of course there are plans for an electric version. Not yet though, so initially it will be petrol-powered. The v-twin has gone, partly because motorbike engines are not ideal due to their integrated gearbox. Instead, the team at Pickersleigh Road started looking at car engines and eventually returned to the brand that supplied the engine for the Morgan F-Type three-wheeler in 1933, Ford. This time though it's a 1.5-litre, inline three-cylinder engine that has been specially tuned to suit the Super 3 and which provides 118bhp and 110 lb ft of torque to give a top speed of 130mph.
Wells with his latest creation, the Super 3
The engine remains visible through the mesh in the nose cone, which can be removed entirely for servicing, and every element has a purpose, even the headlight structures channel air to the radiators. There are loads of aerodynamic parts, many of which have the role of channelling air and assisting cooling. It's anything but plain, but at the same it is actually very plane.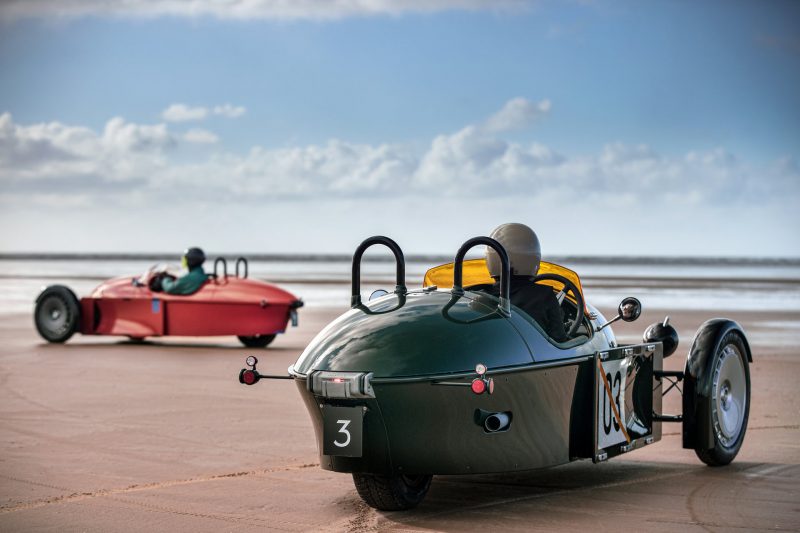 "If the old one was a biplane, this one is a jet," says Wells. That makes the missile release start button more appropriate than ever then. The engine is linked to a five-speed manual gearbox from Mazda, who interestingly told us just a couple of weeks before that they were trying to persuade Morgan to take their six-speed. The engineering team stuck with the five though, because it has longer ratios and they describe it as more engaging, more fun and that's what the Super 3 is all about.
It was important to talk about the engine first, not least because switching to a car engine is a significant change for the model, but also because Wells says that everything has been designed from the engine out. It sits behind the front axle, in part for weight distribution but also because the Super 3 needs to look as though it is being pulled by those large front wheels. It's all part of what Wells describes a a "real mechanical honesty." We like honesty.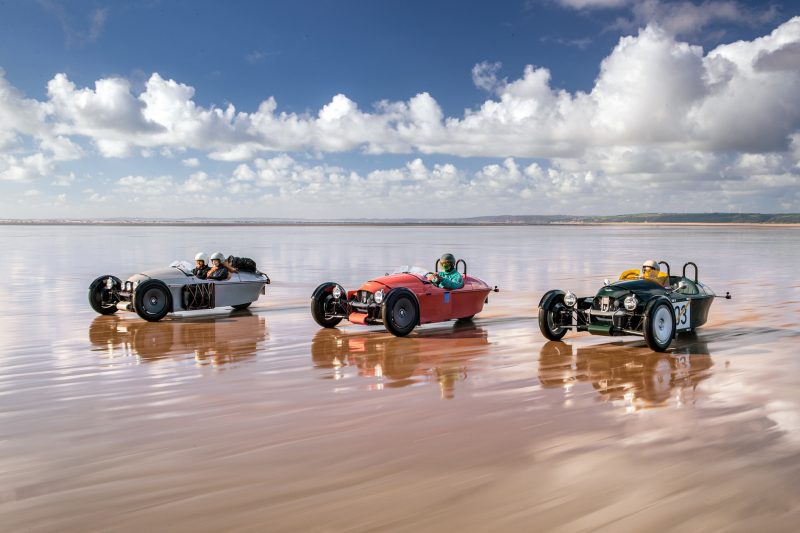 Speaking of the wheels, those offset rims sit inside unique 20-inch Avon Speedmaster rubber, specially developed for the Super 3. The wheels are attached to a new pull-rod suspension system which Wells says was engineered to be as thin as possible in order to not only assist with aerodynamics but also to help keep the overall dry weight down to just 635kg.
While there is familiarity to the overall design, it is radically different, inspired not so much by vintage 1920s three-wheelers but rather by the jet age of the middle of the last century. There we go with the jets again. It's the first clean sheet design since the Aero 8 and is the first model in the company's history to use a monocoque structure. It also has a superformed aluminium body – this ain't no simple sequel.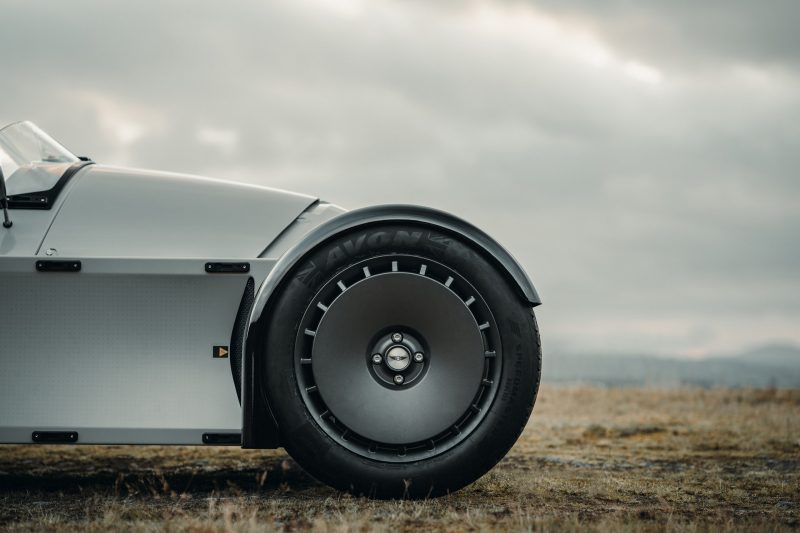 For once, calling the interior the cockpit actually doesn't seem like a cliché, so we will. The cockpit is simple with seats which are fixed, meaning the driver has to move the pedals. All the electronics are water resistant and for the first time in a three-wheeled Morgan, there is actually a heater in the footwells. The seats are waterproof and you can have them in a range of materials, including vegan.
There are some bits of tech of course, such as the optional Beeline navigation pod on the top of the steering column. Don't expect a Google maps display though, this is motorbike style, with simple arrows for directions. The traditional Morgan dials have gone digital and the Super 3 has USB ports but we reckon you'll want to get one of those retro phones to plug in. In contrast to the tech, the engineers have created spaces where owners can attach bungee cords in order to hold their coat or bag in place.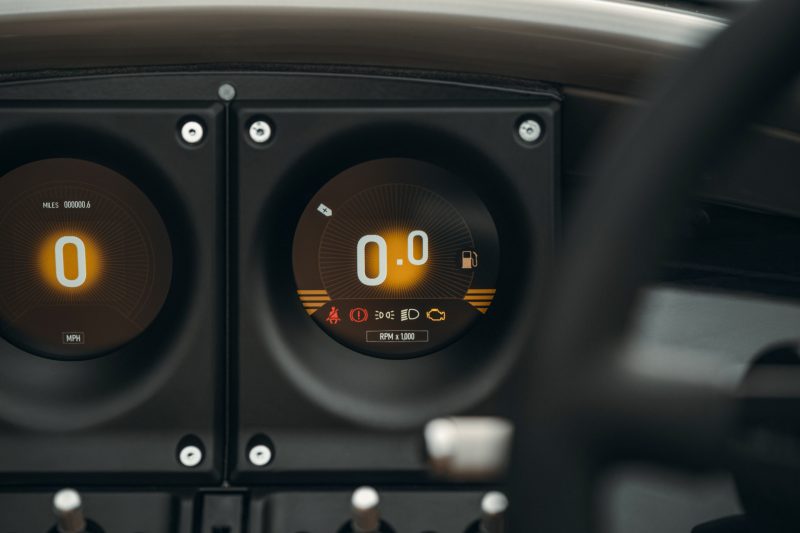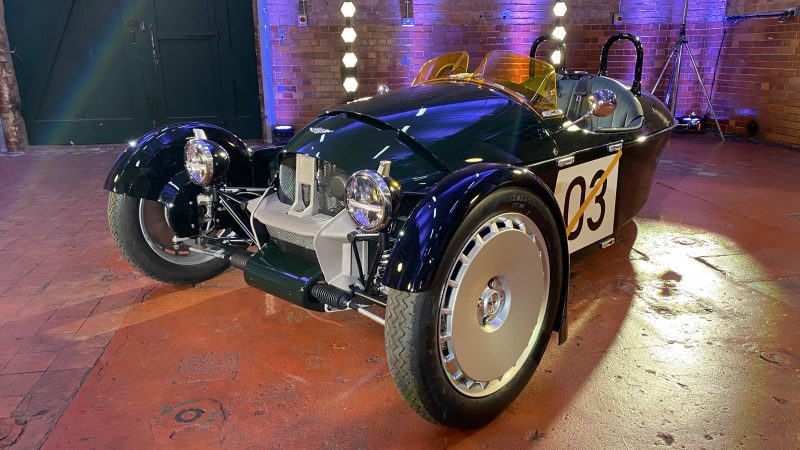 If much of this seems more motorcycle than jet then you'd be right. Wells says it's all about touring, a motorcycle for car people. It even has cleverly designed brackets or accessory rails that can be attached to the side blades to hold panniers or a tailor-made suitcase. Then there's the distinctive tail which contains a bit of storage but you can also attach a luggage rack.
If all of this is not characterful enough for you then you can add even more, with a whole load of accessories and personalisation options that the company says makes this the most configurable Morgan ever. Wells even says that the options list is one of his favourite bits about the car. You can choose from two different windscreens, three different suggested specification packs, action camera mounting points, graphics packs and liveries. You can even apply a national flag or a custom made ' call sign'.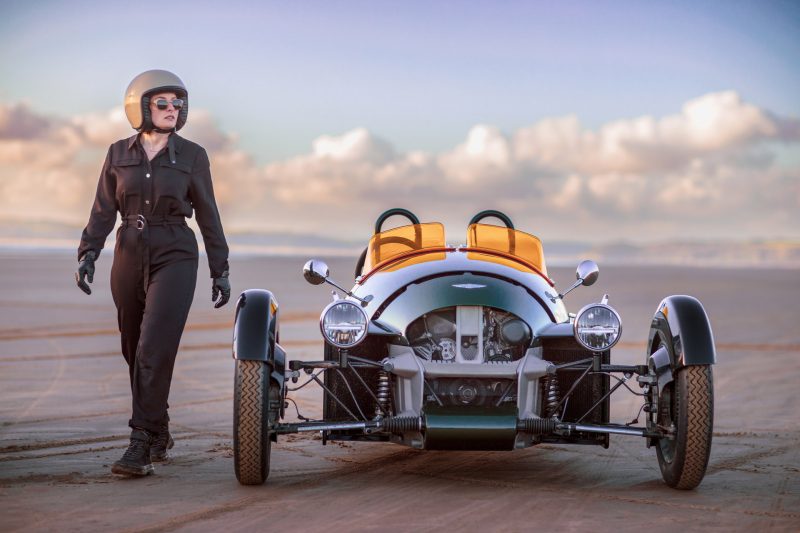 Wells describes the new Super 3 as being all about the spirit of adventure, something that is becoming even more of a theme at Morgan, especially after the Plus Four CX-T we had a go in last year. So grab your goggles, stuff your panniers, pack in the travel sweets and let's go.
The Super 3 is £41,995 plus on-the-road costs. For more information, visit the Morgan Motor Company website.