UKD Auto – From Strength to Strength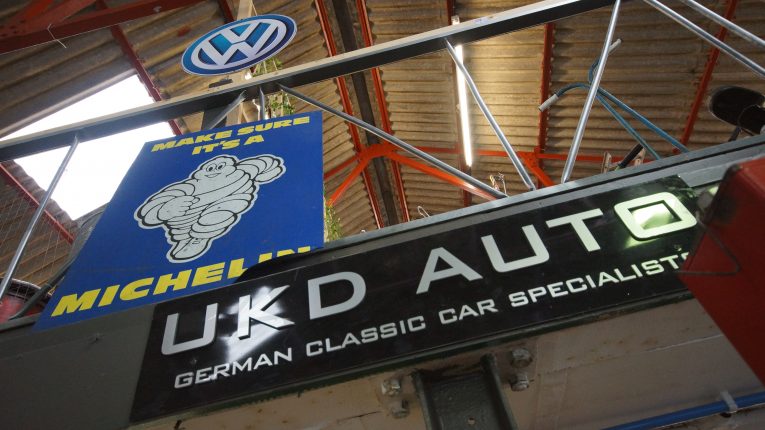 Back in August of 2019, we were made aware of a new, up and coming classic car business on the outskirts of Bristol. That company was UKD Auto, and business was booming. The company, set up by siblings, Holly and Luke Arnold, had a focus. It was to be a hub for classics, particularly those from Volkswagen, though the door would be open to any and all. They bought, sold, restored and serviced these cars, and in doing so, soon found favour with customers. We remarked on how refreshing it was to see the next generation taking charge and forging a path in what is a very challenging, often fluctuating industry. Little did we know, they were just getting started.
Fast forward to October of 2020 and we're back to see how Holly, Luke and the wider, somewhat bigger team are getting on. Except we're not, because we're at a completely different location, this time in the bustling little town of Chipping Sodbury, again just outside of Bristol. UKD Auto has outgrown its old facility on the other side of town, and now has a bigger premises and as such, more business.
The building, an old tyre and exhaust shop, has opened up myriad opportunities for UKD Auto. With more space, the company has been able to expand and better define itself and what it does. Holly takes us through how the company has changed since our last visit.
October 2019
This is when UKD Auto moved into its current premises. A large garage and workshop, this has given the team here the space they need to do what they want to do, which is restoration. While the sales side is still a primary function of the business, the move has allowed them to do more of the nuts and bolts work. And the reason why is admirable.
Standards matter at UKD Auto. One might argue that it's at the top of their hit list, in fact. And now the business can do almost all of the restoration work in house. They have the space and the facility to now really get into cars and projects and sort them out to a standard they are happy to sell. It's not a 'get them in, get them out' affair. It's a case of get them in, get them perfect, then put the cars on the market. Though of course, it's not just a facility for themselves – UKD Auto is happy to take on restoration works for customers, which we'll come back to in a moment.
December 2019
This is where the diversity of the business shines even brighter. Anyone who's spent more than thirty seconds on social media will know that raffles and similar competitions are huge right now. The team at UKD certainly thought so, and thus created their own. Primedraw is an online competition through which UKD can showcase its wares, whilst also giving people the chance to win a car or tech bundle or tools. It drives interest, it increases exposure and it's also good fun.
June and July 2020
With the business growing, more people were needed. Staff numbers went up, including the hire of Andrea, who looks after admin and the day to day of the business. Oh, and she also happens to be Holly and Luke's Mum! But the family ties don't stop there, as you'll also see their Dad down in the workshop, too. They say the family business is a thing of the past, but UKD would beg to differ.

Of course, it's not all family. There are some other new faces helping with the mechanical work, the restoration and the panel beating, like Brad, who has been bending metal into VW shapes for UKD since July.
September 2020
Earlier, we mentioned the restoration side of things. Well, as we all know, paint and body are often the most consuming elements. UKD's solution? Build a paint booth. But of course, that wouldn't be enough, so with the booth came Grant, a time-served painter, and the name PanelFix, which is the company that operates it. PanelFix is its own company, but under the UKD group, and as such, UKD is its main customer. However, it's been set up with its own name as it can now be a standalone brand. And this shows initiative, as Holly explained to us that there are plans to have more PanelFix sites as things roll forward. The idea being they will operate as bodywork specialist, but with a strong ethos on serving the needs of customers with older and classic cars. A brand from within a brand that understands the needs of these cars. Clever.
Today
Today, UKD Auto is a bustling business, with something going on in every corner. From the guys polishing cars, to those painting, others working on bicycles (oh yeah, they fix bikes, too!) through to those on the spanners fixing and improving classic Volkswagens. It's a hive of energy and activity, and everyone seems proud to be there. This is a business that, for Holly and Luke is a passion, and it's a passion that is clearly shared by everyone there. It's easy to stagnate in business, to settle and just roll with the punches. But that's not the modus operandi here. Instead, it's all about being the best it can be, making a noticeable impact in the market and looking to the future.