Vauxhall Royale – No Fiction, No Cheese, Just Class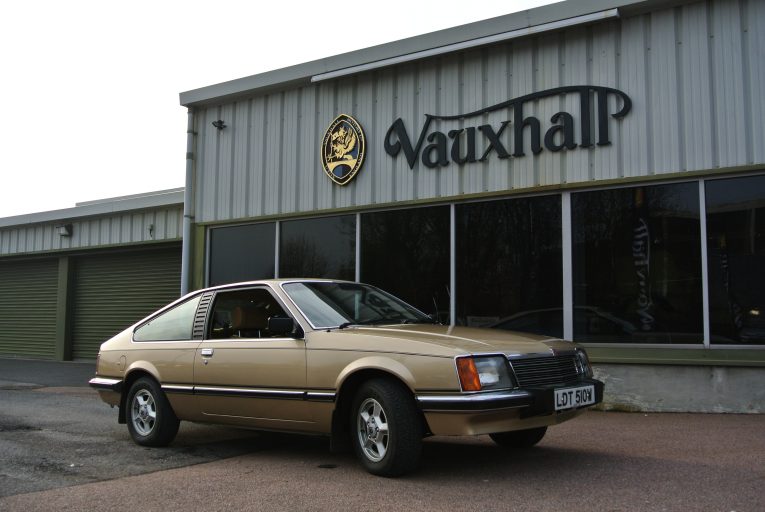 What is the essence of Royale? Well, as Pulp Fiction was more than keen to point out to us back in 1994, it's basically a result of the vagaries and machinations of the metric system. You can't go into a branch of McDonald's in mainland Europe and order a Quarter Pounder with Cheese – they're bewildered by imperial measurements, they don't know what the flip a quarter pounder is. No, they'll sell you a Royale with Cheese.
So is that basically what a Vauxhall Royale is? Kind of, except the other way around; a European offering, rebranded for the UK market, adopting the Royale moniker to anglicise the Germanic efficiency of the rakish fastback into something supposedly Luton-like.
What we're really looking at is an Opel Monza. A posh gadabout aimed at the sort of people who like to cut a dash in the office car park, swish into the grounds of the golf club with panache, then have a jolly good time taking the long way home. The idea was to go head-to-head with the likes of the BMW 6 Series and the W126 Mercedes coupés, although this was a move arguably stymied from the get-go by virtue of the fact that none of it was really bespoke. There was a whole lot of Rekord in there for starters. Nevertheless, if everyday swank was the name of the game, the Monza was at least slightly cheaper and, when it arrived on the UK's shores with a griffin on the nose, there was a lot to catch the eye. A six-cylinder motor, rear-wheel-drive, hatchback practicality… it was basically a chrome-laden Capri, except it was packed full of faux-wood and velour in an attempt to Bertie Wooster-ise itself.
The gambit was not quite as successful or impactful upon posterity as anyone at Vauxhall HQ may have hoped for. Consider how many W126 Mercs or 635 CSIs there are left on the road (loads), or V6 Capris (quite a few) compared to Royale Coupés. According to the flawed but best-guess-we've-got database at howmanyleft.com, there are, um, six. Just six Vauxhall Royale Coupés running on Britain's verdant lanes, along with – presumably – a handful more hanging about in assorted barns and garages in varying degrees of dishevelment. An ignominious end for a promising concept, isn't it?
Oh, and what a concept it was. The safe pair of hands that was the Opel plant at Russelsheim meant that German solidity was baked right into the caddish fastback, and the chassis was remarkably sophisticated, with its Macpherson struts and its independent rear end. Combine this with a refined bruiser of a motor in the form of a carb-fed 2.8-litre straight-six, along with a creamy-smooth auto 'box, and the buyer was presented with the perfect fusion of cosseting luxury and sporting pretensions. Premium titbits abounded, from the hydraulic engine mounts to minimise vibration, to the twin-choke Solex carburettor's stealthy auto choke arrangement… this was a car built to wear two disparate hats: a wafter and a tearaway at once. And it's a mash-up that the Royale achieved masterfully.
But there's a huge surprise waiting in the wings. Perhaps not something that would have seemed all that jarring back in 1981 when this particular example was built, but it's an element of the car that positively slaps you across the chops in 2020. Let's not beat about the bush: it's the interior. It is, frankly, astonishing.
Now, you may well have been led down a certain stylistic path by the fact that the exterior of this car is finished in gold. Gold is not an unassuming colour. Gold makes a certain statement without whispering a breath. However, it does manage to look somewhat understated on this swooping Teutonic shape, the fussy Vauxhall grille doing little to distract your brain from assuming that everything you're seeing here is purely classy Germania. But then you open the driver's door, and… you have to shut it again, rub your eyes, and go back in for a second look.
Yes, it really does look like that. All hell has broken loose in there, it's like stepping into one of the gangster's living rooms in Goodfellas. Every square inch is swathed in either luxurious velour or wood-effect trim, the whole cabin treating your senses to a swirling miasma of shades of brown. It's a symphony in beige, with top-notes of green and yellow. To gaze upon it is to surf the cusp of a portal to madness, via the hem of your grandad's cardigan. If you want to know how it felt to own a reasonably successful nightclub in the midlands in the 1980s, sitting here offers the closest approximation. It's a distillation of the perception of luxury to a very particular sort of person. It wouldn't be at all surprising to find a knock-off Thai Rolex and a bottle of Hai Karate in the glovebox.
All of which is completely splendid, of course. That interior has passed from gauche to retro-fabulous with such panache it almost makes your head spin. One almost forgets the necessity to actually drive the car, so intoxicating is the experience of simply climbing into the thing. But drive it one must, as it's a transcendent experience: the torquey straight-six may seem like a mere fringe benefit compared to that outrageous cockpit, but its slippery bullishness is a vital element of the mix and, while the gearbox may be lazy, it suits the character perfectly.
A sumptuous cruiser that oils down the high street like some vast fish, never flicking its tail but instead merely showcasing its glittering scales. You will always be comfortable in a Royale, not just because the seats are so well stuffed, but because they adjust in all sorts of ways, and this inspires the confidence to really stretch the motor; it pulls effervescently from the off, gaining momentum in a way that could be charted somewhere between dropped-snowball and avalanche, and it just gets better and better as the speeds rise. A 70mph cruise feels completely effortless, the world entirely separated from your consciousness by distinctly un-'80s-like insulation. It's no heffalump in the twisties either – naturally it's a bit roly-poly by modern standards, the world's moved on, but it's certainly no soggy pudding. That all-independent suspension is sublimely engineered, the lightly assisted steering very well judged. It's so wonderfully good, the Royale can't help but leave you feeling a little mournful at the loss. Only six left? This is a wonderful, wonderful car. Why didn't anybody mention it? If only people had realised…
Perhaps the most important point to acknowledge here is that, in its native market, the Opel Monza never sported all of this fake wood trim. This was all Vauxhall's doing, smearing every interior surface in pseudo-private-members-club nonsense in an attempt to justify those patently-not-leather seats. And it works gloriously. The Royale Coupé is a vivid exercise in the importance of flair. Yes, there's plenty of cheese in this Royale, but it never feels less than an imperial success.