Wizard Sports & Classic – A Magnet For Modern Classics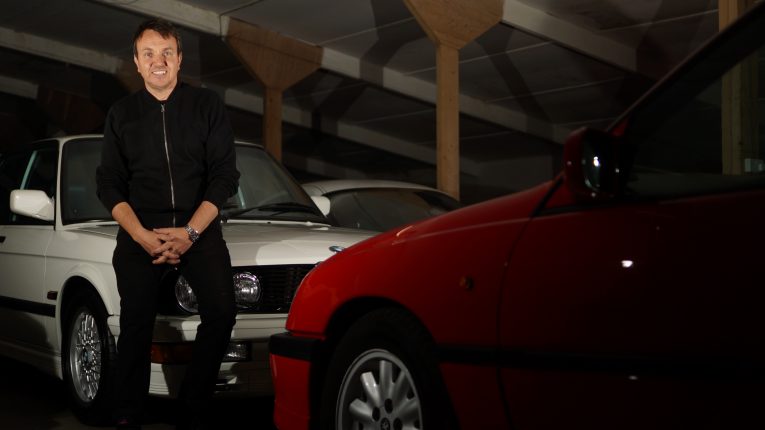 Pulling onto the farm/industrial plot on the outskirts of Manchester Airport, we first wonder if we're in the right place. There are some buildings, some shrubbery, but not a lot else. We call Richard Foulkes, the owner and founder of Wizard Sports & Classic at which point he emerges out of nowhere and enthusiastically directs us to his HQ, an unassuming building that at first glance seems like nothing more than a modern outbuilding for the surrounding, more obvious businesses.
But as well we all know, the United Kingdom's classic car industry is full of places like this. Places you've driven past three hundred times all while being none the wiser. These businesses usually don't need to shout about what they do from the roadside, not least because we live in a digital age where cars are bought and sold via the likes of Car & Classic. But even that digital showroom isn't the be all, end all. You need to have a solid reputation, and you need to have genuine, to the core enthusiasm for the cars. Happily, that's exactly what Richard has. 
Life wasn't always about cars though, at least not professionally. Richard was in fact a chartered surveyor. It might not have been the dream, but it did gain him some access to it. He was able to buy a small group of cars, and live out his vehicular dreams. And then things, well, they snowballed a little. 
"It was never really a plan as such" explains Richard. "Wizard sort of came around by accident due to having to take on a larger unit to store my own cars. It was a sort of, circumstantial coincidence!" And with the larger unit, that's where things started to grow. You know how it goes, a mate of a mate, can they just store this, do you know anyone who has that, it's the way of cars. Cars beget more cars. Soon, Richard was doing enough deals to jump into Wizard fully and make it his actual job. Talk about living the dream. 
"I'm now able to focus on the cars that I know and love, the cars I enjoyed when I was a lad, the poster cars that I wanted when I was a kid and the 'dream company cars' I always wanted but perhaps didn't have the time or space for back when they were new! I'm not the only one with these tastes, as is shown by the direction the market is heading. We all like to buy our dad's old cars, and for many of us now, they're cars of the '70s, '80s and '90s."
But how has the landscape been? The classic car market is a busy, often changing place. "It's been incredible and dynamic" says Richard, with his captivating enthusiasm. "The 'modern classic' has continued its meteoric rise as people move to more reliable and dependable cars to use for fun. The market changes and grows as time moves on, and tastes develop and trends occur. It's been a great fun industry to operate in, and it's only getting better." 
And what have some of the highlights been, we ask? "It's so hard to choose, but I'll always have a major soft spot for BMW and Porsche models that come through, with the recent ALPINA and M Cars ranking pretty highly. Also, you can't mention Wizard without mentioning the Clio Williams or 106 Rallye (Wizard had three of the former in stock recently – Ed) and those two are right up there as well. Both are cars that can give you more fun than a supercar, with the same size grin, but for a fraction of the cost!" 
What about any hot tips of cars to watch? What does Richard suggest we all keep an eye on? He ponders, and then comes up with some interesting insight. "The Jeep Cherokee XJ has stormed into the picture in recent months, so that one deserves a mention. An early Saab 99 Turbo, Volvos of the '80/90s are such a nice place to be and are finding a dedicated following, but only coming from long-term cherished ownership examples."
"Anything cherished with good history is worth investing in. If there's a car your dad had, that's now thin on the ground, then one of those… whatever it might be, that's the way the market works, we buy our dad's old cars!"
"Other than your dad's car, keep an eye on the MK1 Audi TT, special edition Range Rovers and anything boxy. But keep an open mind about anything that's clean, tidy and looked after. No matter how clever you might think you are, we can't always predict which cars are going to rocket and which ones are going to stagnate."
Finally, there is the digital side of things. Many classic car outlets are bafflingly hesitant to embrace the digital world, seeing it as a necessary evil rather than a brilliant, exciting tool. Of course, Richard and Wizard are very much in the latter camp. "We've always been keen on posting photos of what we consider interesting, irrespective of price. It's grounded in passion. We want to share what we love, so Instagram and Facebook are just a means to share the enthusiasm we have for the cars. We've got a small (but growing) team of enthusiasts and tech savvy people working with us, and that passion and genuine interest shines through. We just love cars and bikes so if we have something to say, we want you to hear it!"
Have a look at the impressive stock at Wizard Sports & Classic.