Highlights
Period correct blue and grey interior in a great state of preservation
Previously repainted many years ago and now weathering in nicely
Giulia five-speed gearbox fitted along with a Veloce specification electric fuel pump
Very sound bodywork, with absolutely no corrosion according to the vendor
Reportedly runs very well with good oil pressure and is great fun to drive
The Appeal
Alfa Romeo have long excelled when it comes to building small sporting coupés and the Giulietta Sprint is arguably the car that started it all. With a keen 1300 cc twin-cam that thrives on revs and effortlessly stylish bodywork from Bertone, this compact coupé represented the polar opposite of austere '50s saloons, proving that mass-produced cars could be fun.
We're delighted to offer this charming 1960 example which is presented in a wonderful state of preservation. It has weathered beautifully following an older bodywork restoration and remains a very fine specimen both mechanically and cosmetically. The aforementioned twin-cam barks away enthusiastically under the bonnet and the vendor comments that it drives without any faults.
If you're after a cherished example, rich in gentle patina, yet ready to use, then look no further…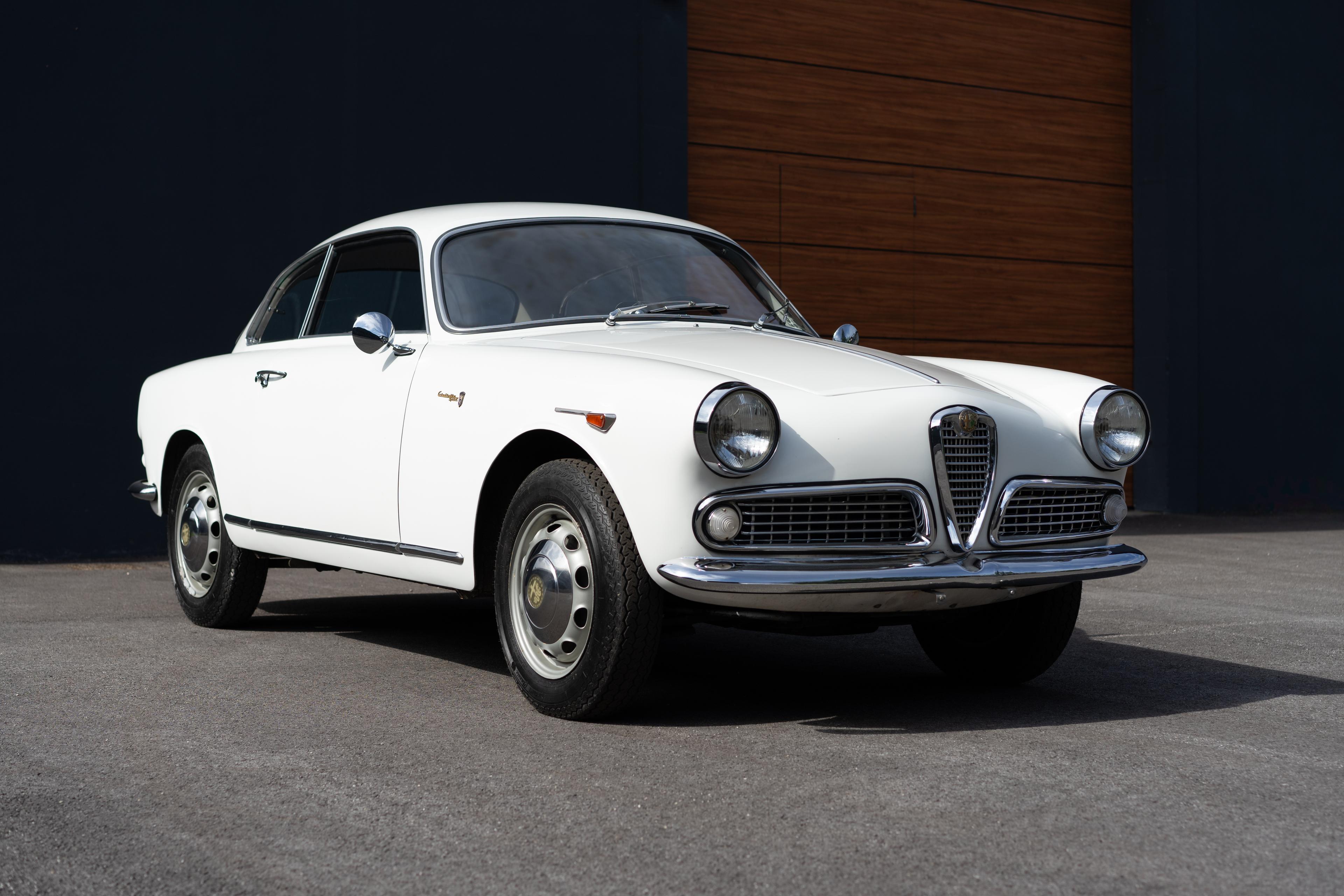 The History and Paperwork
Accompanied by various certification past and present from Automobile Club d'Italia
Dutch inspection report paperwork dated 9th May 2022
Numerous invoices for work and servicing present
The bodywork was restored quite some years ago, which is documented with a series of photographs
Retains its original engine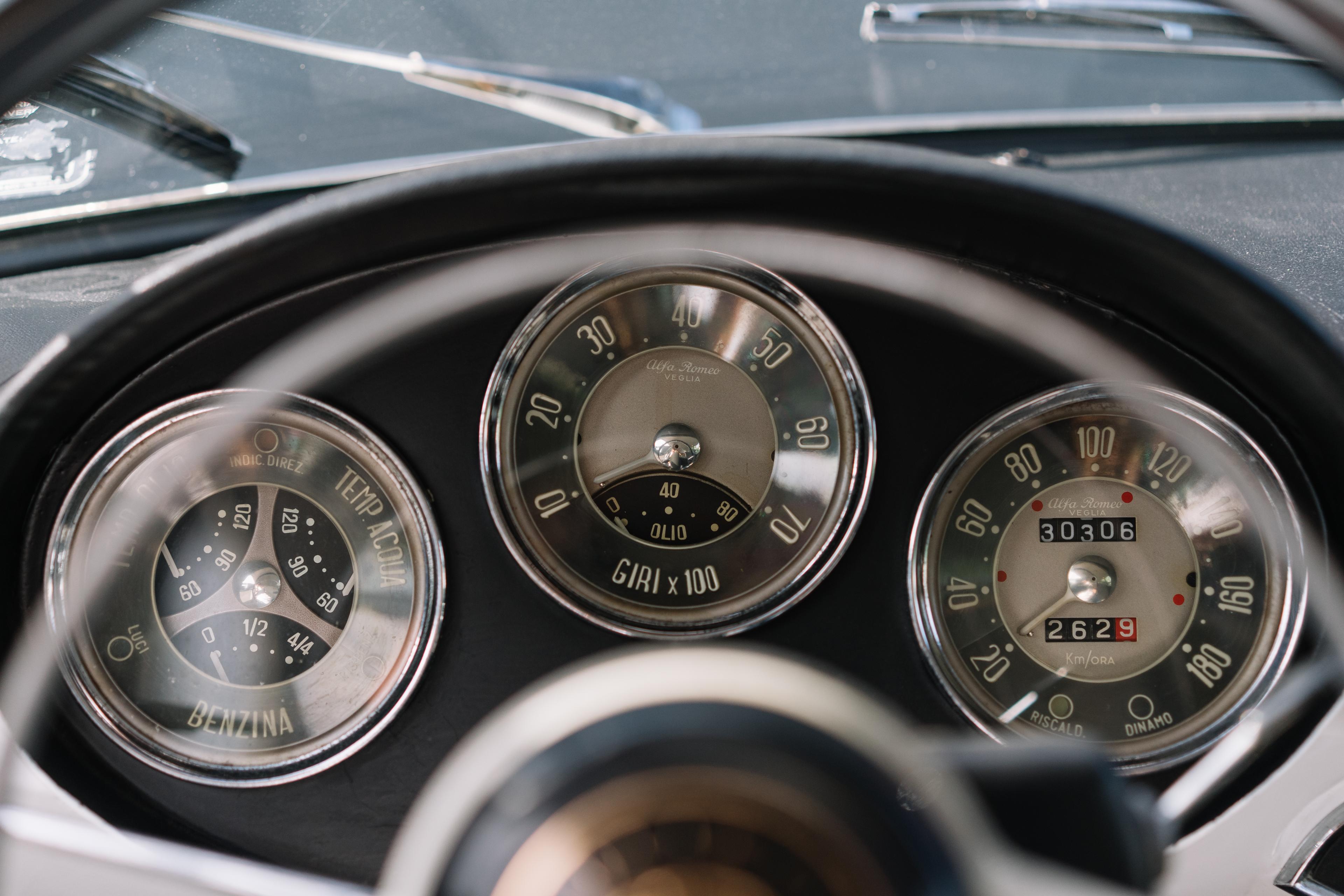 The Interior
Period correct blue and grey interior in a great state of preservation
Richly patinated, yet eminently usable
No evidence of any modifications
To us, this interior looks and feels just right. It remains in its period correct scheme and upholstery; with blue vinyl and grey velour making up the seats and door cards.
There's an attractive patina just about everywhere you look with some gentle wear to the soft furnishings, controls and switchgear. While there's the odd small rip in the vinyl such as to the driver's door card and to the offside rear behind the headlining where it contacts the rear bench. The seats themselves are in remarkably good condition with little in the way of sagging or indeed any heavy abrasions. The blue carpeting looks great and, although worn in places, remains very usable.
The dashboard looks to be really original and free from any later additions or modifications. We adore the stylish instruments which are very much of their time and we note that there isn't even a radio fitted - with the factory blanking plate still in place. The controls exhibit some pleasing patination and feel great in operation.
The cabin is light, airy, clean and well presented so there's really nothing we'd do to it other than ensure it is preserved for years to come.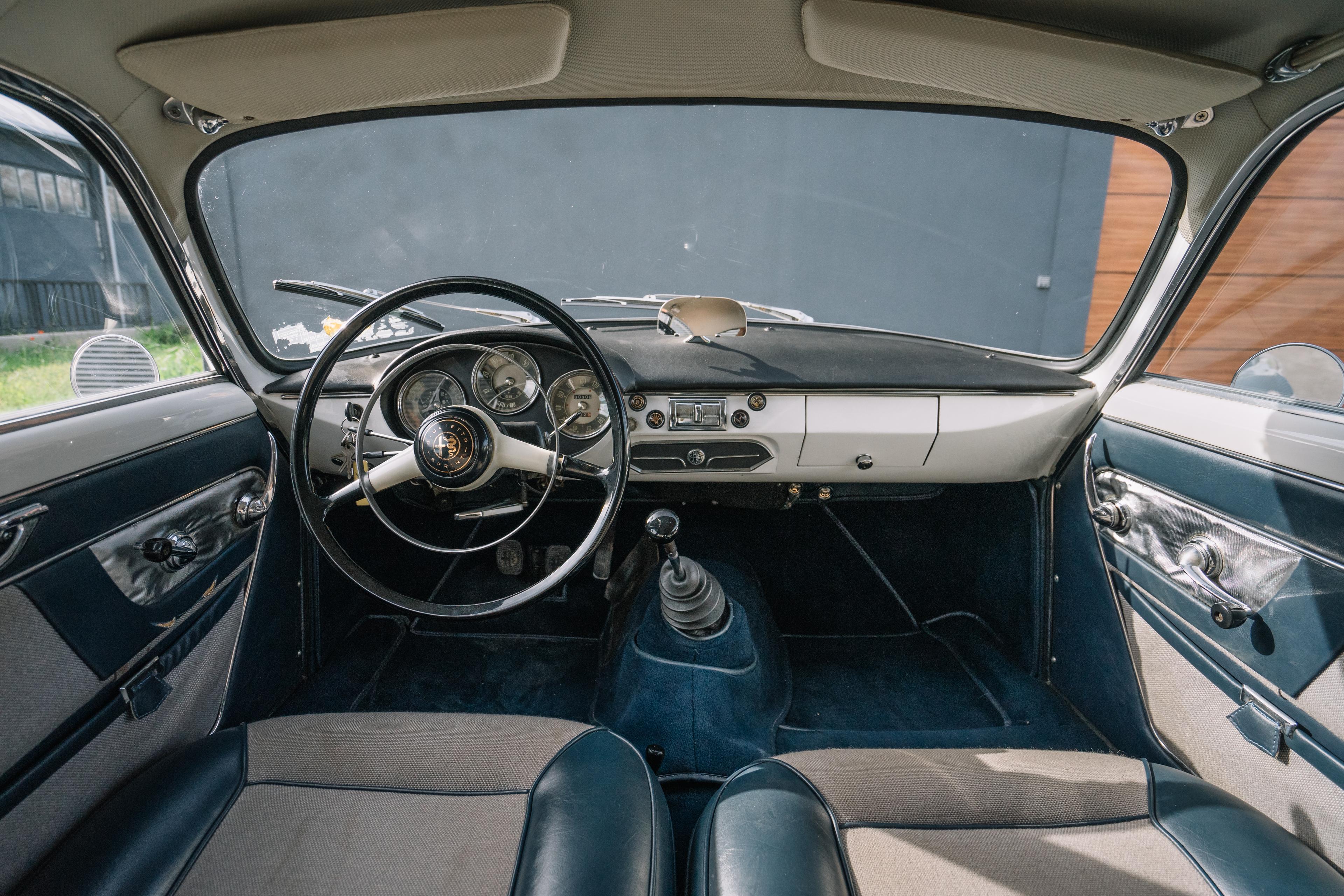 The Exterior
Attractive white paintwork, applied some years ago
Very sound bodywork, with absolutely no corrosion according to the vendor
The vendor demonstrates an even paint thickness across the car
We really enjoy how this little Alfa looks. Aside from the great Bertone styling, the white paintwork really suits it and we like how it has worn over time since it was repainted some years back.
There are of course some chips, fine scratches and general age-related blemishes but there's no notable damage anywhere to be seen. The vendor assures us that there's no corrosion in the monocoque and a glance underneath would seem to support this. The underside is quite smart - not pristine - but carefully looked after, adequately protected and in good order.

All the trim, including the distinct 'aeroplane' number plate light fitting and the various badges all present really nicely and the bumpers do not appear to have accrued any damage. All the chromework is smart, as are the light fittings and steel wheels which are apparently shod with new tyres. The panel alignment and door fitment all seems as it should be, with no big gaps or signs of previous damage.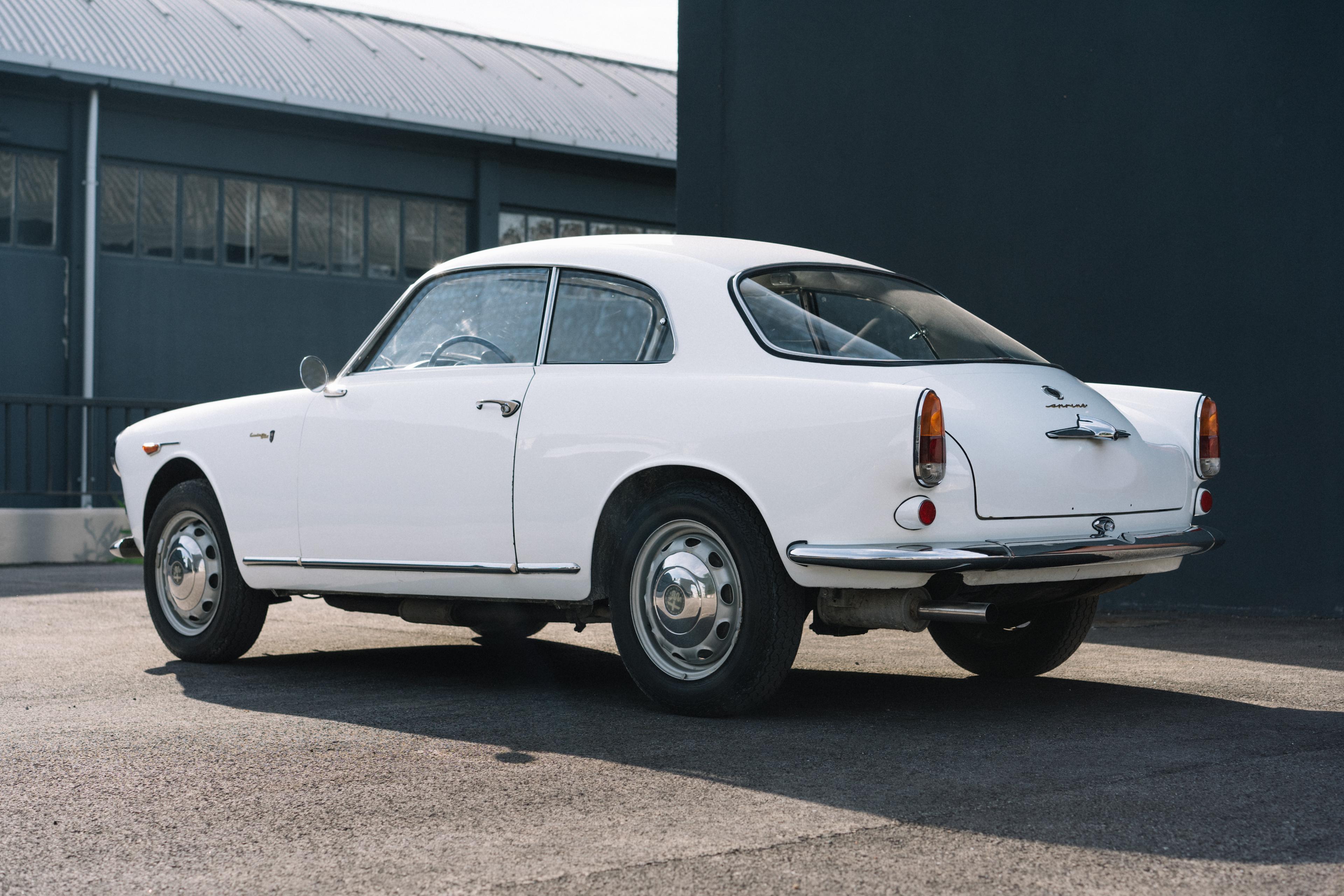 The Mechanics
1300 cc four-cylinder DOHC engine
Single carburettor
Now fitted with a five-speed gearbox from a Giulia
Upgraded to an electric fuel pump (Veloce specification)
Starting, running and driving well, with good oil pressure and no apparent faults
The Giulietta Sprint wasn't just pretty, it had performance to match with Alfa's inimitable Nord twin-cam in 1300 cc form providing 79 bhp - very impressive for its size.
This example has been lightly modified with a five-speed gearbox from a later 105 Series Giulia and an electric fuel pump normally found in Veloce models.

The vendor comments that mechanically, the car is "absolutely perfect in every respect", with none of the usual issues often encountered by Giulietta owners such as differential / steering box backlash, worn gearbox synchros, noisy timing chains or unbalanced braking. It certainly runs smoothly and utters a pleasing rasp from the exhaust under acceleration.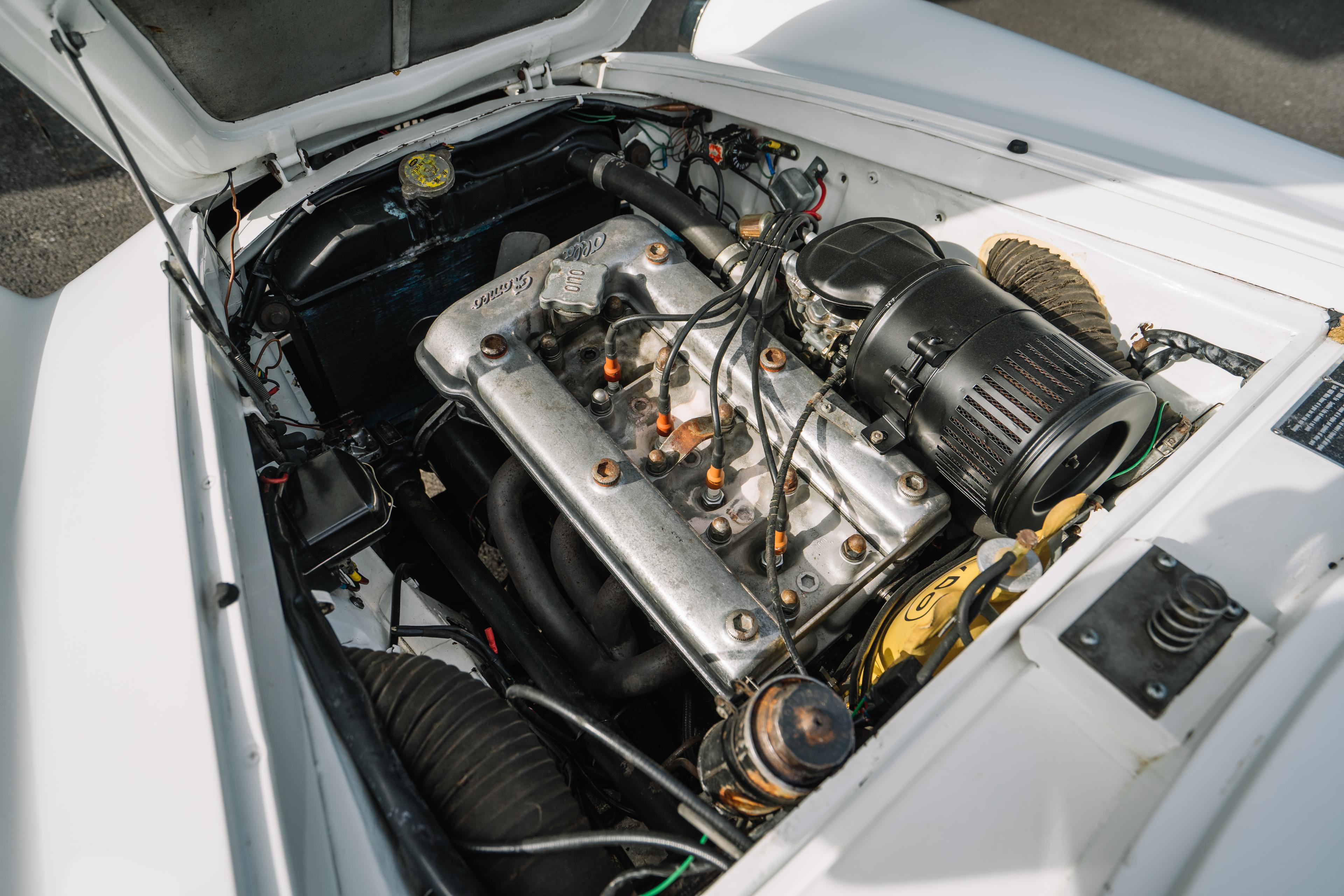 Summary
This Giulietta is an utterly delightful classic car and we're deeply envious of its next owner. It's amongst the most usable examples of this model that we've seen, with healthy mechanicals, a raft of well preserved original features and a charming patinated finish that means it's not too shiny to properly enjoy.
There's not a thing we'd change, be sure not to miss this excellent opportunity to make it yours.

Notice to bidders


This item is sold on an 'As is Where is' basis. The condition of this item is the opinion of the seller and may differ from your own opinion. Photos and listing descriptions are for guidance purposes only*.** Car & Classic do not warrant listing accuracy. Full inspection is recommended. Viewings are at the seller's discretion. Buyer is responsible for delivery and collection of any item purchased.*


A non-refundable buyer's deposit is payable on this item, refer to
FAQs
and
T&Cs
for the applicable percentage.

Shipping and transfer


Buyer is responsible for delivery and collection of any item purchased. Car & Classic may refer a shipping company that also deals with import/export paperwork. Prices start at €150+VAT within the same country or €400+VAT for moves across borders.