1955 Ford Thunderbird – International Rescue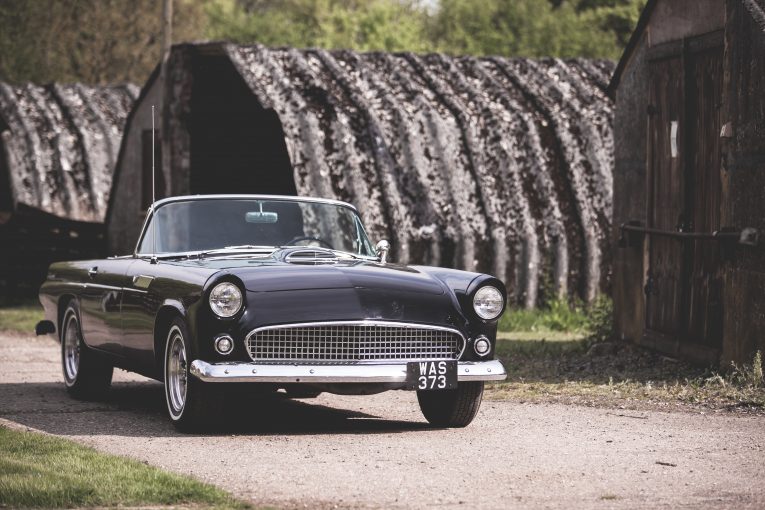 Photography by Bruce Holder
The Ford Thunderbird was an incredibly important car for Ford. It was built in response to the arrival of Chevrolet's new Corvette in 1953. Ford had plans for a sporty two-seater, but the new Corvette motivated designers to get on with things a bit faster. Ford's original plan was a car called the Ford Vega – a lightweight, small, very European-looking machine. However, it proved to be a costly proposition in terms of production and as such, was binned. Ford needed another idea. The hype around the Corvette, a newfangled, modern sports car with a revolutionary fibreglass body, was considerable. It had Ford worried.
Confusingly, Ford decided that the best way to beat the Corvette would be to build a car that wasn't sporty. Instead, in a stroke of marketing genius, Ford came up with the concept of the 'personal luxury vehicle'. It would be small, it would boast a V8, it would be laden with enviable specification options such as power seats, power windows, power brakes and power steering. It would be a cool cruiser rather than a drag strip hunter.
It was a bold, risky move on Ford's part. Not helped by the fact the car was rushed from design to prototype in twelve months. Needing a name, suggestions such as Apache, Eagle, Tropicale and Thunderbolt were all binned. In the end, it was one of Ford's designers who suggested Thunderbird, and it stuck. A supernatural bird boasting power and strength, apparently. But would this hastily penned and built car with a last minute name cut the mustard with the American public? Yes. Yes, it would. Launched in 1955, the Ford Thunderbird outsold Chevrolet's Corvette some 23 to 1. Blimey.
Of course, the appeal of the Thunderbird went further than American soil, which is why the car you're looking at here has the letters 'EX' included within its VIN. That makes it a rare machine, a genuine, factory export model. This all-American car has barely spent a week in America. Instead, it went to Jersey of all places. It changed hands a couple of times, racking up a mere 31,000 miles in the process (but Jersey is hardly a big place), before finding itself in Essex. Which sort of works, spiritual home of the Ford and all that. Though in the case of the T-Bird, a bit more Frank Sinatra than Drum and Bass.
During the summer of 2003, Mark Pollitt, the car's current owner, found himself idly flicking through the classifieds. He'd saved a couple of quid, he had an empty garage sitting outside and he fancied another project car. It had been, quite literally, decades since he last had a toy. But as we all know, work, relationships and a child, they all have the ability to put project cars on a very distant back-burner.
In the past, Mark has owned Capris (including a '63 Consul Capri) and a 1969 Chevrolet Chevelle Malibu along with other bits and bobs like a Morris Traveller and a Ford Popular, so a stranger to tinkering with old metal he is not.
Anyway, we digress. So, he was looking at the classifieds when he spotted the T-Bird. It looked good, or at least as good as a thumbnail image in the back of a magazine can look. Then, when he went to look at it in person, it still looked good – a bit frilly in places, granted, but on the whole, not too bad at all. Money quickly changed hands in return for keys and then a local MOT tester provided a 'sympathetic' MOT for UK registration purposes, the V5 was filled out and just like that, Mark had another project car. A bit of a service, some new tyres, a lick of paint and he'd be out cruising, or, er, not.
To quote Mark, "It was a 31,000 mile car but might as well have been 231,000! The engine didn't look like it had ever had an oil change and the body was starting to show its age." And the body wasn't just showing its years, it was also hiding a multitude of sins. Old sins too, as the screwed up newspaper behind the filler proved – it was from 1976!
Not one to be deterred, Mark got busy with the spanners and stripped the old car down, revealing more cringeworthy 'repairs' along the way. Hope wasn't lost though, because at its core the car was still solid and above all, well worth saving. In fact, it was nothing a few rolls of welding wire and new metal couldn't sort out, so all Mark had to do was fire the Thunderbird off to a body shop and await the return of a fully repaired shell. Or, he could buy a MIG welder, get stuck in and in the process teach himself a skill. So, he did exactly that. Okay, so most of us start our welding journey by tacking bits of scrap metal to other bits of scrap metal, but hey, a Thunderbird is metal, so what's the issue?
The welding was the start of an annoying trend, at least from the point of view of an onlooker. You see, Mark's one of those deeply enviable blokes. You know, the kind who can turn his hand to anything and then very quickly master it. Yeah, so he has a moan every now and then because one job was more difficult than expected, but the end result is almost always of a near professional standard.
It's that ability that saw him take on the engine. Not just a freshen up, but a full rebuild. Mark reduced the 292 Y-block V8 down to a workbench full of component parts. The ancient, probably factory (!) oil was scraped out and everything was carefully cleaned up. Service parts were duly replaced and new parts were bought in by the boxful from California. A new cam, new rockers, new valve guides, new oil, water and fuel pumps all made their way onto or into the engine. The crank was reground and new shells were fitted. The block was re-bored which meant new pistons were needed (so technically it's a 295 now, not a 292) and the list goes on. It's basically a new engine.
How do you make it stand out though, the engine that is. The finned 'Thunderbird' rocker covers are glorious, but lots of T-Birds have them, so what could Mark add into the mix to make this car really stand out? Ah, an Edelbrock inlet with three Holley 94s via Vintage Speed in Florida, that's what. Though, the keen eyed among you will notice the Edmunds filters are a little different to stock, having been modified to ensure they don't clash with the hood.
The modifications didn't stop there. It was never the plan for this to be a standard '55 T-Bird – there was a need to make it stand out. With that in mind, the boot-lid was treated to some beautiful pin-striping, the Dagmars were removed from the bumpers both front and back, a pair of '60 Dodge tail lights were shipped in from the States and housed in the fins, and most recently, the wheels have been changed to those rather splendid Radir Tri-rib jobbies – the same as the original George Barris Batmobile don't cha know?
There's a lot more work gone into this car, too, which again has all been done by Mark in his garage. The seats have been re-trimmed using a kit from America, and a degree of swearing. The front bumper has been re-chromed while the rear one is a NOS item from the States – probably the last one out there! A new soft top has been fitted to the original frame and, well, as Mark says, "Several hundred other jobs I've probably forgotten about!" The only thing that wasn't done at home was the paint, which was – given the difficulty of black – farmed out to a body shop.
So what's next for the Thunderbird? By Mark's own admission, it's not finished yet, though will it ever be? "Probably not!" exclaims Mark. Before pointing out the new aluminium radiator that's waiting to be fitted.
This Thunderbird now sits as a shining example of what a person can do with a bit of focus and dedication, and it should also serve as a motivator to anyone reading this who is contemplating a project. It's not about doing the job quickly, it's about the journey, about learning new skills while bringing something once forgotten back to life. And if, like Mark, you keep your eyes open and treat them as forever ongoing projects, which they always are, you're never in for a fall. Things might break or need replacing, but that's just part of 'it'.
If the car is ever 'finished ' (though trust us when we say we wouldn't change a thing), would Mark do it again? "Not in this lifetime, they're a bit like children – one's enough!" Which is charming, given he's this writer's father!