1964 Rover P5 – Project Profile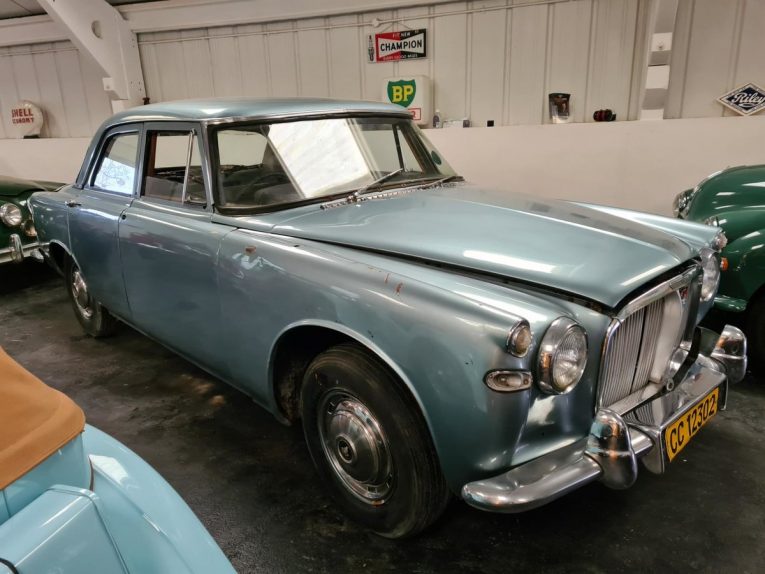 The Rover name is one that was taken from us all too soon. Sure, some of the company's later offerings were a bit wide of the mark (looking at you, CityRover) but for the most part, the company was a wonderful bastion of British luxury. Back in the '50s, the Rover badge was one that you could compare to Jaguar and Daimler. It was a premium, aspirational brand that only the very fortunate could have on their driveway. And this remained a truth through the '60s and into the '70s. Cars like the P4, the legendary P6, the SD1. All great machines. And of course, in that mix was the P5B. The car that popularised the notion of a V8 Rover. The B did, after all, stand for Buick in a nod to the lightweight V8's origins.
However, the P5B stole the limelight almost completely, and as such, the Rover P5 on which it was based was largely forgotten. And that is a crying shame, because were it not for the P5, there would be no P5B. The P5 was a big, luxurious saloon that served as the wheels of choice for bank managers, for politicians and for other people of considerable wealth. It was, like the rest of the Rover range, a car to aspire to. Until the P5B came out, at which point the P5 was cruelly forgotten. And that stayed true through the years. P5Bs were the 'go to' for restoration, while P5s became a more familiar sight on the banger oval. It was… distressing. But thankfully, it is now a sight of the past. P5s are increasing in popularity, which is why cars like this 1964 example should be pounced on.
What is it? 
What we have here is a 1964 Rover P5. Finished in an unusual (for this car) shade of fetching metallic blue, the car is right-hand drive and has only been in the UK for four years. Prior to this, it lived in South Africa, which is of course, potentially great news on the rust and corrosion front. The car was brought over as part of the owner's relocation to the UK. He did have plans to strip and restore the car, but unfortunately this only got as far as the removal of some trim. No, the car is advertised as a project, but one that is well worth doing. It looks remarkably solid, it seems to have lived an honest life, and the potential for this to be remarkably free of rust thanks to the South African climate is a hugely motivating factor.
Why is it a project?
As we mentioned above, the owner who brought the car over to the UK with him did indeed plan to restore the car. However, ill health stopped him in his tracks, sadly. As such, there is some trim missing from the P5 (though it's still with the car, just not fitted) and the current vendor states that no attempt has been made to start it. However, they also go on to say that as they understand it, the car was indeed running a few years ago. From a mechanical standpoint, it could be a very simple job to get it running and driving again.
The body looks to be in remarkably good shape, too. The metallic blue paint probably isn't a factory colour (though we're happy to be corrected on that) but it does suit the big P5, and gives it a lighter, more delicate appearance. Whether or not you'd want to keep it is very much down to you. Underneath that paint, we would hope to find good, solid metal. This car has, after all, lived a life in the dry South African climate. However, on the flip side of that, the leather interior has taken a bit of a beating from the sun, and is in a state of disrepair. Nothing a good trimmer can't sort though, and the bones of the interior look – from the pictures at least – to be good.
Five things to look for:
1) Rust
The car's time in South Africa is a very good thing, but not a thing you should take for granted. This is still a very old car, and as such, there has been ample time for rust and corrosion to do their thing. Get underneath it and check for any rot, and also any substandard previous repairs. Fingers crossed, it will be as solid as we'd hope.
2) Trim
Some trim, both internal and external, is no longer fitted. The vendor states it's still with the car, but it never hurts to check. Plus, you need to be sure none of it has been damaged in the removal process. And also, you need to check that the trim is indeed salvageable.
3) Engine
The engine turns over, but there has been no attempt made to start it. The 3.0 in this P5 is a hardy old lump though, so it could be a simple case of a thorough service and a top up of electricity and it'll run. Check it moves freely, and make sure there are no signs of any longstanding leaks from seals, gaskets or core plugs.
4) Paint
It looks largely presentable, but it also strikes us as not being an original colour. If that's the case, is it possible to identify what exact colour it is, or will you need to have paint custom made? Can what's there be polished and buffed back to a respectable condition? Was it applied well, or was it a quick blow over? These are the things to check.
5) Paperwork
We say it every time with imported cars, but only because it's very important. Check the import documentation and have a look on the DVLA website to make sure this car can indeed be registered here, and also make sure there are no outstanding fees or taxes. The vendor says it's good to go, but it never hurts to double check.
What should you do with it? 
We'd restore it to it's former glory. New interior to make it nice and plush, maybe some modern sound deadening to make it even more whisper quiet. Throw in some retrofit air-conditioning, a nice sound system and then that would be all the cabin needs. Keep it looking how it should, but with some nice modern additions. As for the outside, we would be inclined to keep that light metallic blue colour, as we think it suits the car down to the ground. Plus, it's a little bit different, which is nice. But if you wanted to change it for something more in keeping with the period, there are plenty of lovely original colours to choose from. Whatever path you go down, the finished Rover P5 will be nothing short of magnificent.