1965 Jaguar E Type – Project Profile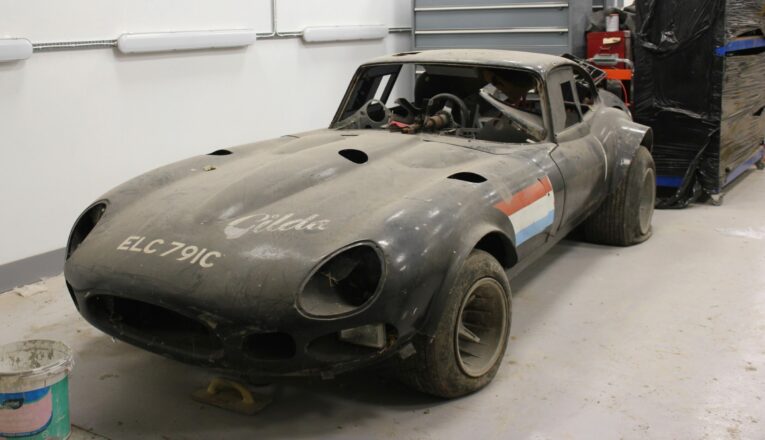 The Jaguar E Type is one of the most searched for classic cars here on Car & Classic. It seems our users can't get enough of the E, and we completely understand. This is the car that Enzo is rumoured to have called the most beautiful car in the world. It's an icon of the British automotive landscape, a legend, a defining moment in the history of Jaguar. It's also a car steeped in incredible, exciting history. We all know the story of Norman Dewis driving 77RW to Geneva from Jaguar's UK HQ in just 11 hours. All to satiate the amassed journalists who wanted to see the drophead version. The E Type is exciting. It's a car for speed, for adventure and it's one that can be considered rolling art. What it's not, is a car you modify. But, that's exactly what we have here. A heavily modified 1965 Jaguar E Type coupe. And we love it.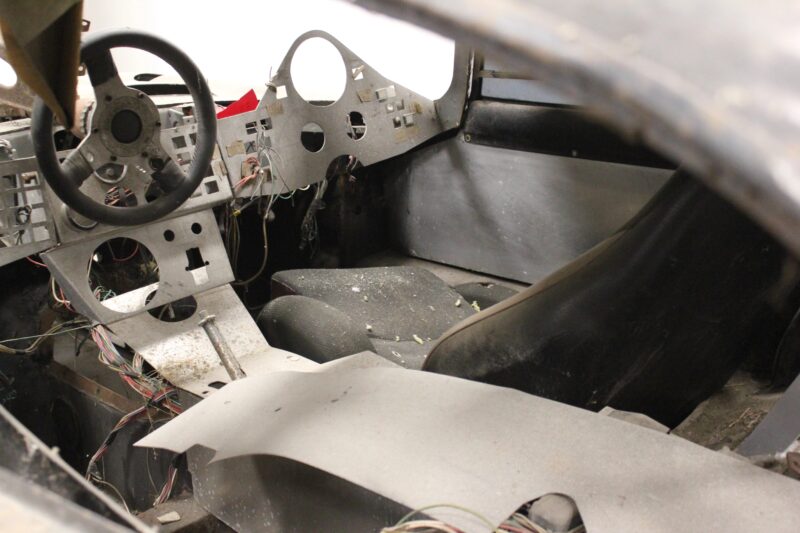 Before you fire up Outlook to key in an angry email, it's worth pointing out that Gilda, as the car is known, is a product of its time. It would – and we're with you on this – be nothing short of criminal to pluck a Jaguar E Type from today's classifieds and do this to it. But back in the day, like every other car, the E Type went through a valuation lull, where it was cheap and as such, chopping one about wasn't a big deal. That's what this car is, it was modified in the '70s, when it was more akin to a cheap XK8 today. It was a bit of fun, and indeed still is. Plus, it's wild, it's different and while there is indeed a lot of work to be done, this long forgotten relic of tastes and ideas gone by stands today as an exciting and unique opportunity for someone.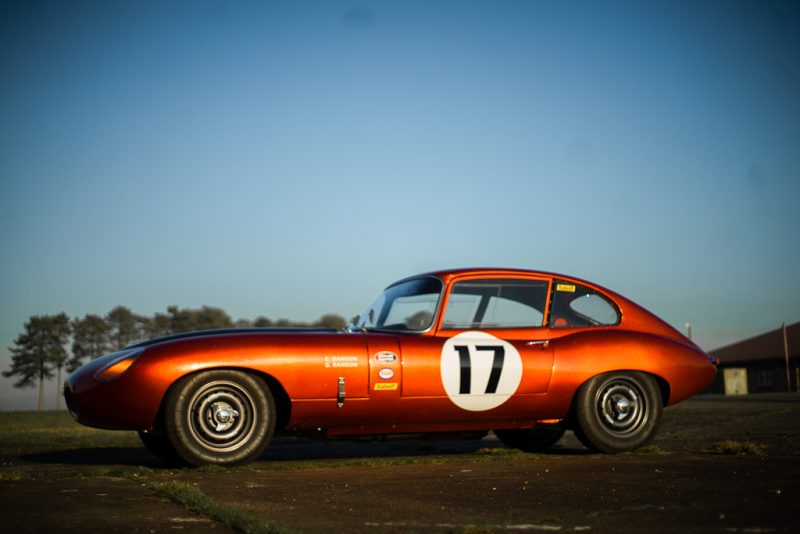 Some inspiration for you, as seen here
What is it?
The Jaguar E Type we have here is a 1965 fixed-head coupe that, when originally sold by KDM & Cherrington in London, was a vision in opalescent silver with black leather interior trim. It was also something of a rarity, being one of the 863 cars to be built in right hand-drive with a manual transmission and a 4.2 straight-six. Of course, it didn't stay like that. Though should you want to go full 'Theseus paradox' there is a heritage certificate to back it up. After a few years, the car was converted into something a bit more racy, and as the year progressed and the need for speed intensified, more changes were made. The body has been wildly modified, and now boasts unapologetic flared arches, mag wheels and a really rather unusual kamm-style rear end unlike anything you've ever seen on an E Type. The engine and transmission are long gone, but there is plenty to worry about before such matters. The car has been in storage for a great many years, and needs complete restoration. However, it's worth noting that there is a V5 present and as such, this big cat could hit the road again. Imagine the neck-snapping ability of this as you burble down the high street, or rock up to a track day.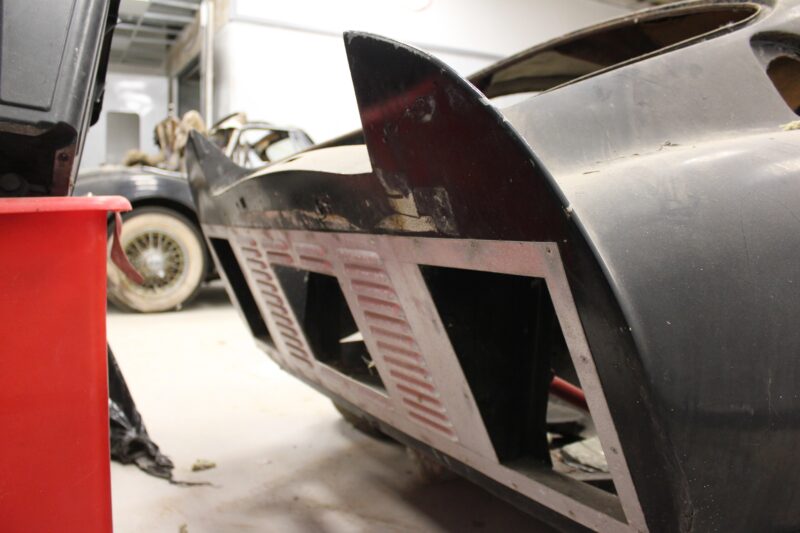 Why is it a project?
Erm, well. Look at it. There is very little this car doesn't need. It's rough, make no mistake. But it's also still an E Type, so it's worth saving. The body looks to be restorable, and yes, you could lose the flared arches, but that would be a shame. Really, this car is too far gone to be restored back to standard and should, in our opinion, be built into its next racy evolution. This car is a fun and rare canvas on which you could build an E Type like no other. Listing why it's a project is rendered moot by the pictures. You can see there is little interior, the chassis is still present and looks decent, but everything else will need work or sourcing. But it'd be worth it, just to have Gilda back on the road, ruffling the feathers of those in the classic car world. This could, with the right vision and with plenty of cash, be something really special and most importantly, really fun.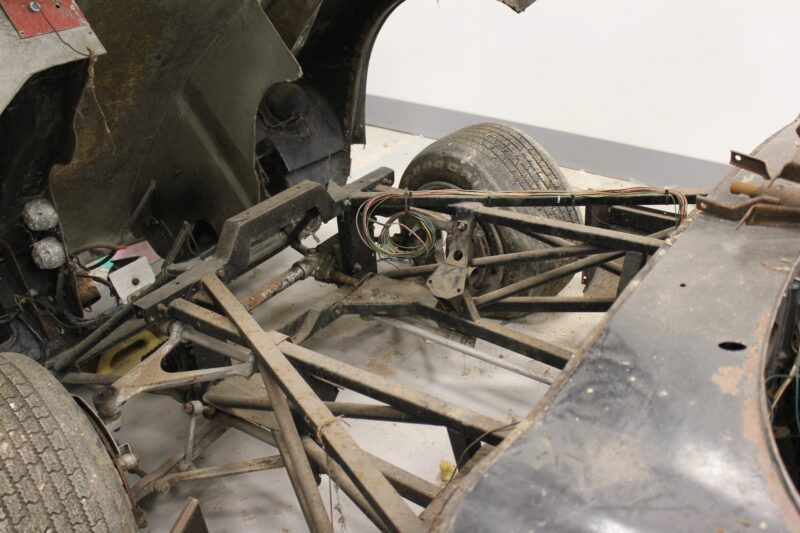 Five things to look for:
1) Body
The body looks, all things considered, pretty solid. There is obviously some filler in there, as we can see it chipping away, but on the whole it looks like it could be saved. The things to check would be the lower sections like sills, floors and bulkheads. Plus, you will want to check them for any hasty modifications that may have been made in the past.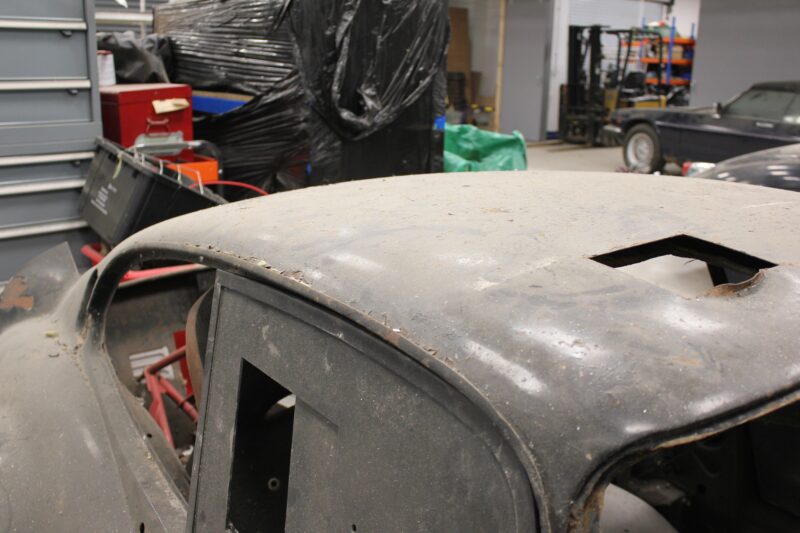 2) Chassis
We can see the front chassis/spaceframe section in the pictures, and while it's a bit dusty, it looks solid and it looks straight. Be sure to have a proper inspection though. Key things to look at would be mountings for things like the suspension, as they may have been altered in the past for racy equipment.
3) Parts
There's no engine and transmission, we know that from the advert. However, the cabin seems to be full of all manner of bits and bobs. Have a rifle through and see what's there, as there could be some good stuff that's reusable. Or of course, there could be parts that serve to shed some light on the car's racing history.
4) Modifications
This Jaguar E Type has, make no mistake, been chopped about a fair bit. Have a look at how well it's all been done, paying close attention to the flared arches, the nose of the car and the wide rear arches. Have a look at the tail, too, as this looks like it's simply been cut square. But how well? Can you move forward with the work in place, or will it need re-doing?
5) Paperwork
The seller states the car comes with a V5, and certainly, there is a registration number on the nose of the car, but as with anything that's been away from the road for a long time, it is wise to check numbers and information. The last thing you want to do is buy this only to then discover it can no longer go on the road. Unless you do simply want to build a track animal, of course.
What Should You Do With It?
The world is very much your oyster here. You could restore it back to original specification, which would result in a nice car. But where's the fun in that? To restore it to factory spec would be incredibly expensive, and more importantly it would rob this car of its wild, exciting nature. Via the changes that have been made to it in the past, it stands now as a wonderful product of its time. A throwback to a period when chopping up a Jaguar E Type in order to go faster was perfectly acceptable. If it were our money, we'd clean it up, get a full cage in it, fit some sort of rowdy V8 and manual transmission and then have some fun. You could even, given the registration of ELC719C, go for an EV conversion. You could take this relic of the past directly into the future. Imagine that!