1969 Ford Thunderbird – Project Profile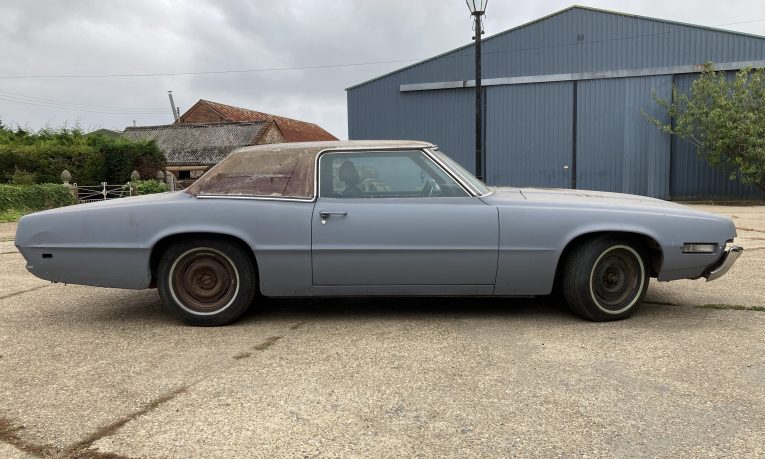 V8 engines come in myriad sizes; from the wee 2.0-litre found in the Ferrari 208 GT4 to the monster lumps the big American auto-makers were churning out at the height of the muscle car wars of the sixties. One such behemoth was the 7.0-litre big-block that Ford offered in their fifth-generation Thunderbird in 1969. Not only do those crazy cats across the pond like a big, eight-cylinder engine but they also have a penchant for making them sound awesome. And we're not talking about exhaust notes here, that's an article in itself. No, what we are referring to is the naming conventions they choose to utilise.
Firebird, Demon, Charger, Barracuda, Hellcat – all great sounding names the Americans have given to various hunks of metal over the years. They love it, and so do we, which is why we love this car and its 'Thunder Jet' V8. We can imagine it now – the marketing gurus at Ford sitting around the boardroom table at head office brainstorming names for the company's new 429 cubic inch powerplant. We'd like to think that they simply wrote down a bunch of cool words, dropped them into a hat and then picked out two at random. Thunder is powerful and loud. Jets are dangerous and fast. Bingo! A little more thought went into no doubt, something involving focus groups and flip charts probably, but either way Thunder Jet is a bloody great name for an engine and that's exactly what is fitted to this 1969 Ford Thunderbird – another fantastic name. See what we mean?
Debuting way back in 1954 at the Detroit Motor Show the Ford Thunderbird was built to compete with the Chevrolet Corvette but was marketed as a personal luxury car, emphasizing comfort and features over outright performance. Available only as a convertible with an optional, removable hard top the car was an instant success and sales were strong, easily out-selling the rival Chevy. It was refined, stylish and had more than enough power from its 4.8-litre V8 engine for most. With that said, however, 1956 saw the introduction of a larger, 5.1-litre V8 with capacity increasing to 5.8-litres for the second generation of Thunderbird two years later. This was a trend that would continue with ever-increasing sizes and power outputs during the car's lifespan, culminating in a 7.5-litre V8 in the early '70s.
What is it? 
Over the course of its 50 year production run the Ford Thunderbird went through 11 generations with the styling of the car varying greatly between each one. This particular 1969 Ford Thunderbird Landau is a fifth-generation vehicle that was produced from 1967 to 1971 and features the aforementioned Thunder Jet 429 cubic inch, 7.0-litre V8 engine under the bonnet. A performance version of the Ford big block 385 series engine the Thunder Jet was rated at 360bhp with 480lb-ft of torque but real-world figures were arguably a lot higher. Lovely. All of this power is smoothly directed to the rear wheels via a 3-speed, Cruise-o-Matic auto gearbox.
It's a two-door, hard top 'Landau' version which refers to the vinyl roof that the car would have come with from the factory. Sadly the vinyl is long gone but the roof itself looks solid, as does the rest of the car with the current owner confirming that the only areas of concern are the rear quarters panels but thankfully replacements are included in the sale as is a new roof covering. The car needs to be UK registered and it's unclear if it's a runner or not but if the mileage is to be believed then there's a lot of potential here and it's difficult not to be drawn in by that motor and the car's cool '60s aesthetic. It's a classic coupe with a monstrous V8 and those are two rather important boxes with two rather large ticks placed squarely in the middle.
Why is it a project? 
Like we said, there is no mention of whether this car runs and drives. If it did then you would think that that particular nugget of information would be included in the write-up but then we've seen all manner of adverts here at Car and Classic. The blurb about the car is pretty limited but the pictures speak loud and clear and it's obvious that the car is in need of an interior re-fit. There are interior parts included but whether it's complete is another question entirely, as is the condition of said parts. The car needs paint too, depending on what your plan for it would be. There's a lot to be said for patina and clear coat but that's all down to personal preference and as stated the car looks solid and the floor pans look good.
So the big question mark is the motor. If it runs it could just need a full service and refresh but if it doesn't run or even worse, it's seized then that changes things dramatically. All it would take is a quick phone call or email to the seller however, so that would be job one. The answer will inform your decision on what to do next but on the face of it, at under five grand, it looks like a lot of car for the money.
Five things to look for:
1) Engine
It feels like we're turning into a broken record here but it's imperative to know the condition of that huge V8 before anything else. If it is indeed a runner then it will need a thorough going over as well as a full service. Check the condition of the spark plugs before replacing them as they can tell you a lot about the overall condition of the engine. The advert states that the downpipe from the exhaust manifold has been damaged but this should be simple to replace – just check for any additional damage to the surrounding area.
2) Bodywork
The car has had its original burgundy paint stripped and been given a courtesy coat of primer to protect the bodywork but it will need a full respray if you're going to go down the resto route. The rear lower quarter panels will need to be chopped out and replaced but the parts necessary are included in the sale, as is a new vinyl covering for the roof. The floors look solid but even so, give them a proper inspection and also the chassis for any rot or botched repairs.
3) Interior
The interior has been stripped apart from the front seats and dashboard which remain in the car. From the pictures they look to be in pretty decent shape so it might just be a case of giving them a good clean. The interior comes with the car but we suspect it will need to be refreshed before it can go back in and it is not clear if everything is accounted for so check with the seller as to its completeness. Depending on budget you could always opt for a new, custom interior but that will certainly be expensive. Cool, but expensive.
4) Drivetrain/Mechanicals
This fifth-gen Ford Thunderbird is a heavy car with a large, powerful engine and these two factors put a lot of strain on the mechanicals. Check that the automatic transmission changes gears smoothly without any slip and ensure that the differential is not leaking or whining. Check the suspension and steering bushes for any play and ensure that the rubber mounts that separate the body from the chassis are not deteriorated as these are designed to reduce vibration and noise when driving.
5) Paperwork
The car will need to be UK registered but the current owner does have the title and NOVA (Notification Of Vehicle Arrivals) documentation ready. There is no mention of any kind of history file with the car so check if there is any record of regular servicing or work carried out.
What should you do with it? 
With such a monstrous motor it could be an idea to turn this particular Ford Thunderbird into a bit of a drag car or hot rod. The platform is already there to support big power and as these late-sixties/early-seventies T-Birds aren't as classically desirable or collectable as earlier incarnations you wouldn't be guilt-tripped into thinking you've made the wrong decision. Keep it ratty but push for peak performance from that 7.0-litre engine. What you save on resto costs could be directly transformed into horsepower and you would be staying true to that brilliant Thunder Jet name and all that it connotates.