1970 Subaru 360 – Project Profile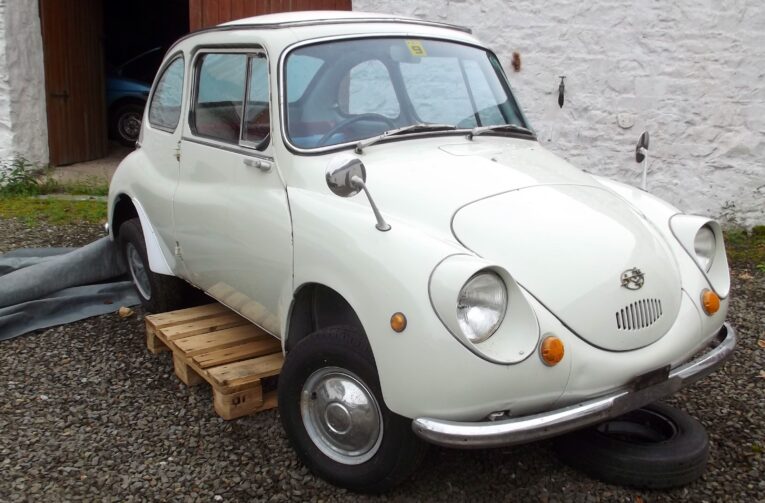 In 1949, the Japanese Government decided to draw up some rules for car manufacturers, and in doing so, created the Kei car or "light automobile" class of cars. The Government was keen to mobilise post-war Japan, and by getting manufacturers to build small, low tax, low insurance and cheap to run cars, it did exactly that. Manufacturers were more than keen to oblige, as this new segment was welcomed by the Japanese people. Owning a 'traditional' car was a costly affair, plus, those bigger cars didn't really…  fit. Japan is a busy but condensed place. The Kei car just made sense. But why are we giving you a Japanese history lesson? Well, quite simply, because this week's project of choice is legit Kei car; a 1970 Subaru 360.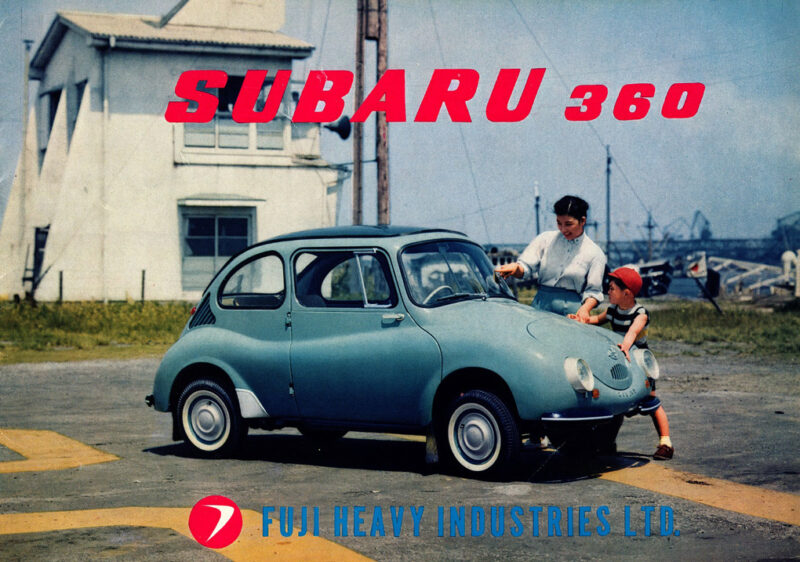 It's hard to imagine a pre-Impreza Subaru, given that the company's muddy, on-stage antics are what put them on the map here. However, the Japanese company has been around since the early 1950s, and the Subaru 360 was in fact one of its first offerings. Without the 360, which was a hugely popular car from this then new company, Subaru might not have lasted. Sure, it might not have the turbos and the gold wheels we associate with the brand today, but even so, it's directly responsible for Subaru's success. This 1970 example is well, well worth saving, then. Plus, look at it. It would be easier to look at puppies in Battersea Dog's Home and say no.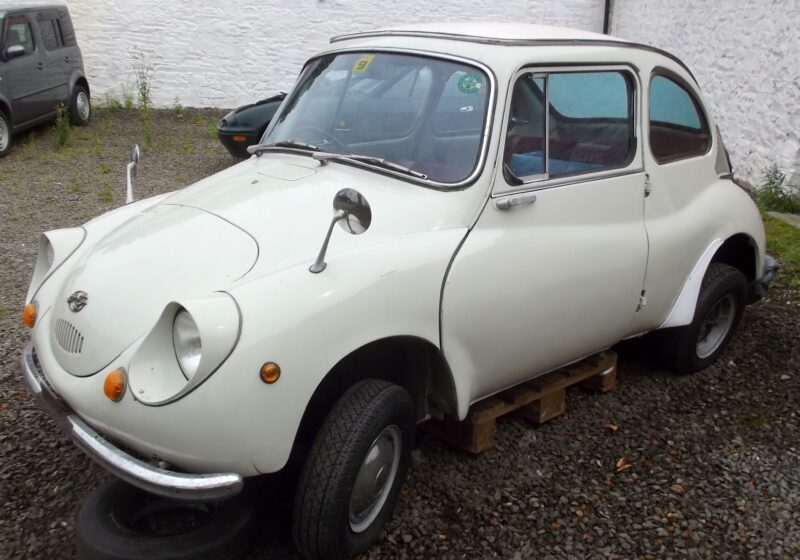 What is it? 
This adorable little spud is a 1970 Subaru 360, meaning it was built towards the end of the model's production run. That's a good thing, as it means you get the more aesthetically pleasing headlights rather than the ones from a SMASH alien that were fitted to the early model. Power, to use the word loosely, comes from a two-stroke inline-two engine fed by a single carb. Early cars had a mere 16hp. Don't worry though. Being a later model, this hot rod has 25hp. It tipped the scales at well under 500kg, it could seat four, it boasted a solid monocoque design with a fibreglass roof panel and, well, that was about it. Kei cars have always been simple, and the Subaru 360 is no exception. Hugely popular in Japan, the 360 was never really a common sight on UK roads. Strangely though, it was sold in America via Malcom Bricklin. He had the cheek to brand it as "cheap and ugly" (no, really, that's what the sales adverts said). Ironic, given he gave the world the frankly gopping Bricklin SV-1. But we digress.
Why is it a project? 
Apparently, this 1970 Subaru 360 was imported into the UK in 2017, at which point it was a running and driving car. However, it was put into storage and having since emerged, it now won't start. It does crank over though, so that's a positive. The same can't be said for the brakes, which are stuck on. All simple stuff though. It sounds like it needs nothing more than a thorough recommissioning. It looks to be complete, there is no major rust to observe (some drain holes in the floor-pan have succumbed, but not in a big way) and it needs a new rear window, but that's included. It sounds like a very simple project. Even the interior is mint, having been re-trimmed back in Japan in a very inviting red cloth. The car is official, it has a V5 and all the import papers. It just needs a budding new owner to give it a tickle and bark it back into life.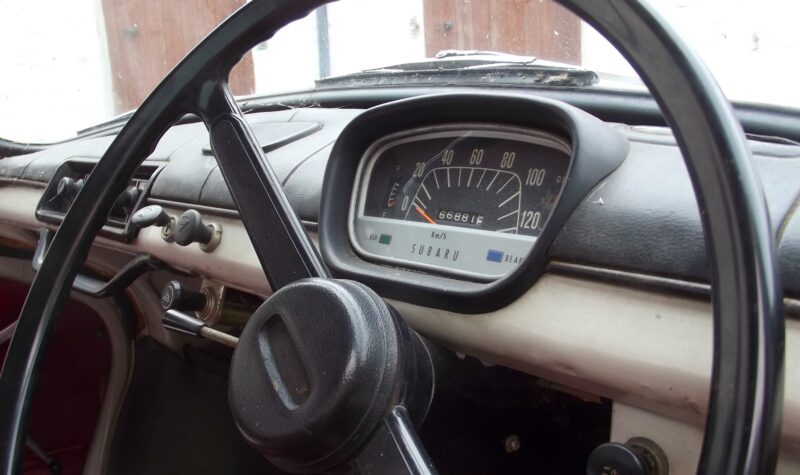 Five things to look for:
1) Engine
If the engine was running, but now isn't, it might be worth looking at things like the leads, the fuel lines and the ignition system. Most of the rubber parts will probably need replacing by now, but that's no big-deal. The engine is also air-cooled, so it won't have been sat with water in it for years. It should be a simple affair to get it running again.
2) Electrics
Old cars that have been sat can be a rodent's paradise. So many tasty wires on which to nibble. Happily, the Subaru 360 is a simple affair, but still get under the dash, behind the wings and in the engine bay to make sure nothing is going to spark out or arc.
3) Suspension
Having done 66,880km, this 360 has been used and enjoyed. But what has that done to the suspension? If it needs bushes or other replacement parts, the rarity of the car might make finding them a bit of a head-scratcher. Happily, the car weighs about as much as a packet of Fruit Pastilles, so hopefully the suspension won't be too hammered.
4) Roof
The roof on the Subaru 360 is made from fibreglass, so check for crazing, check for cracks and check for shrinkage (it was cold). This one looks to be in good condition in the pictures, so all should be well. But do still inspect it, as it'll require a specialist to fix it properly.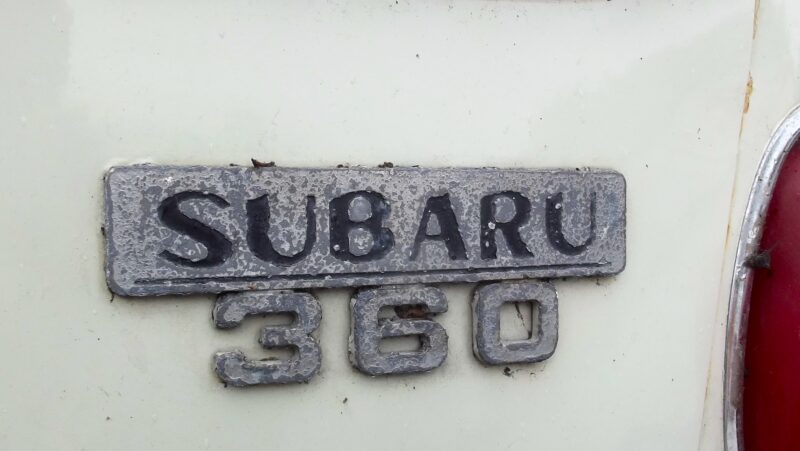 5) Trim and Body
The Subaru 360 is incredibly rare here in the UK. If it needs any parts or trim, or anything specific to the design, you're going to need to navigate Japanese sources and that might be hard given the vast language difference. Thankfully, the interior looks good, but what about things like body trim, glass, lights, wheel trims, door handles – make sure it's all good and all usable.
What should you do with it?
Get it running, refresh the wiring, throw some new tyres on it (those from a Scalextric car should fit) and enjoy it. It would be criminal to do anything else to this car. It doesn't need to be changed, modified or otherwise altered. It's already an incredible head turner, and will bring joy to whoever owns it and whoever sees it. Plus, it's an important car that represents the earliest days of Subaru, so it should be kept as its designers intended. Besides, a turbocharged boxer engine won't fit, we checked.