1973 Lamborghini Espada – Project Profile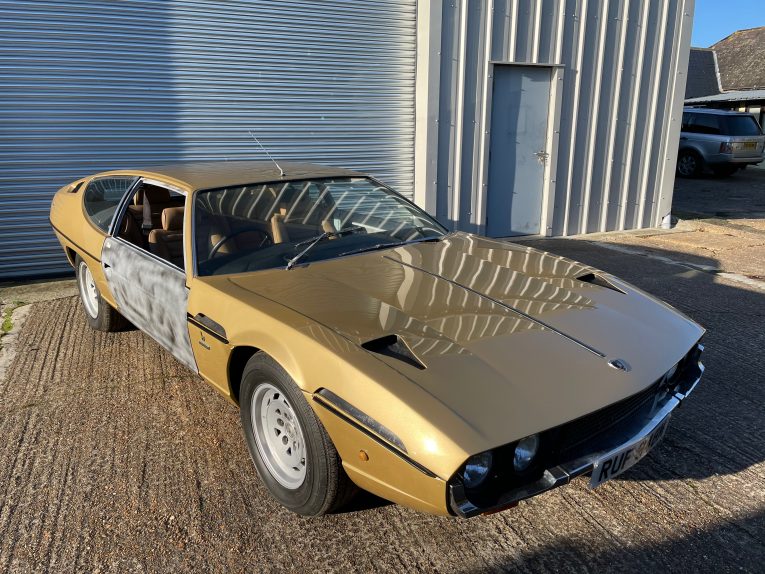 When it comes to exotic classics there are few names that instil such a sense of awe and wonder as that of Lamborghini. And with the mention of that legendary Italian name images are instantly conjured of the Countach, Diablo, Miura and Murciélago. But what about the lesser known Lambos? The underdogs? The under appreciated and less revered? Well, we've picked out this 1973 Lamborghini Espada S3 as our Project Profile this week to celebrate those snarling bulls that have perhaps been living in the shadows of their more high profile brothers and sisters for too long.
A proper four-seater GT the Espada was produced for ten years between 1968 and 1978. Penned by Marcello Gandini – who had previously worked on the aforementioned Miura, Countach and Diablo – the Italian design legend drew inspiration from some of his previous concept cars for the overall aesthetic of the new Espada. It was quite the show-stopper at the time and although it was a bit of a beast in terms of proportions, it had the bark to back up its bite. Fitted with a 3.9-litre V12 initial Series 1 cars were putting out 325bhp which meant 0-60 in six-and-a-half seconds and a top speed of 155mph.
Although the S1, S2 and S3 all shared the same engine and exterior styling the car did go through numerous updates over the course of its life. Not only was the S2's interior revamped with a new dash, centre console and steering wheel, but power was upped to 350bhp thanks to a higher compression ratio. Vented discs replaced the S1's solid setup too to aid braking. The S3 was improved with the addition of power steering and air con as standard as well as more interior updates and new wheels. A three-speed auto box was offered too, alongside the standard five-speed manual. 1975 saw the inclusion of larger bumpers to meet US legislation (the curse of many a '70s classic) but it's best not to talk about that.
What is it? 
This 1973 Lamborghini Espada is a later, S3 model which means it has all of the updates and amendments that were introduced over the years, including the more powerful engine and power steering. A rare right-hand drive model this particular car was delivered directly to Lamborghini GB in London. Finished in metallic gold paint with tan leather interior the car underwent a full restoration in 1990 and more recently was taken off the road in 2004 for refurbishment which now required completion. Previously owned by British jazz legend Chris Barber, and with a comprehensive history and fully documented mileage of just 25,000, this isn't your standard Espada rot box. Although it hasn't been used for a number of years now the engine does turn over and idle with decent oil pressure. It's a clean, solid example that just needs a final push to bring it back to its best.
Why is it a project? 
As mentioned the car has been off the road for almost twenty years and despite starting and running on all twelve cylinders the engine would ideally require a rebuild and all of the mechanicals would need to be overhauled too. The seller attests that the car is a rust-free example with replacement sills and that certainly appears to be the case from the photos. Having said that the bodywork would benefit from a full strip and respray. The replacement doors also need finishing. The interior is clean, complete and original and so there wouldn't be much work required here and the only part that is missing from the car is a section of the fuel flap. Hardly the end of the world. It's a solid, running Espada which is great news, making this a relatively hassle-free project for someone.
Five things to look for:
1) Engine
The V12 in the Espada is a quad cam beast with six twin choke carburettors. Now we imagine half of you reading this are rubbing your hands together thinking 'oooh, a quad cam V12 with six carbs!', while the other half are going 'hmmm, a quad cam V12 with six carbs…' and both of those reactions are completely valid. Yes, it's a beautiful, performance engine but then keeping such a motor running at its best ain't cheap. No sir. This one runs, which is good, but it will need – at the very least – a full service. Ideally a rebuild is in order and that's expensive.
2) Suspension and steering
The Espada is a big car with a big engine and that means it weighs quite a bit. Over 1600kgs in fact, and that puts a lot of strain on the suspension and steering components. Carry out a visual inspection and if possible, take the thing down the road to get a feel for how sharp (or vague) it all feels. The ad does mention that the suspension componentry looks 'newer rather than older' but we would take that rather nebulous statement with a pinch of salt.
3) Rust
These cars corrode. Badly. Many an Espada has met it's maker at the hands of rust but this one appears to have somehow evaded the clutches of the dreaded tin worm, although the sills have been replaced in the past. There are no photos of the underside of the car but the seller assures us that the chassis is solid. Nevertheless, get on your back and have a good look around underneath. Check for any damage or botched repairs while you're there too.
4) Paperwork
It is vitally important to keep on top of maintenance when it comes to old Italian super cars and the Espada is no exception. Thankfully this one comes with a comprehensive history file dating all the way back to 1977 which backs up the mileage. So, grab a cuppa and go through the lot. See what has been completed as part of the latest works so you can get an idea of what is left, as well as how much to budget for on top of the asking price to finish the thing off.
5) Running Costs
£45K might seem cheap for a tidy Lamborghini Espada but such wide-eyed optimism has been the downfall of many a budding classic Italian GT owner. Maintenance costs remain high and repair bills can be crippling. Thankfully there are no panels required and so your main spend is going to be on the engine and mechanicals. Fuel economy, as expected, is woeful but then who buys a Lamborghini only to then worry about petrol costs? Whatever the case, bear in mind the additional costs of putting the thing back – and keeping it – on the road.
What should you do with it? 
Depending on your budget (and it should probably be fairly substantial) you could forgo paint for now and concentrate on the oily bits. Obviously the doors will need painting but the remainder of the bodywork can wait. The priority for us would be to get the engine running as sweetly as it should. Throw a bunch of cash at the rest of the mechanicals too and bring everything up to scratch and then move on to a full respray once that all important peace of mind is there. It's a great base to start with as there is no rust or rot to contend with. It's a complete, running car that 'just' needs a final push. At the end of it all you'll be the very proud owner of an incredibly rare and quite brilliant Italian grand tourer.