1975 Mercedes-Benz W115 – Project Profile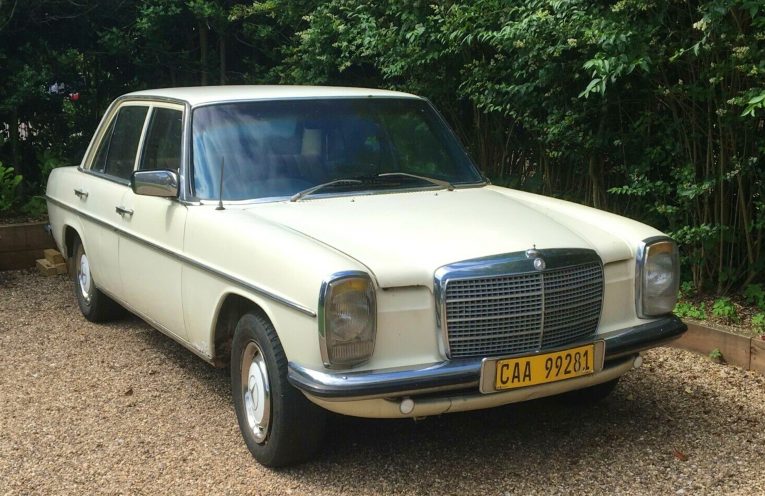 Janis Joplin sang about wanting the Almighty to buy her one, and really, can you blame her? There are a lot of desirable classics out there, but there's just something special about the notion of owning a Mercedes-Benz. Maybe it's the double barrel name, maybe it's the thrill of driving down the road with the three pointed star ahead of you. Whatever the reason, there is no denying that a Mercedes-Benz is going to be high on any car enthusiast's list. And that's why this lovely of W115 should have your attention. Built during what many consider to be Mercedes-Benz's golden period, this old charmer still cuts a dash today.
The W144 and W115 were important cars for Mercedes-Benz. Designed by pencil-wielding automotive legend, Paul Bracq, this handsome three-box saloon (and coupe) brought Mercedes-Benz forward in leaps and bounds. It was a celebration of new ideas that would form the bedrock of all future Benz products. The suspension, for example, was all new. It consisted of semi-trailing arms in the rear, with a ball-joint front end. This combination would stay in place until the 1980s, and was used across the range, including on the W116 S Class. The W114 was offered with six-cylinder engines, while the W115 was fitted with four-pots. This model also saw the launch of the company's first five-cylinder diesel engine, the OM617. It was, make no mistake, a significant car.
What is it?
The car we have here is a 1975 W115 230.4. This means a few things. First of all, it's a facelift car meaning a lower, wider grille and single bumpers. It also means it's fitted with the M115 2.3 litre four-cylinder engine mated to a four-speed floor-shift manual transmission. It's a pretty tough combination, which would go some way to explaining why this car has survived in such impressive condition. Speaking of which, this car has been shipped in from South Africa. This is a very good thing, as it means it hasn't been subjected to decades of rubbish British weather and heavily salted roads. The W114 and W115 were not famed for their ability to withstand corrosion. Getting one like this, from a dry climate, is the way to go.
Fresh off the boat, this car still wears its SA registration (though the seller states that the car can be registered as it's all been imported properly) and as such, is pretty much in 'as found' condition. It's got a few knocks and scrapes, but it's from 1975 so we can let it off. Fundamentally, it's a running, driving car in right-hand drive configuration that could be on the road without too much work. And at a mere four grand, it's a bit of a bargain to boot.
Why is it a project?
From reading the advert, it would seem there is not a lot that needs doing to get this car on the road. It runs, it drives, the seller states its pretty solid throughout and even the heater works! It just seems to be a bit visually challenged. The paint is past its best, there are some dings and dents, and there is a small spot of rust in one wing, which seems to have been 'repaired' by a blind man in the dark, with plaster. The driver side footwell needs a small repair, apparently. The interior is a bit worn in places, the driver seat in particular. And the dash has succumbed to the hot South African sun, as it has cracked.
On the face of it, you could sort that footwell repair out, give it a through service, maybe new brakes, lines and tyres for added peace of mind, and then have it as a rolling restoration. or of course, you could treat it as an excellent base on which to carry out a complete, top-level restoration. The choice is very much yours. We'd sort the interior out, get it mint and comfortable, give it a mechanical overhaul, then drive it as is. But that's just us.
Five things to look for:
1) Rust
Okay, so South Africa is drier than the UK, but you still shouldn't underestimate just how quickly a W115 can rot. The seller says there is a hole in the wing, and the driver side footwell needs repair. But what about the rest of the floors, the boot, the sills, the inner wings and bulkhead too. You need to check them all.
2) Trim
Parts aren't too hard to find for this model, but even so, it's always good if you can use what you already have. Not only does that keep the car original, it also takes some pressure off the bank balance. So check the body trim, the grille, the window and light surrounds, and of course, all the interior fixings. The driver seat needs work, this we know, but what about everything else?
3) Engine
The M115 is a pretty tough old unit, and this one is running and driving. But it never hurts to check the fluids to make sure there is nothing of concern, check the hoses, the lines and the mounts. Listen to the engine for any grumbles or low down noises, and look for smoke. Replacements aren't hard to find, but it will be costly. Better to know going in.
4) Suspension
This fits into the first point of looking for rust. The suspension is what makes this car drive so very well, so it needs to be right. We would imagine you're going to need to change the shocks and all the rubber bits due to climate and age. But what about the mountings on the underside? Any corrosion in these areas is going to be expensive to put right.
5) Paperwork
We say this with every imported car, but only because it really is important. The seller states they can get it registered for you for £55 and we would be inclined to take them up on that. Though if you want to do it yourself, the car has been declared on NOVA and everything has been done right. But even so, a check now can save heartache in the future. It's just due diligence.
What should you do with it?
Whatever you want, really. If you want to go down the road of a full nut and bolt restoration, this could be an excellent candidate. It's not a rot box, and it hasn't been subjected bodge after bodge, so stripping it back and building it back up shouldn't be too difficult. It would be a worthwhile endeavour we're sure. Or you could go down the road of a rolling restoration. Get it registered, get it on the road, and then get some use out of it as you restore it. By driving it, you'll be able to prioritise what needs to be done, and you'll be able to do it at a pace that suits you and your budget. Plus, you'll have the bonus of having a classic Mercedes to drive around in. And who doesn't like the sound of that?