1976 Mercedes-Benz W116 Armoured – Project Profile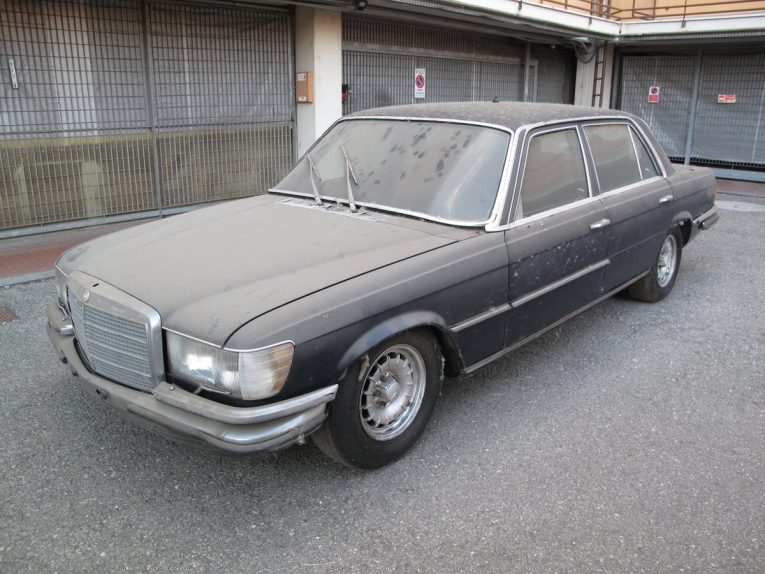 Classic cars come in all shapes and sizes, which is of course what makes this world so utterly wonderful. You can go fast, you can go slow, you can drive cars from before the war, you can drive cars on road or off. The possibilities are endless. As is evidenced by the car we have as this week's project of choice. You see, this isn't any old W116 Mercedes-Benz 450 SEL complete with might 6.9 V8. Oh no, this one is armoured. And that of course make it very special indeed. While it's unlikely anyone will be taking pot-shots at you with rifles, it's nice to know that if they do, you'll be okay.
Cars like this big old Mercedes-Benz are reminders that classic cars were once new, and as such were built for a purpose. Now, decades on, they're playthings. Back in the day, however they had to do a job. The job of this car was to provide protection for its high-profile owner, Paolo Romanazzi, a famous Italian entrepreneur. The 1960s through to the 1980s were known as the 'years of lead'. It was a period of social and political turmoil in Italy, marked by a wave of both far-left and far-right incidents of political terrorism. As such, it was not a good time for people of power to throw caution to the wind. And while it may have been a bit of an affront to buy a German car, there were few better suited to being armoured while still being fast than the 450 SEL. It was so fast, in fact, that Fiat boss, Gianni Agnelli could often be found borrowing it. A close friend of Romanazzi, he lauded the power of the big Benz.
What is it? 
As a car, it's a 1976 Mercedes-Benz W116 S Class. And it's the good one, as it were, thanks to being a 450SEL. That means it's powered by the formidable 6.9 V8. This 6,834cc unit was hand-built and bench tested before being fitted into the car. It boasted cutting-edge Bosch k-Jetronic fuel injection, the crank, con-rods and pistons were all forged, and the engine was kept lubricated via a dry-sump system. It churned out some 286h and a Goliath 405lb ft of torque. It was a full-on, executive race car. The Mercedes-Benz flagship of the time, it was the epitome of luxury and speed, and thanks to this heady combination, it was also the perfect candidate for armouring. Normally, armouring would make the car ponderous and slow due to all the added weight. And while the armoured glass, doors, floors, bulkheads and so on did indeed stunt the performance compared to a civilian specification car, it was still bloody fast. If you needed to stay safe, and get out of trouble quick, this was the car.
Why is it a Project? 
Ironically, while this car is armoured and extremely tough, it's done little to protect it from the rust. The car has been, according to the vendor, sat around for some twenty-five years, and as such in a bit of a sorry state. The floors seem to have rusted out, the bodywork is tired, the paint is now a deeply unflattering matte black, the chrome is tired and the interior is threadbare. Truth be told, if this were a civilian specification car, it would be touch and go in terms of being a viable project. However, this particular car's interesting history so closely tied with Italian political and social history means it deserves to live on. But make no mistake, this is going to be a full nut and bolt job, not just a few patches and a splash of paint.
Five things to look for:
1) Rust
There is going to be a lot of it. The floors look bad, but what about the sills, the chassis rails, the inner wings, the boot floor, the external panels? You need to check all these to see what's going to need replacement.
2) Armouring
The armouring is the key to this car. It has thicker pillars, explosion-resistant flooring, thicker glass and so on. How are all these parts holding up? Glass in particular is going to be hard to find.
3) Engine
The engine is the heart of this machine, but only if it can be saved. It's going to have been worked harder than most, what with all the extra weight. Has it locked up, has it started spilling fluids? Check it all.
4) Interior
It looks pretty threadbare in there, which is okay as there are plenty of suppliers that can re-trim the seats and so on. But what about the core structure? Is that okay, can it be saved? Have there been any modifications made as part of the armouring? Can you replicate this in the restoration?
5) Paperwork
As the car is in Italy, you're going to need all the paperwork to be in order if you are going to be in with any chance of exporting it. Check it, check it twice and make sure you can bring the car out of the country.
What should you do with it? 
A restored car, to whet your whistle
There really is only one option here, and that's to restore it back to how it would have once been. Not only is this car important in terms of social history, it's also important as a piece of motoring history. The W116 450 SEL is a car people still desperately want to own. It's an icon, a car regarded by many as being the best Mercedes-Benz ever built. This one, with its armouring and its history is perhaps the ultimate of its kind. Plus, once restored, it's the safest car in the world for the school run.