1977 Ford Capri 2.0S – Classified of the Week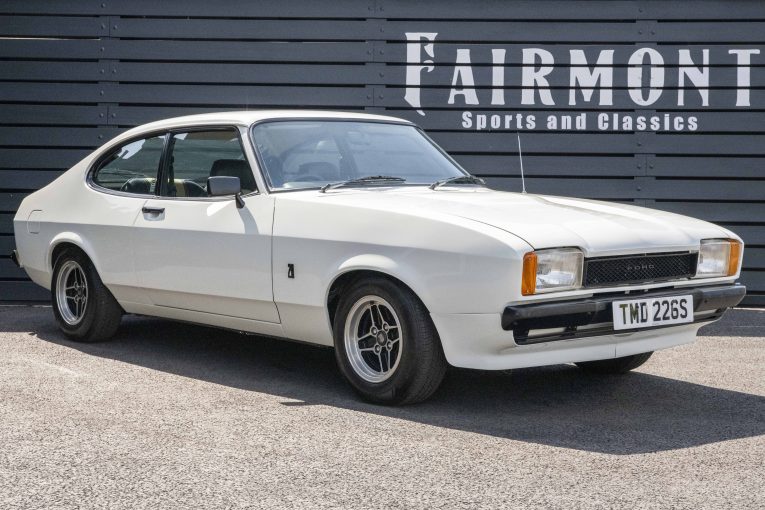 Here at Car & Classic, you can find pretty much any vehicle you wish. From the common to the outright obscure, we have it all here, either in the classifieds or on our Auction platform. Yup, there truly is something for everyone. And because there are so many different cars, bike, trucks, racers and military vehicles on here, it's easy for us to pull data and see what's tickling your motoring pickle. One of the most searched for cars, for example, is the Ford Capri.
Ford has had many heavy hitters over the years, but the Capri has to be at the top of the pile. It far exceeded even Ford's expectations, becoming a sales hit from the off. Ford wanted this to be the European Mustang, and that's exactly what it delivered. It was sleek, it had a power bulge on the impossibly long bonnet, it was rear-wheel drive, it was just… cool. To keep momentum going, Ford had to evolve the Capri from the true coupe it was at launch. Marketing research showed that people were shying away from the Capri because it wasn't practical enough. So, in 1974 it introduced the car you're looking at here – the Mk2. It was bigger, it was more powerful and thanks to the inclusion of a rear hatch, it was more practical. As such, it could be justified as a family car. I'd know, because from birth to the age of around seven, this is exactly what my Mum and Dad drove.
Think of a Capri though, and most minds will conjure up the image of the Mk3. The Mk2 was only built for a short period – just four years – and as such, is a very rare thing to find. At the time, critics said the styling was too soft. People didn't like those big, square headlights. So in 1978, Ford responded with the quad-lighted Mk3 and the rest is history. The Mk2 was very quickly forgotten, which is criminal seeing as it was such an important evolutionary step in the Capri's life. Ask any true Ford nut, and they'll tell you there is no such thing as a Mk3 Capri – it's a Mk2 facelift. The Mk2 was important.
The market has come around now, and the Mk2 is a hot commodity. Thanks in no small part just how rare it is. Rust killed many of them off, and so they are few and far between today. Cars like the 1977 2.0S we have here, that have survived in exceptional condition, are cars that set the market alight. An unrestored, Mk2 Capri 2.0S? That's some serious holy grail stuff. This right here is the car you always promised yourself. It's covered a mere 48k over the course of its life, it's been very well looked after indeed, there is no rot to observe, no signs of damage, and the all-important S interior is near immaculate. It is, make no mistake, a beauty.
It needs its S stripes back, and we'd want to change the wheels back to original S specification (as per the one I used to have) but that's about it. Do that, take it back to true original specification, and then enjoy it. Roll up to any show in this and red ropes will part, grown men will fall to their knees, cameras will click frantically, it'll be spectacular.
Priced at £15,495, this perhaps isn't the cheapest Capri out there, but it is one of the rarest. Perhaps only trumped by a John Player Special. But remember, you're paying for originality here; this car has survived the '80s and '90s without being crashed, without being modified, without being neglected. That alone is worth the asking price. But fundamentally, it's worth every penny because, well, just look at it…