1979 Lincoln Continental – Project Profile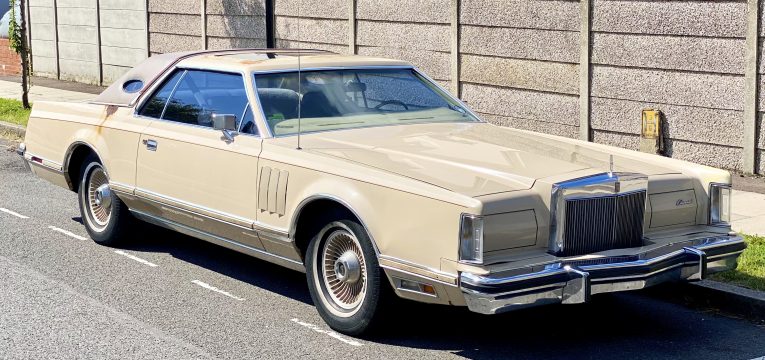 In America, they like things large. It's the land of the free, the home of TV shows where people try to eat things that are larger than a medium-sized child, and it's the spiritual home of the V8 (the first V8 was actually French). This appetite for all things big has of course always been evident when looking at the country's automotive offerings. Cars so big that front wheels usually reside in a different postal area than the rears. Yes, America loves the large automobile, and we do too. Despite the fact they don't really 'work' here on our roads, there is still a bizarre attraction. It might have something to do with the films and TV we were fed, in which we would more often than not see these behemoths screeching around city streets. Maybe it's a more base level interested, centred around the spectacle of something so juxtaposed to what we know? Whatever the reason, this 1979 Lincoln Continental floats our boat.
Meander through the streets of America today, and you'll find the automotive landscape to be a largely familiar one. Car companies build new models on a 'global' basis now. As such, what you'll see over there is largely the same as what you'll see anywhere. The Ford Focus, the Volkswagen Golf, the Toyota Corolla etc. There are exceptions, of course, like America's baffling range of Brobdingnagian pick-up trucks, but for the most part, the American-only land-yachts are all but gone. For that action, you need to go back in time. And there was no time better than the 1970s. Sure, there were emissions controls, there were fuel and oil issues and nobody had any money, but that didn't stop Lincoln. The Continental was a flagship machine, one for the elite. A model from a long line of other elite cars, and one that set the standard for American luxury.
What is it? 
What we have here is a 1979 Lincoln Continental Cartier edition. Lincoln, keen to further drive the luxury angle home, offered four 'designer series' models. There was the Bill Blass, the Givenchy, the Pucci and this, the Cartier. For 1979, that meant Light Champagne paint, Champagne interior with dark red accents and a Light Champagne landau vinyl roof. Power came from a 6.6 litre V8 mated to, naturally, a smooth automatic transmission. Given it was the size of Basingstoke, it wasn't fast. And it had the handling prowess of a buttered sealion, but that wasn't the point. It was a statement piece, it was nearly six metres long and over two metres wide. It was a king of the road; an unapologetically large, rolling palace. It might not have had the same grace or slickness of the earlier models, but even so, it was still every bit the 'best of the best'. And it stands today as the last of its true breed, as after this, the model started getting smaller.
Why is it a project? 
This big old bruiser hasn't been on the road since 2012, so is going to need some reconditioning. The seller states that it runs and drives, though obviously advises the car be given a thorough going over before returning it to the road. The tyres are all past their best, too, so new rubber will be required. There seems to be some rust coming through on the offside pillar under the seam for the vinyl roof, so that will want some investigation and rectification. Plus, the roof itself seems to have fallen victim to rust, though it doesn't look too serious in the pictures. However, given there is a sunroof fitted, you're going to want to address that sooner rather than later. On the face of it though, it looks like it could be a pretty easy car to put back on the road. It's complete, the interior looks to be in remarkable condition, it's all original and as such, presents as the perfect opportunity to get yourself some bona fide Americana. And all for a mere five grand!
Five things to look for? 
1) Rust
As we mentioned above, there is some rust coming through on the pillar and on the roof. Looking at the MOT history for this Lincoln, it seems that corrosion has never been an issue, so hopefully what you can see now should be easy to repair. But be aware, repairing it needs to be a priority, as once these big old Yanks start to rot, they very quickly get worse.
2) Trim
Everything looks to be present and correct. In fact, the interior looks to be in remarkable condition. But remember, this is a rare Cartier edition model, and so finding any replacement parts could be difficult. Have a good look at everything, make sure it's all still in good condition, fixed in place as it should be, and functional.
3) Engine
The big 6.6 V8 is a hardy lump in this Lincoln. It's also not too hard to get parts for, be that from a UK-based specialist or direct from the States. Just do the usual checks; see how it runs, listen for any noises (especially low end), look for smoke and so on. It's only done 90,000 miles though, so should be in good health. Fingers crossed it needs nothing more than a thorough service and maybe a tune up.
4) Electrics
American cars are not known for their hard-wearing electrical systems, so be sure to check everything works in this Lincoln as it should. Windows, lights, seats, cruise, stereo, all that stuff. You can buy replacements looms, but it's a monster of a job. Speaking of the loom, check what you can see. Look for any evidence of poor past repair.
5) Space
This Lincoln is huge, and you need to be prepared for that. It's nearly six meters in length and it's a hair over two meters wide. This means it's not going in a standard garage, and it definitely isn't going to be welcome down any narrow lanes, or on any tight driveways. Before handing over cash, you need to be sure you have the space to house this monster!
What should you do with it? 
It's a rare car in this Cartier trim level, so the only way to go would be that of restoration to original specification. It strikes us as being a reasonably simple project – the car is solid, original and looks to be in very good condition indeed, so getting it back to tip top condition shouldn't bee too hard. You could service it and put fresh rubber on it and just use it. Treat it as a rolling restoration. There doesn't seem to be anything too scary to tackle here. And just think how great this Lincoln would look with a bit more shine and a bit more sparkle?
Of course, cars like this are something of an acquired taste, but if you do like them large, there can be few finer than this Lincoln.