1981 Ford Capri – Auction Car of the Week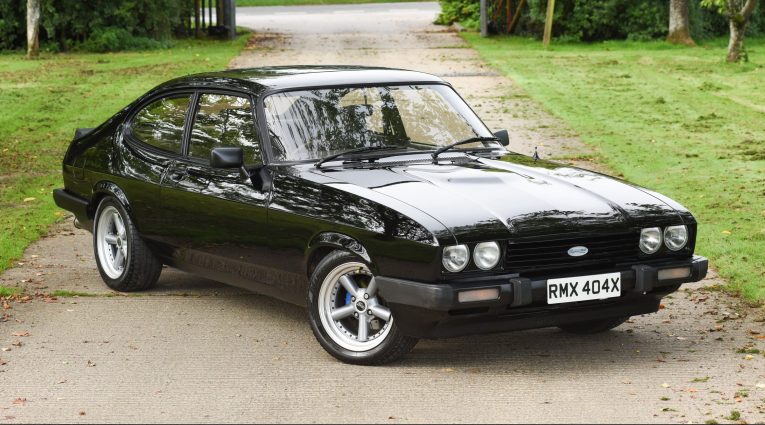 Modifying a classic car is a subjective thing. Some modified classics can send fully-grown men into a sharp gasp so deep they fall over. Others can get a knowing nod. It all depends on the particular tastes of one person to the next. You could also argue that some classic cars should never be modified. We don't subscribe to that notion, as it's very much up to you what you do with the car you have paid for. However, if someone suggested putting huge wheels and rubber band tyres on a Bentley, we would concede that maybe that's not the best for it. There are classic cars, however, that seem to exist for no other reason than to be modified. Cars like, for example, the Ford Capri. Now there's a car that begs for a bit of modification. As is so wonderfully being proven with this 1981 Ford Capri that we currently have for auction.
Originally an automatic car, this Ford Capri lived a fairly standard (pun intended) life up until '91, when owner number two came along. He enjoyed the car as Ford intended up until about 2001, but things were set to change thereafter. You see, by this point, and because of Ford's propensity towards buying steel that looked like steak to the old tin worms, some restoration was needed. The second owner duly set about doing this. The wings were replaced, as was the front panel. The rest of the body was checked and tidied where needed and then the whole lot was given a rich, deep coat of gloss black paint. But paint wasn't the only change.
The Ford Capri was given a complete mechanical overhaul too. Four-pot calipers, 2.8i suspension, a limited-slip differential and more all went into the car. The wheel arches became the new home for a set of stunning Image split-rim 15-inch alloys, too. And they are nothing short of stunning.
The automatic transmission, however, went out. Instead, a four-speed manual transmission was fitted. As for the engine, again, this was heavily re-worked. The 2.0 Pinto was completely rebuilt and re-bored, taking it out to a capacity of 2.1. The old carb was thrown away, and instead a new electronic fuel injection system was fitted. New hoses and lines were fitted, the cooling system was overhauled, the engine itself was also detailed to a high standard. As you can see above, it's one very attractive engine bay. Nothing has been left unchecked.
Inside, the car was treated to Recaro leather seats – presumably from a 2.8i – there is a MOMO steering wheel, wooden gear knob, the carpets were restored, and the door cards replaced for better condition items too. It's a warm, welcoming place to be, and one that the winning bigger will almost certainly forever be finding excuses to enjoy. That low seating position, the view ahead over that iconic 'power bulge' on the bonnet. You'll feel like a Professional in no time.
As we said earlier, modified classics are subjective. This one, however, is pretty much spot on. The stance, the wheels, the condition and the mechanical upgrades have made an already pretty good car even better. It just looks right. Sure, you might want to change some bits to truly make it your own, but that's part of the fun of owning a modified classic. There are no rules, there are no limits, there is no right or wrong way. It's all about you, the individual. You don't get that with a new Mondeo.