1984 Volkswagen Beetle – Project Profile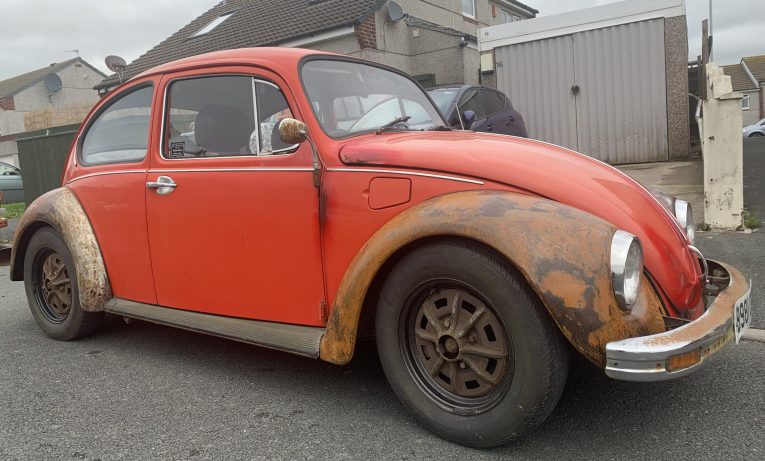 Buying a project car can often lead to being overwhelmed, and when that happens, the project as a whole can lose momentum. Instead of being a source of joy, your project car can become a millstone around your neck. A source of frustration and a seemingly bottomless pit into which you throw your money. It can be enough to put you off the idea of project cars for life. We don't want that though, which is why this week, we're looking at a Volkswagen Beetle. In many respects, this is the perfect project car for the new person on the spanners, or the time served tinkerer looking to keep their hand in. It is a blank canvas on which you could build whatever you want, and with relative ease.
But what makes the Volkswagen Beetle so perfect? Well, quite simply, it's the following behind it. Buy a classic that's thin on the ground, or worse, that was rare when it was new, and you're in for a world of pain. Advice on such cars is near impossible to come by. Parts are more often than not hidden somewhere deep behind the stocks of hen's teeth and rocking horse… you know. A lack of support can slow or worse, completely stop a project in its tracks. It can lead to expensive, bespoke fabrication and specialist work. There's no denying that owning a rare car is special, but only if it's fun. The Volkswagen Beetle, however, is not rare. There is a frankly gargantuan aftermarket in place to support owners, and there are clubs and events to offer advice and keep your mojo topped up. Yeah, you're still going to have to battle rusty bolts and dents, but you can do so safe in the knowledge that help and motivation is never far away. Plus, Beetles are cool.
What is it? 
The car we have here is a Mexican built 1984 Volkswagen Beetle. Still an official Volkswagen product, these Mexican version are popular in Beetle circles, as they are often a lot newer and as such, potentially more solid. This one is right hand-drive, and while it's a bit rough around the edges it is a runner and it is complete. This is the last hurrah for the original Beetle, as there were no significant revisions after this version. It actually remained in production until 2003, by which point some 21,000,000 had been built. No wonder, then, there is such a huge following for this charming little car.
Why is it a project? 
This one is a bit challenged, aesthetically speaking. The wings are battered, the body has its fair shar of dents and while the interior is original, it's a little worn. But we can forgive it all those things, because it's an old car now. It's had a life, so some wear and tear is to be expected. Crucially though, and this is what sells it, this Volkswagen Beetle has been loved. The welding has been done, as has the wiring. There is still some work to do in terms of the looks, the interior and the body. But it strikes us as being a good, solid base to build the Beetle of your dreams. Plus, it's only £3,250, which is a bargain in anyone's book.
Five things to look for:
1) Rust
It might be late in Volkswagen Beetle terms, but it's still a 37 year-old car, and one that likes to rust. Floors are common spots, as are the heater channels in the rear. Roof rails/gutters can go, as can the A pillars and screen surround. Just have a good check, take a magnet with you and make sure it sticks.
2) Wiring
The Beetle's wiring was never its strongest point. As you can see, when you open the bonnet you're confronted with a gathering of wires. The owner says this car has been re-wired, which is good, but it's obvious some further tidying is needed, so do have a close look at what's there.
3) Suspension
This Beetle doesn't seem to have been lowered, which is a good thing. If done incorrectly it can stress the front of the car and effectively split it. It can also ruin the drive of the car, which is sub optimal. While it looks to be at stock height, have a look and make sure it's not been lowered in the past.
4) Engine
The air-cooled flat-four engine in the Beetle is pretty bulletproof, and this one is indeed a runner. Plus, it's the more favoured 1.6 unit. The main things you need to check for are leaks from fuel and oil lines, and also end float. This is movement in the crank, which can be detected by pulling the crank pulley. If it moves, it might be rebuild time.
5) Rear brakes
The seller states that the rear brakes and rear wheel bearings may need attention. It would be advisable to try and find out how bad things are. It might be a bit of play, or the bearings could be entirely shot. As for the brakes, are they functional but weak, or completely shot? Parts are a doddle to find, but better to know what you're likely to need going in.
What should you do with it? 
The world, dear reader, is very much your oyster when it comes to this 1984 Volkswagen Beetle. You could run it as is, in a sort of rat look fashion. You could go the other way, and restore it back to original specification. Or of course, you could build it into the custom vehicle of your dreams. If it were our money, we'd lower it properly, fit sloping front wings and early rear wings, fit wide-five banded steels and have the interior trimmed to perfection. A nice gloss pastel colour would set it off just right. But that's us. What you do with it is limited only by your imagination.