1997 Suzuki RF600R – Car & Classic Fleet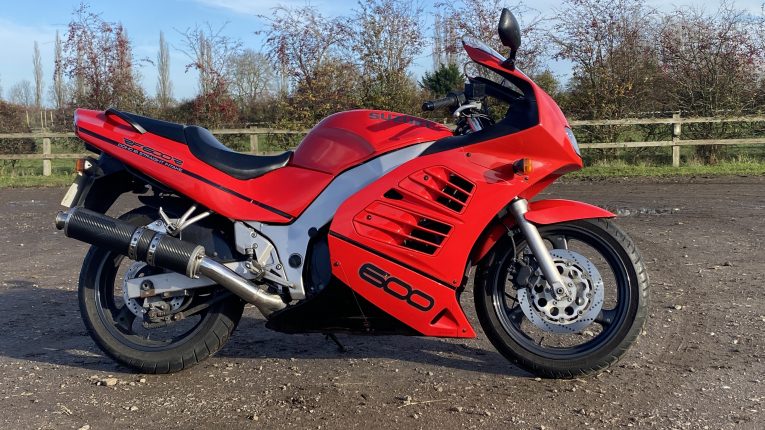 Project Profile pieces are more usually reserved for cars for sale in the classified adverts that we feel are worthy of more than just a small ad. However, this one is slightly different – it's a project we're taking on to bring back to life and enjoy ourselves and we thought you might be interested to follow us on that journey.
What?
The subject of our imminent work is a 1997 Suzuki RF600R; one of the mid-1990s crop of 600cc sportsbikes. It's a genre that is all but demised now, as former sportsbike riders unfold their arthritic joints to enjoy taller and more upright sports tourers or adventure bikes and younger riders… well, there aren't many younger riders, unfortunately…
The RF600 was the middleweight in the family – it was flanked by the baby 400 and the bigger 900cc versions and had a fairly short run – from 1993 to 1997. All variants were fairly straightforward – if a little basic – examples of the breed; water-cooled inline four-cylinder engine, double overhead cams, 16 valves, four carburettors spraying unleaded into the motor which drove a six-speed gearbox through a multi-plate wet clutch. The 600 gave out 100bhp at a lofty 10,500rpm with a 12,000rpm redline – typical for a middle-capacity four-pot.
It had twin-pot Nissin sliding calipers up front (decent enough) and a single caliper at the rear and it was all held together in a fairly standard steel frame with a steel double-sided swingarm at the rear.
Suspension was basic; eventually, it got adjustable preload at the front and preload and rebound damping at the rear and it was surprisingly comfortable while still being fun to ride. It wasn't the full-on performance track weapon that other manufacturers were producing at the time but it was solid, reliable and enjoyable.
This particular bike is one of the last examples, as identified by its silver frame and red paintwork. It actually belongs to my father-in-law but he's given up bikes for ever-more interesting cars and handed the bike to me, on long-term loan.
Why?
Why do I want this bike and to do this work? Well, while the father-in-law may not be likely to ride it again, it's still his and as such, it demands a little respect. I like tinkering and it is a perfect project for the winter – it's fundamentally in good shape but needs a refresh before it can be brought back to its former glory.
I haven't really ridden a sportsbike. I had a Suzuki SV650X café racer for a while – probably the closest bike I've had in terms of style and concept to the RF – and I loved it. It was great fun to ride and I did a couple of track days on it, where it excelled. Motorways and long journeys were less fun mind, but that's not what it was about.
Something along those lines is what I'm thinking with the RF. It will be something for the weekend, sir. Not a workhorse but a plaything; something to wheel out on sunny Sunday mornings, point it towards a decent burger or an excellent chippy on the coast somewhere and get going, like something out of Tron.
Or stick a set of leathers on and head for a road-bike-only track day, firmly in the novice class. I reckon my aged back would be able to get to Brands Hatch, Cadwell Park or maybe Donington if I load up on enough Ibuprofen, so an arrive and ride day out should be another perfect way to enjoy this bike.
Wherever and whatever, there will be no intercoms, no sat-nav, no panniers or cruise control; just good old-fashioned '90s motorcycling, complete with a Carnell rear number plate, £110 a year insurance and a fuel cock that switches between 'On' and 'Reserve'.
How?
Even though the FIL stopped riding it regularly a year or two ago, he kept it MoT'd until the last ran out recently. However, it has largely stood in his garage for the last few years so even though it remains in decent condition – some minor rust here and there and evidence of it being dropped on both sides at some point in its past – it does require some gentle recommissioning before hitting the roads again.
The first job is to get it running. Currently, it spins over perfectly but nothing seems to happen until an occasional, huge backfire. The smell of petrol coming from the exhaust seems to suggests there's fuel in there somewhere (there's a healthy sloshing from the tank but who knows how old that is) so I suspect it'll need the tank lifting off (before I can get to anything) and a good look round at the plugs and carburettors.
The standard service schedule suggests the valve clearance should be checked every 7500 miles and as far as I can gather, it hasn't ever been done even though the bike only has 12,000 miles on it. So while the tank is off, I'll check that (I'm capable of checking…) and if they need adjusting, then perhaps I'll get a specialist for that bit. While I'm at it, I'll probably change the fuel lines to something a bit more modern.
The next thing I'll definitely need to look at is the brakes. It'll still be on the original hoses, probably the original fluid and rolling it out of the van after collecting it and pushing into the workshop shows they are dragging at both ends. So a set of replacement hoses and caliper rebuilds are on the menu, as well as probably new pads in perhaps a slightly sportier compound than the originals.
It will also definitely need new tyres. I don't know how old they are – I haven't found the age identifier yet but its largely irrelevant – the rear is nicely squared off and that will throw the handling all to cock. As this is going to take a few months of evenings and weekends and I don't want to ruin the bike in a British winter, a pair of decent sports touring tyres should fit the bill in late winter or early spring. Internet research begins here…
The last major job may – and I won't really know until I've ridden it to the MoT test station – be a suspension rebuild, Again, the oil in the forks is probably the original and it should be possible to change it without too much trouble (famous last words) as well as the seals, if I'm at it. As for the rear shock – I don't know if it's possible to overhaul that myself or if it's a professional job (if it's possible to overhaul it at all, of course) but time will tell on that one.
In the meantime, I've added the AA to the favourites list on my phone and am building up a list of bits…
1997 Suzuki RF600R
Engine: Water-cooled inline four cylinder, DOHC, 16V
Power: 100bhp @ 10,500rpm
Torque: 48lb·ft
Weight: 198kg
Seat height: 775mm
Fuel capacity: 17 litres