1997 TVR Cerbera – Auction Car of the Week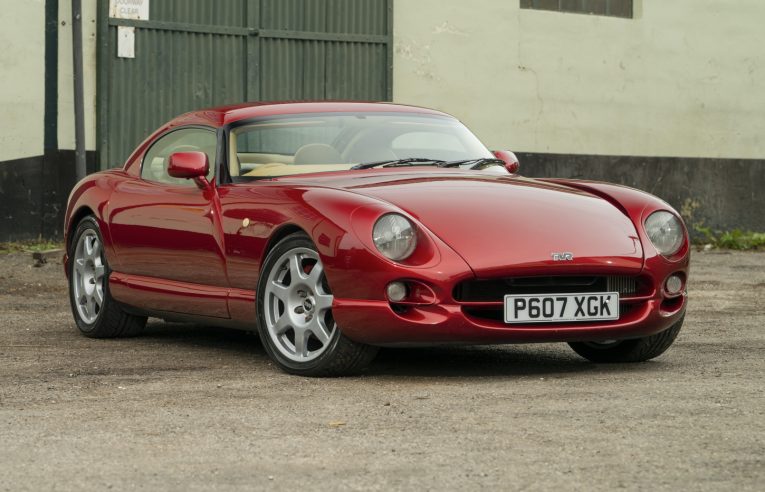 TVR are renowned for making bonkers cars and we love them for that. Not only are their creations a bit mental, but the British firm from the south east also makes them fast. The Cerbera was no exception and it remains one of the company's most exciting models to this day.
The Cerbera was unleashed onto an unsuspecting public in 1996 and it was rather special because not only was it the first 2+2 that TVR had produced, but more importantly it was also the first car to utilise an engine that was developed entirely in-house. And boy what an engine it was. Designed by British race engineer Alwyn 'Al' Melling, who came with legit Formula One credentials, the lightweight 75-degree, flat-plane crank V8 the boys at TVR produced was essentially a race engine. Dubbed the 'Speed Eight' the original 4.2-litre produced 360bhp with a later 4.5-litre churning out an incredible 420bhp and the final, re-mapped incarnation developing a whopping 440. TVR certainly meant business.
Designed as a four-seater (albeit with much smaller pews in the rear) the Cerbera was, and still is, a serious car for serious drivers. There are no electronic driver aids here to fall back on, it's just you and the car and if you get it wrong, well, that's entirely on you my friend. It's a snarling beast which befits its name with a 0-60 time of under four seconds for the larger displacement variants and a top whack of around 190mph.
Showcased, rather famously now, by a somewhat passé Jeremy Clarkson as a giant killer, the Cerbera was pitched in a drag race against the titans of the time in the form of an Aston Martin Vantage, Caterham Seven JPE, Dodge Viper, Lotus Esprit V8 and a Porsche 911 Turbo. Considered to be some of the fastest production cars in the world at the time the plucky TVR proceeded to decimate all-comers in a mile long dash. It was quite the sight and proved decisively that it was a car to be reckoned with.
And if your whistle is now suitably whetted, dear reader, then we have just the car for you. This 1997 TVR Cerbera is currently available via Car & Classic Auctions and is a prime example of the marque. Having only covered a little over 50,000 miles this 4.2-litre version is in beautiful condition throughout. Speaking of the engine, the sonorous V8 received a tune-up earlier this year, care of Taylor TVR, as well as a 12,000 mile service which included setting the correct valve clearances, a new Lambda sensor, throttle cable with balance bars, steering rack gaiters, ball joints, heater pipes and a new battery. Perennially looked after by TVR specialists the car has been in good hands since day one.
Not only that but past works include a new oil cooler, alloy radiator with silicon hoses and stainless cooler pipes, a full gearbox rebuild and lightened flywheel as well as uprated driveshafts. The car also has Gaz adjustable shock absorbers, polybushed suspension and a sports exhaust fitted. While no longer standard we're sure you can agree that these are some choice upgrades that make an already spectacular car just that little bit better.
The paintwork on the car is in top shape, bar a few stone chips here and there and the typically mad interior is all present, correct and fully functional. These Cerberas are notorious for chassis corrosion but we are happy to report that the outriggers and chassis were recently inspected and are clean but the car would benefit from a light rub down and application of a good underseal as preventative maintenance.
All in all this appears to be a very tidy Cerbera with a comprehensive history and some nice additional upgrades. The Cerbera remains a genuine ballistic missile and if you've got the guts there are few cars to equal the rush, even today. Go on, chuck in a bid. We guarantee you won't be disappointed and you'll be grinning from ear to ear every time you fire up that glorious V8 and disappear down the road in a hail of endorphins and tyre smoke.