2021 Goodwood Festival of Speed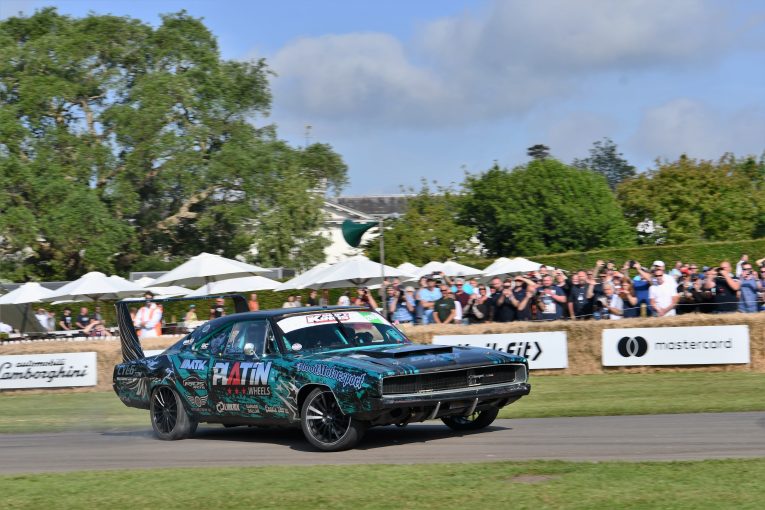 The Goodwood Festival of Speed has evolved significantly from its humble beginnings in 1993. What started as a low-key event with a handful of classic race cars, sparse straw bales and money collected in buckets on the gate has transformed into a four-day motorsport colossus, with countless fans turning up to revel in a mind-blowing, dazzling array of cars, bikes, riders and drivers. Everything from 100-year-old smokers to contemporary Formula One cars, battle-scarred rally heroes to classic Le Mans racers is covered, along with representatives from every automotive niche you can think of. NASCAR, dragsters, cutting-edge supercars, you name it. There's even a full-blown rally stage up in the forest.
The thing that really marks the show out from the rest is the high-octane drama – this is no static showcase, there's hundreds of millions of pounds'-worth of machinery being thrashed hell-for-leather up the hill or through the woods. The Festival of Speed is, in the words of Ron Burgundy, kind of a big deal; the Duke of Richmond's annual garden party offers unparalleled diversity on a scale that you simply won't find anywhere else, and the colossal majesty of it all is self-perpetuating: because it's a world class event, it attracts world class cars and drivers – anyone who's anyone wants to be there, manufacturers use the show for exclusive new model reveals, and all the greatest driving stars want to be a part of it. There are certain touchpoints that you know you'll find at the FoS every year: the Sunday shoot-out, the Forest Rally stage, the Bonhams auction, the Cartier Style et Luxe concours lawn for those unattainable classics, the supercar paddock with all the latest multi-millionaire metal, the Future Lab to show us what's coming next – and every year it's unique, with different marques, landmarks and milestones being celebrated. So, how to distil the 2021 event into a top-ten of favourite cars? Well, frankly, we couldn't. After whittling down all the cool things we saw, we still had a list of about fifty cars. So here, below, is a brutal scything of the very best of the best things we observed… although if you ask us tomorrow, it'll probably be a different list. There's just so much to see.
Kimera EVO37
There's a special spot next to the concours lawn that's become reserved in recent years for the unveiling of exciting and devastatingly pretty machines. At the last running of the show in 2019 (er, let's not talk about 2020, stupid virus) this spot saw the reveal of the De Tomaso P72. This year? It was the Kimera EVO37 – a restomod tribute to the legendary Lancia 037 rally car.
Its twin-charged 2.1-litre four-pot shares its block with the old 037, but pretty much everything else has been upgraded, meaning that it kicks out a furious 500bhp (quite a lot more than the 270bhp of the original). The car has a manual gearbox, Brembo four-pots and Öhlins dampers, and it's all wrapped up in a sublime custom body that pays tribute to the 037's proportions and casts the details deep into the 21st century. So we'll be needing some new skin please, because we've been biting the back of our hands at how beautiful this is.
Airo
How do you fancy the idea of relaxing in a living room while also wafting down the Kings Road or hurtling up the M1? That's essentially the idea of the Airo concept car that appeared in Goodwood's Future Lab.
A stalwart of the show for a number of years now, Future Lab showcases what's now and next in emerging and developing technologies, and the interesting thing about the Airo (or, indeed, one of the many interesting things) is that its creator isn't a car designer. Thomas Heatherwick has worked on such disparate fare as the Vessel Building in Manhattan and the 2011 London Routemaster bus; the Airo came about when his studio was approached by a Chinese brand, IM Motors, to draw up a mould-breaking EV. The result is a multi-functional room on wheels, that can be used for dining, working, gaming or sleeping; it's electric and autonomous, and get this: it has a HEPA (High-Efficiency Particulate Absorbing) system which actually makes the air around it cleaner as it drives along.
E-Gal E-Type
Reworking and updating old E-Types is big business these days. It's the perfect base for such shenanigans, because while the Jag is a shining star in the automotive firmament, it sold so well in period that they're not exactly rare these days – hence why the likes of Eagle, Helm and E-Type UK are doing very well for themselves and having lots of lovely dinners.
Of course, mucking about with E-Types has been going on for generations, and the car you see here is something of a trailblazer of the concept: known as E-Gal, it was built in the mid-1960s as a club racer. The muscle car styling, with the side-pipes and fat lettered tyres, might be a clue to the powerplant: yep, there's a whacking great American V8 in there – to be precise, a 7.0-litre motor from a Ford Galaxie (hence the name). Recently restored to period specs by CKL Engineering, it's an absolute monster that sounds as good as it looks.
Opel Corsa GSi
The Forest Rally stage at the top of the hill is a glorious undulating ribbon of twists, yumps and unexpected cambers – next time you visit, we'd recommend crossing the footbridge and heading for Mexico corner, where you'll see all sorts of tail-out action. Because this stage, particularly if it's wet, provokes endless oversteering mayhem from the RWD Escorts and suchlike that stud the paddock.
But the rally car we've chosen here isn't a lairy powerslider, but instead a plucky little buzzbox in the form of a 1989 Opel Corsa GSi. (You can call it a Nova if you like.) Looking more Col de Turini than Southend seafront, this is the car that David Metcalfe drove to 4th place in the 1992 Manx Rally, surprising all the slidy big-power brutes in their Sapphire RS Cosworths and Subaru Legacys. For a generation who grew up puttering about in £200 1.0-litre Novas as their first cars, a stickered-up rally version will always have a place in the dream garage.
Bricklin SV-1
If you ask most people to name a car with gullwing doors, they'd almost certainly suggest the DeLorean DMC-12 as the first choice. Maybe the Mercedes-Benz 300 SL. Supercar aficionados may mention the Merc SLS, and those of an offbeat persuasion might even say the Bristol Fighter. All of these cars appeared on the Cartier Style et Luxe lawn as part of a collection of gullwing oddities, but the one that was really stumping the crowds was the ultra-obscure Bricklin SV-1. This bonkers Canadian-built sports car was only sold for two years, from 1974-75; it sported a substantial V8 motor along with those rakish pneumatically-operated doors, but curiously the focus of the car was on safety. Indeed, the name stood for 'Safety Vehicle 1', and the design boasted an integral rollover structure and impact-absorbing bumpers. It also featured no ashtrays or cigar lighters, as Malcolm Bricklin's keenness on safety took a holistic approach.
Hyundai Ioniq 5
There have been more and more electric cars at the FoS in recent years, and this year the show dedicated a huge 'Electric Avenue' to the latest models, showcasing EVs of all genres in a neon-lit canopied promenade complete with unsettling buzzing noises piped through speakers which, er, hopefully won't be an integral part of our electric future.
One of the coolest things there was the new Hyundai Ioniq 5, simply because it's just a really good bit of design. As the world marches ever deeper into SUV territory, Hyundai has railed against this by making a car that's more of an oversized hatchback. Furthermore, it's positively dripping with gorgeous design elements, from the artfully slashed wheelarches and side-strakes to the 8-bit splendour of the taillights. We like this thing a lot.
BMW Z8
Bonhams has long been a friend of Goodwood, and the Festival of Speed Sale is a clear exercise in swankiness: to enter the Bonhams arena, you amble through the front doors of Goodwood House itself, follow the red carpet through to the courtyard at the back, and find yourself having to trade in a kidney for an auction catalogue. Oh, and what treats lie within! Six-figure classics, contemporary supercars, veteran racing cars, it's a tasty bunch. Our pick of the lot this year was the 2000 BMW Z8, as it's just such an achingly pretty thing. Sure, that S62 V8 appeared in some rather more engaging driver's cars (like the E39 M5 and the Ascari KZ1), and by all accounts it was a bit soggy through the corners, but just look at the thing: that, right there, is retro done right. The ethos of the classic 507 runs right through it, but it's not a pastiche. It's utterly splendid.
Genesis G70 Shooting Brake
Genesis is a fascinating new brand. It's the luxury arm of Hyundai, in the same way that Lexus is to Toyota or Infiniti is to Nissan, and they've actually been selling cars in all markets except Europe for a few years. Why hold off on Europe? Because the premium car sector is notoriously tricky to break into – everyone buys German by default (just look at how badly luxury Peugeots have always sold), so Genesis wanted to make sure they got it right. Their range of cars can essentially be pigeonholed as BMW-alike prices with interiors a level above: perhaps not quite Rolls-Royce-like, but not far off.
Launching at the Festival of Speed was the G70 Shooting Brake, an extremely handsome estate car with a massive list of standard spec. There's a choice of muscular petrol and diesel engines, but if you want to wait for an EV that'll undoubtedly be along in due course.
Drift Charger
Drifting grew out of the touge roads of Japan, which is why Japanese cars have traditionally ruled the roost when it comes to skidding about and making a nuisance of your tyres. German fare has been making headway in recent years (hence why you can't buy cheap E36 BMWs any more), but this is the first time we've seen someone drifting in a classic Dodge Charger. Looks brilliantly menacing, doesn't it?
The brainchild of boisterous Frenchman Alexandre Claudin, it's running a supercharged LS6 V8 with around 1,000bhp going to the rear wheels. Which is magnificently silly, and we're very much here for it.
V8 MINI
A large part of the Festival's appeal is the trade village, showcasing all the latest wares from a whole kaleidoscope of interesting companies. And some of them bring along their project cars too…
Just check out this utterly insane MINI we spotted on the Powerflex stand – a colossal amount of painstaking effort and intelligent engineering has gone into this, and the eagle-eyed will spot that there's no longer a four-cylinder motor in there. No, that's the 4.0-litre V8 from a BMW M3! Elsewhere within you'll find the BMW's DCT transmission, a rear-wheel drive setup with a Subaru Impreza LSD, custom Bilstein coilovers, and massive Alcon 6-pot brakes. A genuinely astonishing build, and a neat demonstration of how the truly thoughtful exhibitors really love to put on a show.