Adventure Time – All Terrain Bikes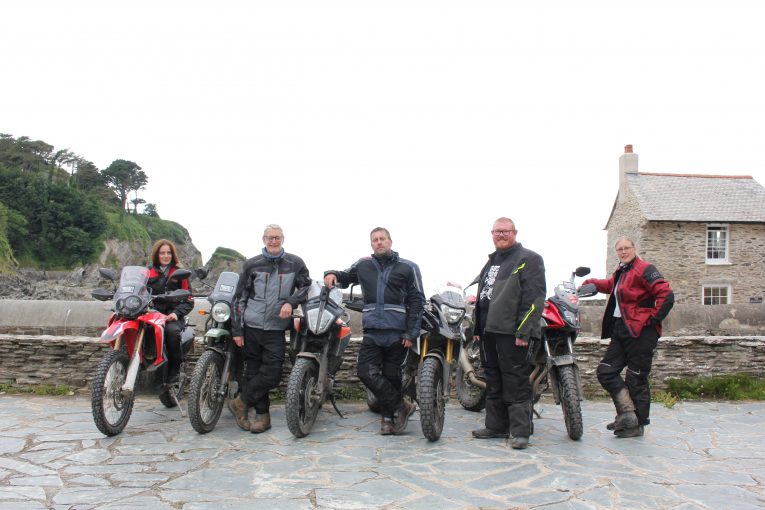 This fair isle of ours has some truly stunning geography ripe for adventure; the majesty of Glen Coe or Snowdonia, the solitude of the North Yorks Moors or the raw energy of the Atlantic coast. But one area that has a little of everything is Devon.
South Devon is home to the English Riviera, a stretch of three seaside towns – Torquay, Paignton and Brixham – on the edge of Torbay and everything that goes with the quintessentially British coast; piers, amusement arcades, kamikaze seagulls and tourists. Lots and lots of tourists…
The north Devon coast is a different kettle of fish altogether though. A lack of major towns or cities (the Riviera sits between Exeter and Plymouth, two university cities) means that people head there for very different reasons. Notably, the scenery and the beaches. Universities are replaced with fishing villages and holiday rentals; cheap souvenir shops are replaced with surf schools and – unfortunately – the local traffic is replaced with lines of luggage-laden people carriers, caravans and motorhomes.
One of the best ways to explore this part of the county is on a motorcycle but even then, you can still find yourself held up. A large tourer, such as a BMW RT or even a sport-tourer like a Kawasaki Ninja 1000SX, loaded with panniers and luggage, can still find it tricky to filter through traffic while a large adventurer, such as a BMW GS or a KTM 1290 can be a handful for the smaller of the local lanes.
What is perfect is a lightweight, small and manageable dual-sport bike; something that is easy to ride and at home on the nadgery hedge-lined single-tracks as well as the faster and more open A-roads – there are very few dual carriageways and just a single stretch of motorway in the whole county. But of the bikes on the market, which one is best suited to your needs?
Well, there is an easy way to try a selection of the top contenders, sample some of North Devon's twistiest roads, quietest coffee and lunch stops and even enjoy a little easy-going off-road green laning, all in one day. Cue a visit to Dorothy's Speed Shop in Braunton, close to the west coast.
The brainchild of adventurer Nathan Millward, Dorothy's (named after the Australian postie bike he rode from Sydney to London) offers a range of adventure motorcycling excursions, including what is described as the 'A2 adventure-bike day'.
The idea is you get to try four of the most popular A2 adventure bikes over the course of the day. These are bikes that can have their engine power restricted to 35kW (47bhp) to make them accessible to riders who have only gained their A2 licence (from the ages of 19 to 24). They are also typically lightweight off-roaders or commuters – the average weight of the four here is 170kg, compared with a BMW R1250GS Adventure that is 100kg heavier.
On the day, everyone rides each bike with changes taking place at coffee or lunch stops and there are a couple of optional off-road forays for those who fancy it. However, as they are all up-and-down, anyone not wanting to get down and dirty can simply wait for the rest of the group to return before continuing on the roads.
According to Nathan, he developed the concept primarily for owners of larger bikes who, for a variety of reasons, decided they wanted to try something smaller, lighter and more manageable and he could offer four of the market-leaders to ride in a day.
While one of the huge advantages of Devon as opposed to say Cornwall is it is fairly accessible from the southern half of England (four-and-a-bit hours from the Midlands), getting to Dorothy's for 8am is still a bit of a hike so Nathan offers overnight accommodation as a bolt on either the night before, after or both. I opt for the night before so I can get to Dorothy's reasonably fresh, ready for proper coffee and breakfast cakes.
As I wander round the workshop, admiring the souvenirs of a decade of adventuring, the other riders for the day begin to arrive. Matt has a holiday home down here and while he rides a KTM 1290 Super Adventure as a daily, enjoys something lighter on the narrow Devon lanes. David has done one of Nathan's Garbage Runs and already owns a Royal Enfield Himalayan so is testing the water for bikes for his son, so they can have adventures together. Becky has both a Honda CFR250L and a sporty CBR650R dry-weather bike and fancies something for all weathers while Ruta is looking for something a bit more dirt-focussed for off-road adventures with friends.
We start with a quick briefing on the day; what we're doing, where we're going and how the whole insurance thing works. We're all fully covered and minor dings from drops off-road will generally be covered but, like the gift shops that litter the south Devon coast, you break it, you mend it. Entirely fair enough…
Nathan runs over the bikes briefly; the Honda CRF250L Rallye is the most off-road focussed of the four. The KTM 390 Adventure is the most road-focussed and while it will do off-road, it doesn't really dig it. The BMW G310GS is reasonable at most things though few find it stunning at any and the Royal Enfield is low-powered but easy-going and capable.
We mount up for the first leg and I find myself approaching the CRF. It looks enormous, with its 895mm seat height but its long-travel suspension is so soft – to allow it to soak up off-road lumps and bumps – that as soon as I put my not-inconsiderable bulk on the saddle, it sinks to the ground and I can easily get a foot down.
That soft suspension, combined with the proper knobbly off-road tyres, means that the first few miles are a wobbly and inaccurate ride. Having spent the best part of the previous day on the latest KTM 1290 Super Adventure S (an adventure bike with superbike engine, brakes and suspension), it takes a few minutes to recalibrate my brain but I soon adapt, using the bike's 24bhp and single-disc front brake as well as can be expected.
We pause soon after to admire the view over the stunning Saunton Sands beach, with the water full of surfers taking in the early waves. We're perched against the side of a hill with cliffs below in a narrow lay-by, as a telepathic 'smoke 'em if you got 'em' signal goes out and several riders spark-up in unison. It's times like this I wish I still smoked…
Before long, we saddle up again and Nathan asks who fancies a romp up an easy green-lane? We all do, so off we head, for a Byway Open to All Traffic (BOAT). Technically (and legally), it's a public road even though it looks more like a farmer's track; barely a vehicle wide with wet, slippery grass down the centre and two water-filled narrow tracks either side. Nathan advises everyone to just take it easy and avoid the grass – other than that, have fun but be aware that horse-riders, dog-walkers and mountain bikers may well also be on the track, so mind the speed.
It's clear I'm on the best bike of the selection for this; the Honda's suspension soaks up any and all of the surface imperfections, which are constant. I make a conscious effort to keep my gaze as far ahead as possible, as focussing on the ground just ahead of the front wheel is a recipe for disaster – that's about all I know about riding off-road – and enjoy the confidence the Honda gives me.
I stay off the grass and crash through the waterlogged holes, the engine responding just-about well enough in second gear to keep the momentum up to stay in control – the bike, not me. By the time we reach the top of the hill, I have bits of hedgerow stuck in the handlebars and my gloves, I'm sweating and panting and grinning like a fool – that was awesome!
I wait with my camera poised as the rest of the group carries on a little further and turns around to come back down, so I can take some pics. It takes a while – there have been a couple of low-speed tumbles but everyone is fine. The group comes past, leaving me on my own to mount up and ride back down again; cue more undergrowth battering me and the beginnings of a hay fever outbreak. I have almost my own weight of insects stuck inside my helmet but I am grinning even wider than before.
We carry on for a bit before the first proper stop, for coffee, cake and water at the Red Barn in Woolacombe, now beginning to hot up as the world is on the verge of unlocking on 'Freedom' day. I get funny looks for asking for two double espressos in one cup but my system needs the caffeine…
After an appropriately long pause, we all swap round for the next leg and I find myself on the BMW G310GS. Before I even put the key in, it's a very different beast; lower and instantly more of a road-bike, Nathan has already described it as a 'Marmite' bike. I start it up, roll out of its parking space and snick it into first. And immediately stall it.
Where the CRF is all compliant and bendy, the GS is all switchlike and digital. Controls are on or off with little in between. The clutch is in or out and the throttle is either at idle or bouncing off the limiter; hence the stalling and eventual kangarooing up to road until I get both feet on the pegs. It's firmer than the CRF and as a result, is tighter on the road and is a much more accurate ride. It's not particularly engaging though – the CRF had character because it was floaty but the BMW just kind of goes…
We reach another green lane, this time a smoother, re-graded gravel and flint road. It's wider than before but we can already see the erosion caused by recent rain, carving out tracks in the rising track ahead. We're all up for it so off we go and instantly, the BMW feels as uncomfortable as the CRF felt at ease on the first one. The bars are too low for me, so I'm farther forward than I would like and the pegs feel high, so the stood-up riding position is ungainly and compromised.
Within a few feet of the start, the back wheel clips the edge of a rock and instead of riding over it, the whole rear of the bike does a jump to the left, followed by a step to the right. With my hands on the bars, I had to pull my knees in tight. It continues to buck its way up the track to the top where again, we turned around and ran back down again. By the time we returned to the start point, I was sweating again but the grin was absent…
Onwards and after a few monumental downhill tracks to test the BMW's brakes and engine-braking, we arrived at Watermouth Harbour for lunch. The tide is out, so the view is of various boats sat on their keels, being attended to by brave vans and 4x4s. We fill up on superb home-made pasties and sandwiches with the bikes, now covered in baked-on muddy water, drawing admiring looks from young and old visitors alike.
Now full of pastry-based food, we swap round again and I find myself on the Royal Enfield Himalayan. I know there is a fondness for the bike among Nathan's community; he's on one and tail-end-Charlie Pete is also riding his own example. And by the time I get both feet off the ground, I see why; it's great.
It's low enough to be comfortable on the road but the controls are in the right place to make standing up just as right – certainly for 5'8" me. The engine may be a relatively low-powered single thumper – this Euro5 version I'm on has a whopping 0.3bhp more than its predecessor, at 24.3bhp – but the gearbox and clutch are good enough to make using them as you need so easy. It has a relaxed dynamic to it; going where you point it with a degree of lethargy that is a delightful counterpoint to the BMW. I start to really get into it and have to suppress a grin when the rider on the BMW I was on before starts swearing as it stalls on a tight uphill hairpin. "Thing tried to kill me…" he exclaims.
I enjoy the Himalayan more with every mile. We're still on tarmac but it's got all sorts of nastiness on it; mud, gravel, even some sand but the Enfield just floats over the lot. It's neither harsh nor vague but comfortable and connected. I'm delighted when we pull over for a quick breather and Nathan says we're heading back to the second green lane to try it again, all of us on different bikes.
However, our plan soon falls by the wayside… literally. We're on tight, single-lane roads and a VW camper coming the other way does his best to pull over to allow us past. Nathan, Becky and I manage to squeeze between the new-looking van and the dry-stone wall but, as the driver of the VW tries to move farther over to give us more room (probably terrified of one of us gouging the side of the paint), he hits a particularly sharp-looking bit of stone and pops his tyre.
In the kind of spirit that I have come to love with motorcycling and in particular, this group, we all park up, direct him to an accommodating homeowner's drive and set about changing the flat tyre for the aging occupants. With more than enough cooks involved in the process, some of us tactically stay out of the way and admire the stunning location of the house we are stood outside; bottom of a valley alongside a bubbling stream, with no sound at all other than the occasional clang of a wheel brace.
While we wait for the spare tyre to re-inflate, I walk back up the road to remove the offending stone so it doesn't claim another victim. It's a whopper – a proper two-hander and it's no surprise it holed his rubber. While I'm at it, I clear a few other potentials from the edge of the road too.
With the VW occupants now safely back on their way, we mount up and head off ourselves – we can just get that green lane in if we're quick. However, as soon as we set off, it's clear something isn't right with the Enfield. It just feels wrong though the front and rear tyres appear to be holding air. Soon afterwards though, the rider behind me starts flashing and sounding their horn and it's the rear tyre that has gone down.
We pull over and though Nathan has tools and tyre levers with him, he doesn't have another inner tube for the Himalayan's spoked rims. So we sweet-talk a local farmer into letting us park the Enfield in one of his barns so Nathan can come back later with the van to pick it up. He hops on pillion with another of the gang and I jump on the KTM for the ride back to base.
The little orange machine is a lairy thing; all lively and eager like a teenager on speed. It is definitely the most road-focussed of the group, with a surprisingly punchy motor and nimble handling. It's a bike you sit on top of, as opposed to in like say the Enfield and its controls are sharp and willing, echoing the brand's 'Ready to race' tagline. A couple of the other riders have said it isn't particularly well-suited to off-road like some of its larger siblings and I can only imagine – the delay with punctures has meant we are heading directly back to base and bypassing the off-road excursions. A shame but there it is…
Back at base, it's time to put the kettle on, discuss the day and our findings and make our marks on Nathan's running total of preferences for the bikes. It's interesting to note that of them all, the Himalayan has the highest number of preference marks. I concur; for me, it is the best all-rounder. Sadly, I didn't get to ride it off-road but others did and say that it handles it perfectly well and I know it's enjoyable on the road. It's not as able as the CRF on the loose but is enough for the trails we rode today which, if I'm honest, are about the level I'd like to ride more. It's not as lairy or willing as the KTM but if I wanted a bike like that, I'd buy a proper one and enjoy back-road scratching. The BMW does everything competently but doesn't have any real character to it. For me, the Himalayan was the star of the day. I now find myself genuinely looking around for one.
And at less than £5000 brand new, I probably don't need to look far…
Who's Nathan Millward?
Nathan has been riding adventure bikes for ten years, having ridden an Australian postie bike – a Honda CT110 – back to London from Sydney, covering 23,000 miles in the process, in 2009. This led to a couple of books and magazine work, writing travel stories and testing products for the off-road market.
His first travel venture was the Garbage Run, a Land's End to John O'Groats run on budget bikes for customers, which was a huge success. He then ran one crossing the USA and another from Sydney to Perth across the Australian outback, before shipping the nine Postie bikes the group used to the UK to add to the fleet.
He then set up Dorothy's Speed Shop with a view to offering a range of riding experiences in the midst of the 'Staycation' culture that followed the pandemic.
What does Dorothy's do?
According to Nathan, so many people over-bike themselves and this limits the scope of the trips they can do. The A2 class is a really good one and the idea of this day is to ride them all in a real-world setting to see which suits you best and prevent riders from making an expensive mistake and buying the wrong bike.
This is a day riding one of the fleet of ex-Australian Postal Service CT110 'Posties' around the Devon lanes. They're smaller and lighter than the A2 bikes though you still need an A2 licence and are also easier to handle – they use clutchless, four-speed manual transmissions and are, apparently, great fun.
While the Himalayan is exceptional as an all-rounder, its bigger siblings, the 650cc twin-powered Interceptor and Continentals, are a different prospect altogether. Spend a day riding these superbly-selling retros around the asphalt lanes of Devon and get an appreciation for why they have been so popular since their launch.
Other activities
Dorothy's also has a variety of other activities going on, including trying the characterful Moto Guzzi V855TT adventurer, a five-day 'Staycation' sampling everything from Dorothy's menu or even bespoke packages built around you.