BMW E39 5 Series – The Time Is Now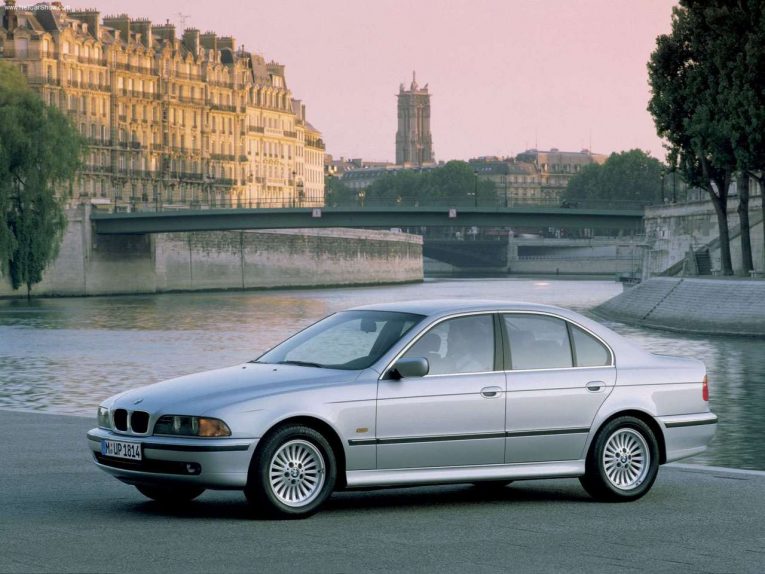 Some things in life are certain, like for example, the fact that a good BMW has the potential to become a classic. Admittedly that might be a bit hard to imagine with the company's hideous, big-grilled contemporary offerings. But turn the clock back to the cars of old, and you can be certain that classic status awaits. The most prevalent in this arena are the 3 Series models, with E21s and E30s now commanding a significant premium. But don't think the classic dreams stop with BMW's baby. The big 5 Series has been one to follow the same trend. 
Today, you can expect to pay four figures for a truly rough and rotten E28. The E34, while slightly more resilient on the rust front, is also now going up in value. There was a time when you couldn't give them away, but now you have to save long and hard if you want to be a part of the E34 club. 
This brings us then to the E39, the fourth-generation of 5 Series, and a car that was engineered to absolute perfection. It was so well-made, so perfect in its construction that it was exemplary not only in terms of being a car, but also in terms of being a German car. Yeah, it raised the bar for its home team, and quite significantly at that. Many people refer to it as being the last truly mechanical 5 Series, by which they mean it's not overly laden with tech like iDrive and electronic this and assisted that. As such, it's still a car that appeals to the driver as well as the general enthusiast. Yet despite this, prices are currently still low. As such, the time is most definitely now. 
An introduction to the BMW E39
Development for the E39 actually began way back in 1989, though all told, it wasn't completely resolved until 1995, that same year the car went into production. The design, which was softer and more curvaceous than previous 'hard nosed' models was penned by Joji Nagashima. The Tokyo-born designer only joined BMW in 1988, but with his vision for the E39 he soon made a lasting impression. In fact, his design for the E39 was met with such approval that it was selected and 'locked in' by BMW's new Design Chief, Chris Bangle. Nagashima would go on to pen the Z3, the E36 and the E90 BMW models. 
Back to the E39. It was a remarkable leap forward in terms of how it was constructed. BMW wanted to drastically improve upon the E34, which was by no means a bad car to begin with. As such, the E39 was the first 5 Series to boast front suspension that was, for the most part, made from aluminium parts. Though it wasn't limited to the front, as the other chassis components further back were also largely changed to aluminium. 
The E39 was also the subject of vastly improved driver dynamics. Engineers managed to build 40% more torsional rigidity into the body. Add in the patented BMW 50/50 weight distribution and what we were presented with was a car that could out-drive almost anything in its class. In fact, it is still a remarkably tight and engaging machine to drive, even today. 
When it hit showrooms in '95, the E39 tried to be all things to all buyers. It was, for example, the first 5 Series to be offered with a four-cylinder diesel. It could also be bought in humble 2.0 guise, or snorting 4.4 V8 flavour. In '96, the 'Touring' estate version was launched with its clever split/twin opening rear hatch and that was it, the E39 was all the car anyone could ever need.
Once the press got hold of it, the reviews were plentiful and they were positive. Yes, the smaller engined cars left a little to be desired, but get the right engine and the right specification and what you were left with was a car that could get you anywhere and do anything. It was and still is a huge, huge success. 
And of course, the 5 Series would be nothing without an M5 performance version. The first M5 to be fitted with a V8, the raw, mechanical power made the E39 M5 an icon. A hairy-chested, chain-smoking, gravelly-voiced angry thing of a car. And one that, in all honesty, the M5s built from the following 5 Series generations have never really matched. 
What are prices like? 
Bargain basement, in a nutshell. But that won't be the case for long. The base models, the 2.0 models for example, are the cheapest. It's not hard to find an SE 2.0 with high miles and limited history for as little as £500. Obviously steer clear of these cars. Push your budget up to £2,000 onwards and you'll be laughing. This will get you a tidy 528i or 530i, with leather, average miles and plenty of service history, which is important for these cars. 
Push that budget up another grand and you're into Sport territory. And Sport territory is good territory. Never has the addition of some model-specific alloys and a bit of a body-kit transformed a car so much. You also get leather sports seats, leather steering wheel and some other bits and bobs. But above all that, you get a car that still turns heads today. But it's not all looks, the lowered and stiffer suspension takes the E39 to another level in terms of driver appeal. Get yourself a 530i Sport and you'll be smiling every time you go for a drive. 
Finally, there is the M5. These can be had for as little as £10,000, though be warned, these cars will have been abused and will more than likely need some affection as well as a couple of quid. Up your budget to £12,500 – 15,000 and you'll get a cared for example. Bonus points if you can get a pre-2000 one, as you'll get the same car, but cheaper road tax.
Why should I buy one? 
Why shouldn't you? The E39 is an accomplished, well-built, respected and above all, exciting car to own. It's handsome, it's fast in the right trim, it's engineered to absolute perfection and it's cheap to buy (for now at least). Old BMWs always, always find a following and the E39 is no exception. Trust us when we say that this car has got 'classic' written all over it. It's just a case of deciding on whether you get in there now, while prices are low, or wait until they go up. You know it makes sense to buy one now. And if you buy an estate, that's your family car sorted out. A cool future classic that you can use every day. What's not to like? 
How long until I see a return? 
The car to buy as an investment would be the M5 – prices have bottomed out and are now back on the climb. The same can be said for low-mileage, well cared for Sport models, though only really those that are 2.8 or bigger. 540i Sports, for example, will climb as they're seen as the next best thing to an M5. As for non-sport models, the market is a little flat for those at the moment, but for clean, low-mileage cars with full history there will always be a keen and cash-laden market. People are starting to see the E39 for the classic it is. This is your chance to get ahead of the curve. 
Not quite twisted your arm? Take a look at the selection of BMW E39 5 Series for sale anyway, just in case there's one you fancy.