Classic Filth – Five Unlikely Rally Cars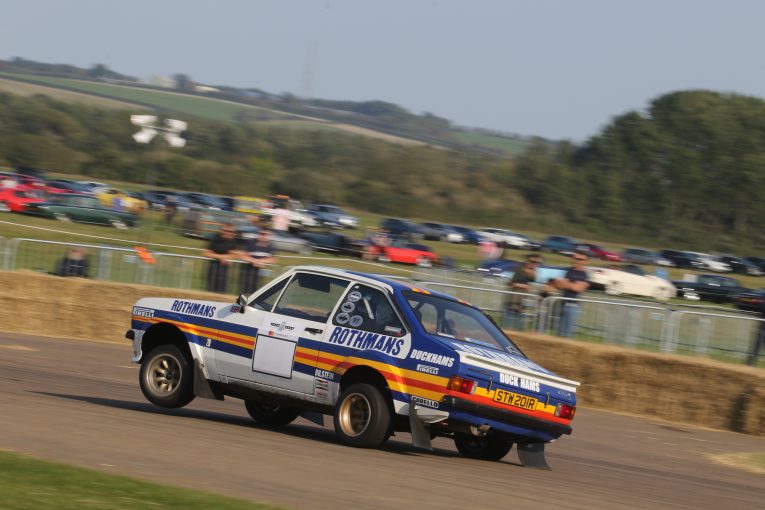 Certain cars are appropriate for certain types of motorsport, that's just the way it works. If Lewis Hamilton rolled up to the F1 grid in 2021 in a Dodge Ram or a Riley Elf, he probably wouldn't have a stellar season. He'd also have a pretty sticky time if he took his Formula One car down to Monster Jam and tried to take it over some sweet jumps. The reason why cars look and operate the way they do in any motorsport discipline is entirely governed by the regs.
Rallying, however, has always skewed off on a slight tangent from this otherwise well-trodden path. Sure, there are tight and very stringent regulations, and woe betide any contender who tries to sidestep them. (Just ask Toyota about the 1990s.) But at the same time, you could sign up to a rally in all manner of peculiar machinery and still have a fighting chance. Indeed, some of the most celebrated rally cars in motorsport history have been the ones which arguably had no place being there; here we've picked out our favourite five – but believe us, this weirdness is merely the tip of the iceberg…
Austin Maxi
The 1970 London-to-Mexico World Cup Rally was a particularly special event for Ford. Running from London, the site of the 1966 World Cup, to Mexico City, the venue for the 1970 tournament, the race was incredibly high-profile, and the final result of the gruelling challenge was an Escort whitewash – Hannu Mikkola's FEV 1H crossed the finish line 1h18m ahead of the second-place Triumph, and there were four other Escorts in the top-ten. Clearly a car well-suited to endurance rallying.
Elsewhere on the grid, somewhat unexpectedly, was your grandad's Austin Maxi. Affectionately nicknamed 'Puff the Magic Wagon', MCE 7G was one of the first 500 Maxis built and was entered into the rally by an all-female team. Prepared for competition by BMC dealer Marshalls of Cambridge, with the help of the official Works division, the car made for a strong and impressive contender, right up until it bogged down in epic rainfall in Argentina and was forced to retire. The story didn't end there though – having been exhumed from storage in a chicken shed in the late-1990s, it was found to still be fitted with much of its original rally gear, and restored to its former motorsport duties. Regulars at the Goodwood Festival of Speed will have seen it bouncing through the forest year after year, and it continues to take part in competitive rally events all over the UK and beyond. So if the sight of a rally Maxi made you snigger, be warned that it's very able to wipe the smirk off your face.
Peugeot 504 pickup
We all know what Group B rally cars are, don't we? Insane caricatures of production cars like the Peugeot 205, Renault 5 and Lancia Delta, steroidally pumped up and throwing insane force-induced power through their NASA-spec all-wheel-drive systems? For the most part, yes. But every rule needs its exception, and the incongruous pickup truck you see here was also a bona fide Group B contender. Well, 'contender' may be a charitable term; it was there, that's enough to make it faintly heroic even if it didn't charge in and scoop all the silverware.
There are two key reasons for the 504 pickup's existence as a Group B rally machine. Firstly, it was a hugely popular model across Africa, renowned for its ruggedness and ability to take abuse over rough terrain, so entering such a thing into African rallies made a certain amount of marketing sense. And secondly, it was actually intended to compete in Group A, for which it would have been much better suited… but it turned out that the cabin wasn't big enough to meet the regulations, so Group B was the only choice. No, it didn't have a flame-spitting twin-charger setup or AWD, but helpfully its engine size allowed the 504 to slot into the B-9/B-10/B-11 class along with the Lada 2105 VFTS, Citroën Visa Mille Pistes and Škoda 130LR. And it was not unimpressive – in its debut WRC outing, the 504 pickup took 8th place in the 1983 Safari Rally. Everyone may have forgotten the Group B 504 now, but it's important to acknowledge that the 205 wasn't the only lion in the pen.
Rolls-Royce Corniche
The Paris-Dakar rally is particularly hardcore. Bouncing across towering sand dunes, rutted mud tracks and whacking great rocks, it's a real car-killer – your average competitor is either turning up in a highly specialised version of an established off-road tool (say, a Land Rover or a Merc Unimog or something), or some manner of lithe and nimble bike that can pick its way through the topographical carnage. But not everyone saw it that way. One particularly adventurous playboy by the name of Thierry de Montcorgé reckoned the most pleasing way to tackle the route would be to waft from start to finish in the consummate luxury of a Rolls-Royce. When he voiced this opinion to friends, they called his bluff and took the bet, and Thierry found himself with the amusing task of prepping a Roller for sand dunes, something that R-R top brass hasn't considered in their product planning meetings.
The finished car wasn't actually a Corniche at all, of course. The shell of the Rolls-Royce was artfully draped over a bespoke spaceframe, to which was bolted a small-block Chevy V8 and the oily bits from a Toyota Land Cruiser. And it wasn't actually even a Corniche shell, but a fibreglass replica with assorted dimensional modifications. Still, he won the bet.
Mercedes-Benz 190E
The 190E represented a huge investment for Mercedes-Benz. The swish and future-facing range of saloons was a departure from the brand's established line, its development costs swallowing over two billion Marks, and after six years of thorough development a compelling proposition came to market. Crisply styled by Bruno Sacco and engineered by a team headed by Prof. Werner Breitschwerdt, it offered everything from luxurious family transport to minicab chic across its broad spec range. Internally, the motorsport division had been watching proceedings like a hawk – and wanted to take it rallying. That's right: racing pedigree for the 190E doesn't begin and end with the DTM, these things are surprisingly adept at trebucheting themselves through muddy forests too. The Cosworth-developed 2.3-16 model was the base, and Mercedes commissioned Cosworth to aid in the development of a full-house rally 190E 2.3-16, a package eagerly embraced by certain competition outfits who were keen to test its might in the smoky crucible of the rally stage.
And then Audi swaggered in with their fancy-pants new Quattro system and ruined everything. The 190E could never be competitive, so the motorsport efforts were refocused towards Touring Car racing. But let's never forget that the world's rally stages once, ever so briefly, offered the chance to see Berlin taxis at maximum attack.
Citroën 2CV
How many engines is the right amount of engines for a Citroën 2CV? One, or…? Yes, one sounds correct. But hold onto your hats, as the 2CV you see before you has two. Two whole engines. It's not exactly a big car either, is it?
So what fresh lunacy is this? Well, it's a modern-ish take on something that actually happened in the distant past; throughout the 1960s, Citroën's in-house engineering eggheads built twin-engined 'Safari' versions of the 2CV to act as traction-rich off-roaders. The usual two-cylinder engine sat in the nose powering the front wheels in the regular way, and another identical engine was shoved in the boot, driving the rears and thus making it AWD. Each engine was separately functional with its own fuel tank, electrics and so on, giving the 2CV Sahara the unique boast of being at once front-, rear- and all-wheel-drive.
This particular 2CV, given the cutesy name 'Bi-Bip 2 Dakar', was built to compete in the 2007 Dakar Rally. The team who assembled it, headed up by superfan Stephane Wimez of marque specialist Club Cassis, took the original twin-engine concept and beefed up the specs yet further; each motor has a Citroën Visa cylinder head, elevating the combined output to a heady 90bhp. You mightn't expect a 2CV to make an especially good rally car, being naturally wibbly-wobbly as they are, but a stiffer and stronger one with too many engines? It's unlikely, for sure, but it's also completely excellent.