Daimler SP250 – Cult Classic, Not Best Seller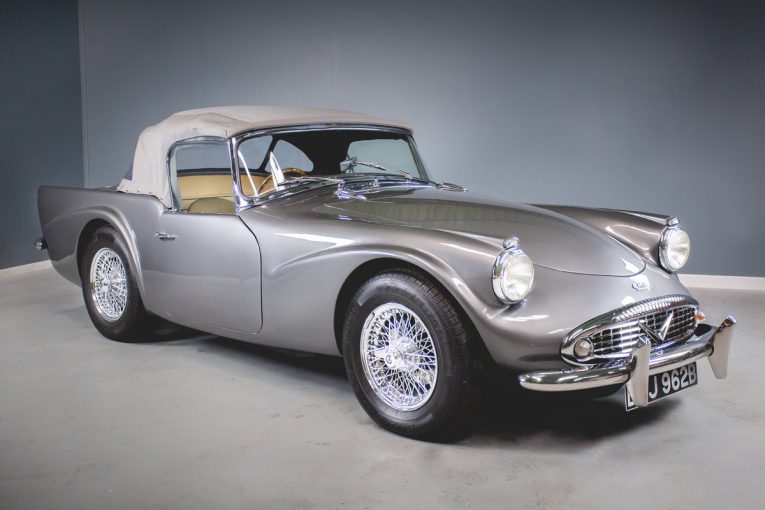 The Daimler SP250 is one of those cars that you either absolutely adore, or you're left confused by it. There is after all, no escaping the fact that it's a bit of an odd looking little thing. That killer front overbite, the tall rear fins, the flared arches. It's all very, erm, unique. But Daimler had unending faith in the Dart, as it's known colloquially (we'll get to that later). It was going to be the car that penetrated the American market, it was going to be the car to define the brand, it was going to be a huge hit. Initial studies by Daimler experts put the Dart at a production figure of 1,500 for the first year and 3,000 for each following year. It was going to take the sports car world by storm. 
Except, well, it didn't. In all, 2,654 SP250s were built in a five year period. To offer some perspective, Daimler had hoped for 12,500 in that time period. Oh dear. And what a shame, because the SP250, or Dart, was actually a decent bit of kit. The police even used a few of them as high speed pursuit cars – imagine seeing one of these in your rear view mirror! 
It all started in the mid-1950s after Edward Turner was appointed as the Managing Director of BSA's automotive division. BSA (the Birmingham Small Arms company) had previous form with automotive, like the magnificent Conquest. A luxurious saloon. And funnily enough, the SP250 was also penned to be a saloon, codenamed the DN250. However, when it came time to look at a feasibility study for the newly-designed V8 engine, it was the two-seat roadster that was the most resolved, leading this car to be the main offering. And you can see why. As the 1950s came to a close, there was a massive appetite for sports cars, and it seemed only logical for Daimler to try and get a slice of that pie. 
Executives were thrilled with the car, while the bean counters were equally thrilled, having arrived at a profit figure of some £700,000. The Dart, as the car was then known, would take Daimler forward. But it wasn't a car built to impress motorists on home soil. Daimler had big plans to make a splash in the American market. And why not? The Americans, with cars like the Corvette and the Thunderbird, had shown that they were hungry for compact, V8 sports cars. 
In terms of the V8 element, Daimler was pulling no punches. Fitted to the Dart was a 2,547cc V8 which featured overhead valves, aluminium cylinder heads and a hemispherical design (yes, the Dart was a Hemi), a five-bearing main crank and twin SU carbs – it was good for 140bhp and 155lb ft. Mated to a four-speed manual transmission (synchromesh on the top three gears), the Dart could shift. 
The first Dart rolled out of the Daimler factory in 1959 and was immediately shipped to the New York Motor Show. It had been on the stand for mere moments before the lawyers from Chrysler rocked up and shoved a letter under Daimler's nose. The name, Dart, belonged to Chrysler's Dodge division. Daimler was not in a position to be sued by Chrysler, so it stopped using the name. Without another one to fall back on, Daimler simply went by the car's development name of SP250. Though as we all know, and much to Chrysler's chagrin, we all call it the Dart anyway.  
Name issues weren't the only thing to hinder the SP250. The car used a traditional steel chassis based around that of the Triumph TR3, on top of which lived a fiberglass body. It was a striking machine, and with a beautifully appointed cabin rich in wood and leather, it was a nice place to sit. Until you drove it. The first cars, known as Spec A, were woefully flexible. To such an extent that some owners reported the doors would open under heavy cornering. And that was a crying shame, given that in a straight line the SP250 could hit 120mph. 
In 1960, Jaguar bought Daimler and it liked the look of the SP250. However, it didn't like the reviews and decided to give the SP250 a tickle in the name of making it better – this car was known as the B -spec. Jaguar engineers stiffened the chassis, fitted extra outriggers and put a hoop between the A-pillars which helped with the torsional rigidity. Jaguar's work did the trick, as owners reported that the car was a lot sharper and more engaging to drive. And the doors stayed shut, which is always a bonus. Jaguar also fitted some extras like an adjustable steering column. The front bumper, however, was still an optional extra. No, really. 
In '63, a C-spec version of the SP250 was launched, which was just a B-spec but with a heater/demister, a cigarette lighter and a trickle charger socket. That was it though, no technical or mechanical advances. 
As we mentioned earlier, the SP250 was not a sales success, not by any stretch of the imagination. On paper, it had the recipe for success, especially once Jaguar got a hold of it and made those vital improvements to the chassis. It was fast, it was reasonably well made and it featured engine technology like nothing else, other than a DeSoto. It was a brave, bold proposition from Daimler, and it deserved to succeed. Sadly though, it never did. There's no official reason, but we'd have to put our money on the looks being to blame. We don't see it as being ugly, but nor is it handsome. Full of character, yes. But it was obviously too bold of a leap for the crucial American market. They looked at the Daimler, raised an eyebrow, then went and bought a Thunderbird. 
The SP250 was and still is one of those cars that you can only truly fall for once you've driven it. The engine is a tuneful piece, the revised chassis is tight and direct, while still being pleasant and comfortable. The cabin is a wonderful place to be, if slightly cramped for the long legged. It's a driver's car. Though, for a short while, it was also a police car – around 30 SPP250s are rumoured to have been used as high-speed police pursuit vehicles, which is a cool thing to add to the car's history. 
The SP250 may have fallen short of expectations back when it was new, but it's having the last laugh now. The following for this weird and wonderful machine is passionate, engaged and full of knowledge. Parts availability is surprisingly good, and prices for complete cars are reasonable, too. The silver one pictured here could be yours for £57,000. Though slightly more 'rough around the edges', models will be cheaper. 
Weird it may have been, but there is no mistaking that the Daimler SP250 'Dart' was also wonderful. It's just a shame it took us a few decades to fully realise it.
The SP250 pictured here could be yours. It's for sale with Bridge Classic Cars and could well be one of the best out there.