Festival of the Unexceptional – Underdogs Unite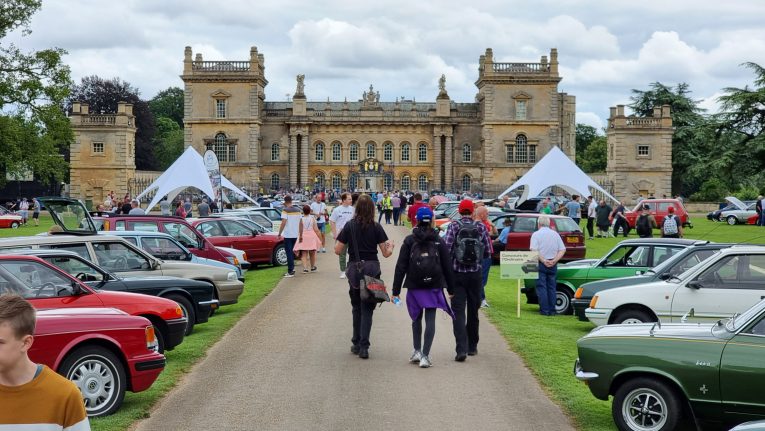 It was only the other day that I was waffling on in relation to the underdog cars, and how they exist in increasing popularity because, well, they resonate with us. And by us, I mean people in general, not just 'car' people. These cars matter just as much, if not more so than high-end exotica. Proof of how much they matter can be found at the rather brilliant Festival of the Unexceptional put on by Hagerty. I have seen reports of this show for years now, but I had never been. This year, I opted to set that right. The location was Grimsthorpe Castle in Lincolnshire, 167 miles away from my house. The perfect opportunity to dust off (quite literally) my unexceptional Citroën ZX. A car that was given to me, and that I have never driven more than twenty miles in one sitting. What could go wrong?
Nothing, actually. The car made it there without issue. I discovered the speedometer gets stuck at 55mph, but a deft jab at the dash seems to get it to behave again. That was it though, the one and only issue. It truly is a brilliant little car. Even when we were sat in a frankly exceptional queue to get in, it kept its cool and didn't explode. Happy days. And when I did eventually get into the grounds, the organisers very generously let me park it front and centre, under its very own tent. Do you know who I am? etc etc…
The queue to get in was… significant. But it was at least interesting. 
Once in, it was sensory overload. Hundreds upon hundreds of cars, each one more unexceptional than the last. And each one able to send a giddy thrill through my spine as my mind went into overdrive trying to remember when I saw one last. A sensation that was echoed by pretty much everyone there. Chatter in the air was rich with 'can't remember when' sentiments. And that was glorious, frankly. The parking area for these cars was a trip down memory lane of cars forgotten, or of cars that were once family members. I know I was gleeful at the sight of a Skoda Favorit and Estelle, a Morris Marina and several base Mk4 Ford Escorts, as my parents had them all. Then there was the Peugeot 605, the Dolomites, the Bluebirds and more – all cars I have owned in the past. There was even a certain Mercedes that I actually had owned, and it was a delight to see it again. Familiar, friendly automotive faces. Joyful.
Hagerty created the first Festival of the Unexceptional in 2014 as a celebration of long-forgotten, everyday family cars from 1968-1989, now fondly known as the 'Unexceptional Era'. The 2021 selection offered one of the best concours lawns in seven years of the festival, with cars arriving from across the nation to be judged as one of the best of the best.
When did you last see an Audi 100E Avant, or a Fiat Strada? A Mazda 929 Estate drew the crowds as a genuine forgotten hero, and the same was true of an ultra-rare Lancia Trevi. An Escort Popular proved the brilliance of a base model and a Daewoo Espero offered a perfect blend of an unexceptional car with an exceptional ownership story.
The Festival of the Unexceptional isn't just a gathering of once common, now rare machines. It's a celebration of them, and one that aims to recognise these cars. As such, in front of the castle itself, there was a collection of cars serving as the fodder for Concours de l'Ordinaire. Yes, you read that right. That's the brilliant name for the competition. But while the mood at this show is refreshingly light, the judging is serious business. Paul Cowland, John Bentley and Danny Hopkins were some of the judges, and it was their job to pluck the best of the unexceptional. A surprisingly difficult task, as these cars are cherished, often utterly immaculate examples. Concours isn't being used in a tongue-in-cheek manner, here.
Paul Cowland, television presenter, Hagerty columnist and judge of the Concours de l'Ordinaire who is new to the event, said that it was great to see younger drivers embracing and saving old, everyday cars. "For me, it is the diversity of the scene and the affordability and accessibility that makes events like the Hagerty Festival of the Unexceptional so appealing. The fact that the second-placed car cost just £500 shows how inclusive this scene is – everyone is welcome and there are no egos."
Hagerty's esteemed judges took their Thermos flasks to a tartan rug and debated the winners over countless cups of tea and many custard creams. Eventually an agreement was reached, and the 2021 winners were announced.
Best in Show: Jon Coupland – 1989 Proton 1.5 GL Black Knight
Runner Up: Danny Wilson – 1991 Peugeot 106 XN

Feast of the Unexceptional/ Best Picnic: Matthew Long – 1986 Volvo 340 DL

Best dressed: Mark Pallatt – 1979 Ford Escort
The winning Proton, owner by Jon Coupland (30) from Boston in Lincolnshire, is one of just 201 examples, this being the only remaining example. The previous owner put the Black Knight into a garage in 1993, with just 3600 miles recorded, and it didn't surface again until 2017. Now showing just over 13,000 miles, it is the star of Coupland's three-Proton collection.
The runner-up prize winning Peugeot 106 was bought for just £500 via Facebook Marketplace. Owner Danny Wilson (27) from Driffield in East Yorkshire, brought the peppermint-coloured Peugeot back to life himself, and the judges noted that it was fitted with a carburettor and choke found only on the very earliest examples, marking it out as a true survivor of the scrap heap. Wilson had wanted to be a part of FOTU for many years and was delighted to have been chosen to display his car at the concours for everyday old cars.
Special mentions went to James Green for his 1989 Nissan Bluebird, Charles Whilems and his 1986 Volkswagen Polo C Formel E, Chris Howells and his 1971 Triumph Toledo and Simon Hucknall for his 1977 Fiat 128. All of these cars impressed the individual judges and warranted their place in the 2021 Unexceptional Hall of Fame.
Festival of the Unexceptional is, somewhat ironically, anything but unexceptional. It's a fantastic show full of amazing cars, all surrounded by a warm, happy atmosphere. It was quite simply a joyous day out (bar the two hour queue to get in, but hey ho). If you've not been before, I would wholeheartedly recommend you get yourself along next year. This is arguably one of, if not the best classic car show on the calendar. Trust me when I say you will love every minute of it.